ARC 2020.12.05.00 (Early Access)
(Autonomous Robot Control Software)
Make robots with the easiest robot programming software. Experience user-friendly features that make any robot easy to program.
Change Release Notes
Summary of this update is it has a new service engine to support advanced navigation and positioning systems.
Read more about it here:
https://synthiam.com/Support/ARC-Overview/robot-navigation-messaging-system
This update includes underlying framework changes in
ARC
for handling navigation messages between skills. Participating skills can contribute data to the
Navigation Messaging System
for...
1)
lidar/obstacle scanners
using any kind of obstacle sensor (ping, laser, ultrasonic, ir, etc.)
2)
path way-point navigation
(ips, wheel encoders, roomba movement panel, intel realsense t265, etc.)
Skills can also be written to become Navigators, which subscribe to the navigation data and render it as they seem fit. An example of a navigator is
The Navigator
skill. It receives and displays navigation data from other skills, such as the
Intel RealSense T265
skill. The Navigator uses the data to assemble a map of the world and control the robot autonomously into different locations on that map.
This also means that it will be easy to support additional lidar and slam systems in the future. If a lidar or some obstacle detection sensor were to be supported, it merely has to feed data into the
ARC
navigation messaging system. And if a SLAM visual renderer were to be added, it only has to subscribe to the
Navigation Messaging System
to receive sensor events.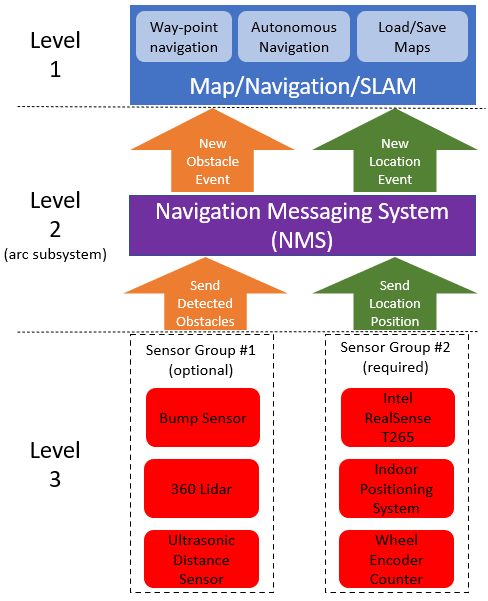 - Navigation messaging & event system
- Global messaging system (allows skills to push data on the "wire" for any other skill to receive and parse by type)
- Navigation messaging commands added to JavaScript and Python in the Navigation namespace for script level custom interaction
Here's a screenshot of how the Intel Realsense driver is feeding localization data into the messaging system. The Navigator is another skill which receives the navigation data and renders it for navigation features. This allows multiple robot skills to contribute sensor and positioning data for localization. In this screenshot, and the video below, I am walking the sensor around the room of my home office and returning to the position i started in.
1) is the intel realsense t265 skill that feeds data into the navigation messaging service
2) is "The Navigator", which is a new localization and way point navigation system. It subscribes to both the path and obstacle events. Meaning, it creates a map of the environment which can be saved and used to control the robot to move into different rooms or places.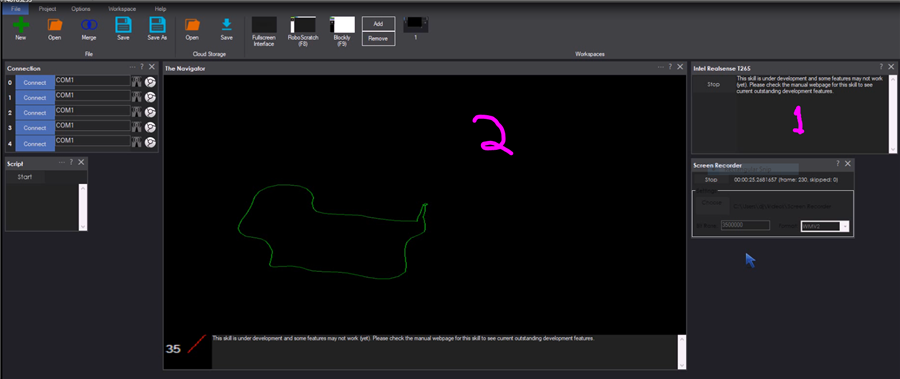 Here's a video example
ARC Downloads
Teams FREE
Free
Includes a free 3rd party plugin robot skill per project
Community support
Free with trial limitations
For schools, personal use & organizations. This edition is updated every 6-12 months.
Early Access
Only $8.99/mo
2 or more PCs simultaneously
Includes unlimited skills
Premium support
And much more
Experience the latest features and bug fixes weekly. A Pro subscription is required to use this edition.
Runtime FREE
Free
Load and run any ARC project
Operates in read-only mode
Unlimited robot skills
Early access fixes & features
Have you finished programming your robot? Use this to run existing ARC projects for free*.
Minimum requirements are Windows 10 or higher with 2+gb ram and 500+MB free space.
Teams known-issues can be viewed by clicking here.
Get more information about each ARC edition by clicking here.
See what's new in the latest versions with Release notes.
Compare Editions
Feature
ARC Teams

FREE

ARC

PRO

Get ARC for Free
View Plans
Usage
Personal
DIY
Education
Personal
DIY
Education
Business
Premium support
$14.99/ticket


(optional)

✓

1 request/month


($9.99 for additional requests)

Feature requests

✓

Yes
Early access to new features & fixes

✓

Yes
Simultaneous microcontroller connections*
1

✓

255
Robot skills*
20

✓

Unlimited
Skill Store plugins*
1

✓

Unlimited
Cognitive services usage**
10/day

✓

6,000/day
Auto-positions gait actions*
40

✓

Unlimited
Speech recongition phrases*
10

✓

Unlimited
Camera devices*
1

✓

Unlimited
Vision resolution
max 320x240

✓

Unlimited
Interface builder*
2

✓

Unlimited
Cloud project size

✓

128 MB
Cloud project revision history

✓

Yes
Create Exosphere requests

✓

50/month
Exosphere API access
Contact Us
Volume license discounts
Contact Us
Get ARC for Free
View Plans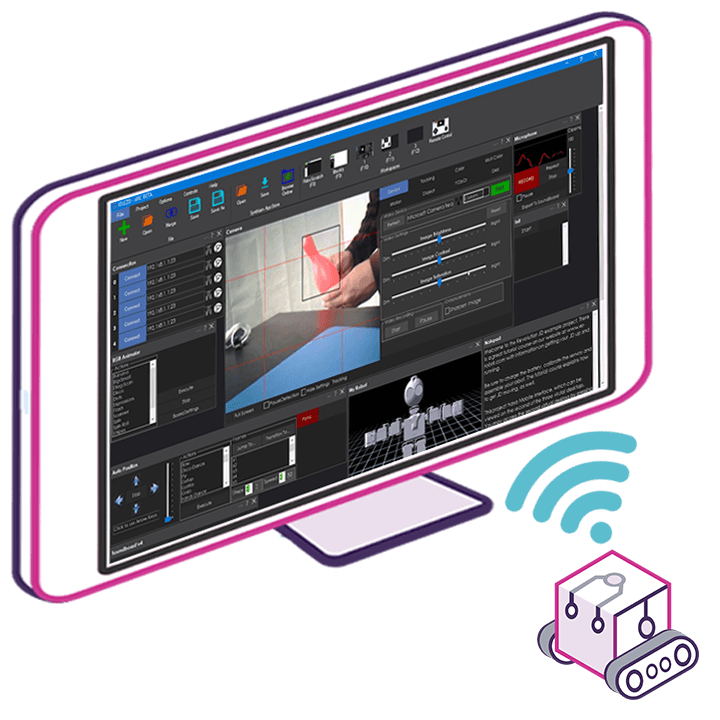 Upgrade to ARC Pro
Become a Synthiam ARC Pro subscriber to unleash the power of easy and powerful robot programming