Skip to comments
Hello all,

I have been working for the past 6 months with James V.
He has been building the physical R2D2 Model as I have been architecting and coding the electronics.

We are in the assembly and testing stages now. As we complete each step I will be posting the information here. There are a lot of folks working on R2D2 Projects and we have decided to open source the complete project. James has been posting a blog for the building of the physical robot and I will be posting a website for this project as well. Until we have a web design person in inplace I will be posting our progress here.

Updated:05/09/

R2D2 build


I hope you find it useful in your project R2D2 or not.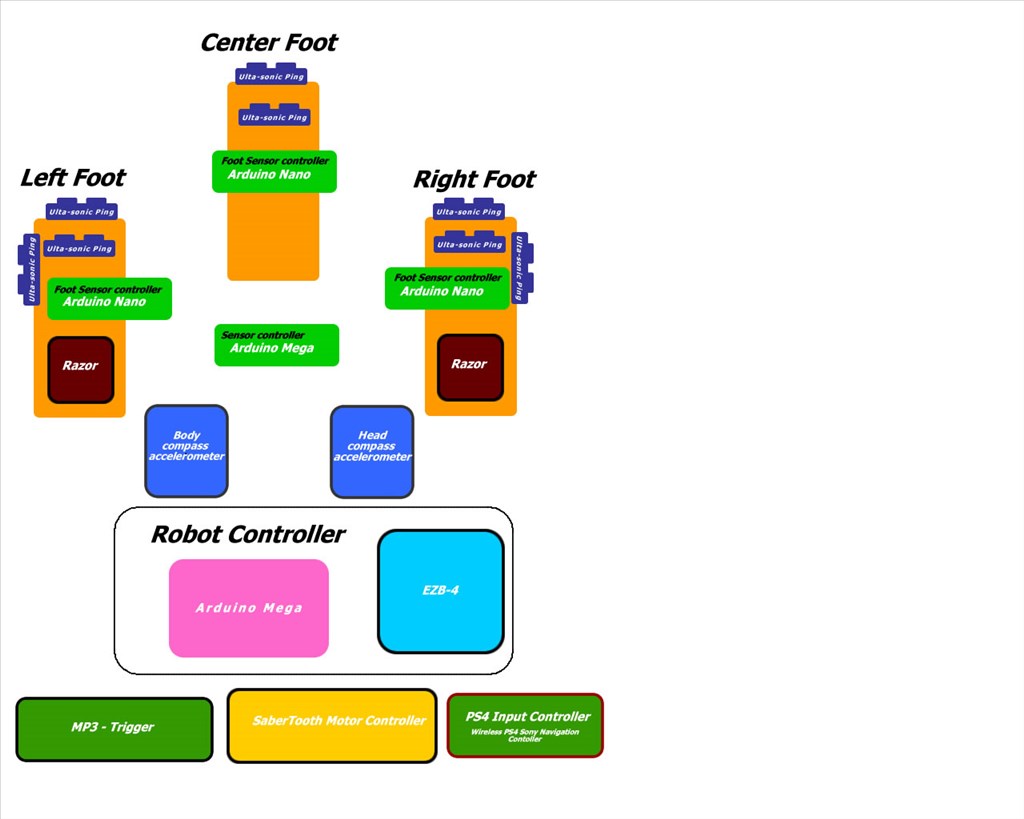 Foot Sensor Controller = X3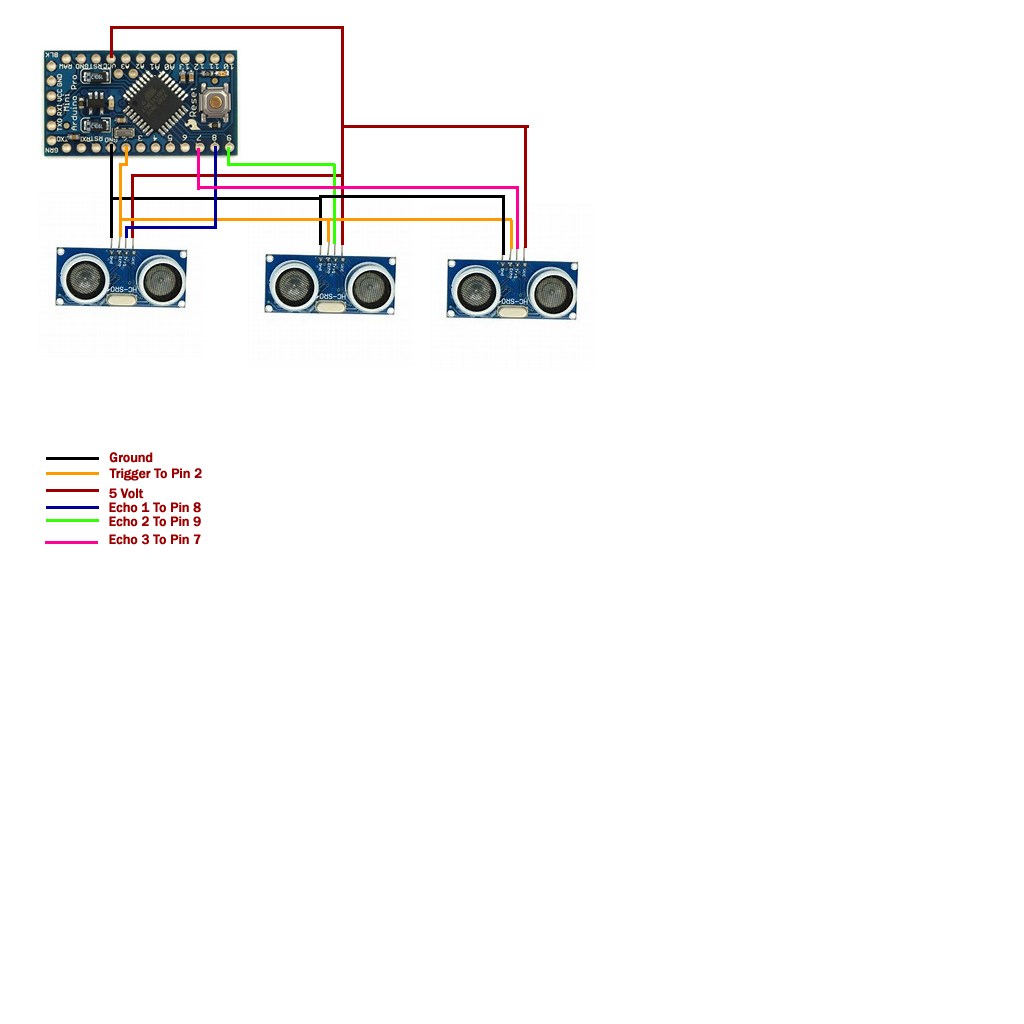 Left and Right Foot Sensor Controllers will have 3 Ping Sensors Using a total of 4 pins on the Foot Sensor Controller.

Center Foot Sensor Controllers will have 2 Ping Sensors Using a total of 3 pins on the Foot Sensor Controller.

We will be using Arduino Nano V3 boards for processing.
Pin = 2 = trigger port on all ultrasonic sensors.
Pin = 7 = echo from ultrasonic sensor (1) - Front
Pin = 8 = echo from ultrasonic sensor (2) - Down
Pin = 9 = echo from ultrasonic sensor (3) - Side /Left or Right

Each Foot controller will use this same wire up to connect to sensors.


Each foot controller will connect to the master sensor controller using serial port connections.

Foot sensors will connect one of 3 port
Left foot = serial 1
Right foot = serial 2
Center foot = serial 3

Actually the Sensor controller will poll these ports and determine what foot is on what port.

I have listed these ports as these are the ones we intend to use.





Foot sensors receive single by commands from the Sensor Controller.

Basic Command Set Follows:

"a" = Dec(97) = Hex(61) = OCT(141) = Bin(1100001)
"b" = Dec(98) = Hex(62) = OCT(142) = Bin(1100010)
"c" = Dec(99) = Hex(63) = OCT(143) = Bin(1100011)
"I" = Dec(105) = Hex(69) = OCT(151) = Bin(1101001)
"s" = Dec(115) = Hex(73) = OCT(163) = Bin(1110011)

These are internal commands to the R2D2 Robot Control System and are sent by the Sensor Controller. Results are routed to the Robot Controller Arduino Mega Board.

These commands are read the first incoming Byte and will drop the remaining.
This allows for any type of line ending to be used or not. (no line ending, LF, LF/CR , CR, etc.)


Compass Accelerometer = X2


Body Compass / Head Compass Connects to the Sensor Controller via I2C

(Software is in Alpha Development now and will be added to Sensor Controller when it comes out of Alpha Development and moves to Beta.)

Sensor Controller


The Sensor Controller will connect to the Robot Controller Arduino Mega Via Serial Communication.

We will be using the Arduino Mega Board are out Sensor Controller.

The Sensor Controller will take commands from the Robot Controller Arduino Mega Via Serial (0).

The Sensor Controller receives complex commands from the Robot Controller Arduino Mega.

a:bb:c Command Pattern received by the Sensor Controller.
?Example: We want the distance on sensor 1 of the Left Foot.
D:LF:1 - command sent to Sensor Controller
Return Sent Back using the request above
D:LF:D1:15
D: = Distance
:LF: = Left Foot
:15 = 15 cm distance from Left Foot.
?Reserved tokens are:
D: = distance
I: = information
O: = Orientation
T: = temperature
(This is just a sample request and response. All commands are fully documented in the developers manuals.)

Razor
Razor motor drive system
Razor Motors connected by sprocket and chain to drive 2 wheels per foot.

2 Feet will be powered while the third foot will be passive.

Razor Motors will have a 12/24 volt DC Power and be controlled by a Saber Tooth Motor controller.

The Saber Tooth Motor Controller will take its commands from the Robot Controller Arduino Mega.

Saber Tooth Motor Controller[/]
Saber Tooth wire up information follows.
(we will post the wiring for this in the next post)

Connects and takes commands from the Robot controller Arduino mega.

Robot Controller

The robot controller is made up of 2 controllers.

Arduino Mega
Sensor controller
Mp3 - trigger
Saber tooth motor controller
Ps4 input controller
Speech recognitions Controller
Ezb-4 (complex connection using Pulse wave modulation and serial combinations)
This controller has a custom plug and play system to allow for changing and combining AI systems.
?The ezb-4 connects to the system in the same way C++ coded AI systems will plug in and are handled in the same.
?Connection = (complex connection using Pulse wave modulation and serial combinations)
This type of connection is custom built for this project and will get a name soon.

Ez-robot EZB-4

Sensor Controller - i2c
Ezb camera - dedicated connection
Arduino mega (complex connection using Pulse wave modulation and serial combinations)

=============================================

This is the first post and has the setup for foot sensors and a sensor contnroller.
We will be adding Temperature probes , sound sensors , Doppler radar and many others. As these systems are tested and implanted into the bot we will give all wire and code used.

=============================================
update 5-12-2015 Mode operations.

The R2D2 build will run in 1 of 3 modes.

Mode 1 : User Controlled
Mode 2: Self Automation - AI input
Mode 3: Ezb-4 Mode

Mode 1 : User Controlled
User will use a Sony Ps4 navigation controller.
(add control functions here.)
Movement commands pass through the Robot controller Arduino mega (RCAM). In return the RCAM will validate. (all commands are validated before the command is passed to the saber tooth motor controller.)


Self Automation - AI input
(documentation coming soon)
Movement commands pass through the Robot controller Arduino mega (RCAM). In return the RCAM will validate. (all commands are validated before the command is passed to the saber tooth motor controller.)

Mode 3: Ezb-4 Mode
(documentation coming soon)
Movement commands pass through the Robot controller Arduino mega (RCAM). In return the RCAM will validate. (all commands are validated before the command is passed to the saber tooth motor controller.)



RCAM: sensor validation system(SVS)

The sensor validation system contains a rule engine that will validate a rule set before final commands to all motor controllers, servos that extend the body, components that heat up or dislodge from the main chassis.

Rule example #1

===============================
1. Movement : Forward : Restriction
2. D:CF:Front = < 5(cm)
3. Action: Forward movement: STOP
===============================

Line 1 denotes the type of rule.
Line 2 the rule statement. (D:CF:Front = distance center foot front , =< less than or equal too, 5 distance in centimeters)
Line 3 actions if line 2 is true

Rule sets can also load other rule sets as a merge or load to replace current rule set depending on the state of the Robot.

DragonTear software is developing a Windows desktop product to aid in writing the Arduino library for the rule engine so no coding on the end user part is needed. A friendly interface will allow for easy rule enter throw a point and click on 3d image of the R2D2 unit.


This is far from complete and we have a lot more to document.

Please ask any questions you have as we realize this is very general.

HippieGeek
Luis A. Vazquez


R2D2 build