CochranRobotics
USA




Asked — Edited
Spock wont be worked on in a while. I will be focusing on getting a few products to market by November of 2016.

I had a meeting with my investing partner last friday. He is willing to back the projects and has offered a very considerable amount of money to do so. His father owns a very large company in india who already has contracts with Chinese manufacturing houses and India based support firms. We will leverage this to help us get the ball rolling when we start production and after the products get to market. I should have funding for a prototype by the end of the week.

An artist friend, who I met because of EZ-AI is working on the concept artwork. I thank him deeply for his willingness to do the artwork as I can't draw for anything. Once complete I will pass this on to the mechanical engineer (a friend of my wifes). I will use his equipment that he has available to him (6 axis CNC, Really advanced CAD tools, fluid flow calculation software for Injection mold modeling, resistance calculating software based on the model and weight, Electrical engineering software for calculating current flow and resistance of electronics and extremely high end skills at product design and documentation necessary for taking a product to market). He works for a major company who makes a lot of industrial equipment so his expertise will be very valuable. He will make the 3D models and CAD drawings of every component from the artwork provided and from the list of items that I have chosen for this product. He also has the pull of the large company he works for to get CAD drawings and detailed schematics for everything that I will be using. This will help a huge deal.

The goal is to get the prototypes complete by December of this year, and get the parts being manufactured and ready for assembly by July. From there, we will hire in people to build the final products. The nice thing is that I don't have to rely on a kickstarter to get things going. Pieces are falling into place and it is very exciting.

My son will be finished with College in December of this year. He will be helping me to write the software for the robot through the next November to fine tune the software for release. There are quite a few things that are going to be added, which will eventually find their way into EZ-AI.

I have some questions out to other people/companies about using their products with my products. This will help to determine which way I take some things. Voice recognition will be a very important part of this project. I will be using a tablet or really light weight computers. Because of this, voice processing would be nice if it were done off the computer and this is where Watson or DNS Cloud will be a huge help. It is really amazing all of the tools that are available to make insane products now. It will only get better from here.

I will be making a trip to EZ-Robot in August or September. I will present the products concepts to them for a couple of reasons. DJ, I wont be asking for money so no worries there :). I want to build a business relationship with them because the products will be using the EZ-B V4 controllers and some other components. It is a good idea to share this with EZ-Robot because their products are driving mine, and for them to understand what I am doing is very important to me. I am not saying that this product would drive them in any direction, only that it is good for them to understand what someone is doing besides what can be stated on a public forum. Richard, I will let you know when I will be at EZ-Robot. I would love to meet you and anyone else on this community in the real world.

With all of that, poor Spock is going to take a break from development. Who knows, by the time I get back to him, they may have legs out for him.

I will be getting that Ultimaker 2 that I have been talking about shortly and will be able to tell if it lives up to the hype or not. I will be working on this project a lot in my spare time, so I wont be hanging out in the community as much. I will be dropping in from time to time to see what's going on with everyone else's projects. I always enjoy reading about other people's ideas.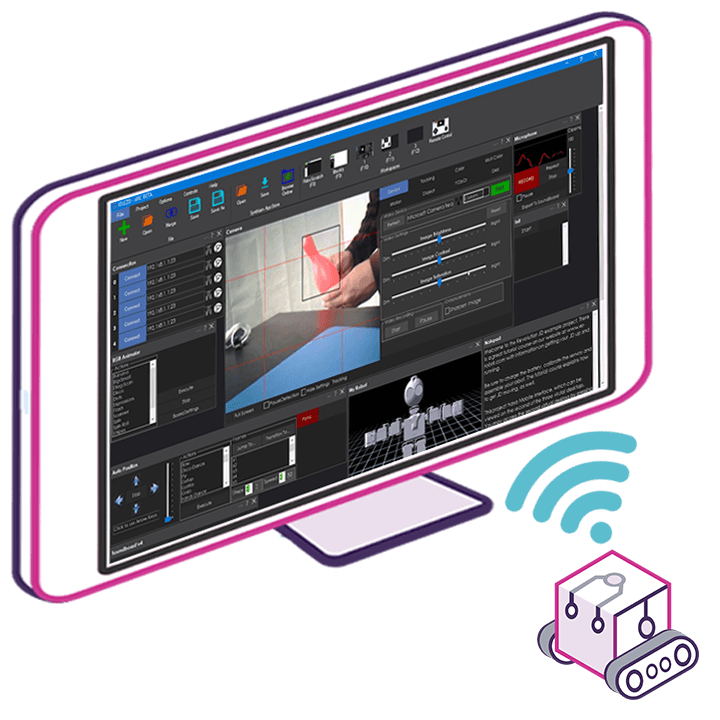 Upgrade to ARC Pro
Your robot can be more than a simple automated machine with the power of ARC Pro!