Whoops! The title was supposed to be ServoSpeed Questions and Issues Unfortunately you can't change the title so we are stuck with "Questions and Questions", Sorry

@DJ_Sures
Lately, I and Mickey666Maus have been working with recording the movements from a virtual robot in 3ds with the purpose of playing them back in EZ-Builder. This we can do. The problem comes in the timing. That is to say, the length of time it takes to perform a movement in the 3ds animation vs recreating that same timing in EZ-Builder. I can break up a given servo movement command into smaller increments and come up with an approximation of the time needed by fooling with the number of incremental movements and, if needed, add some sleep in between. But that tends to introduce jitter in the actual robot and it defeats the purpose of sending larger servo movement commands to the ARC to achieve smoother movement of the servo. For example:

Code:

#Assume we are starting at a servo position of 10 degrees.
Servo(D10,110) #Go to 110 degrees.
#The above command will move the servo smoothly.

  #As opposed to:
Servo(D10,10)  #Sending out many smaller servo movements.
Servo(D10,12)
Servo(D10,13)
Servo(D10,15)
       |
      etc.
       |
Servo(D10,110)


The smaller increments solve the timing problem, but introduce jitter in the robot.

The obvious answer is to use the ServoSpeed instruction in EZ-Script. The current problem with that is the ServoSpeed has no fine increments between 0 and 1. You essentially go from full speed to less than 1/3 of full speed when going from ServoSpeed(D10,0) to ServoSpeed(D10,1). I did some time trials and found this relationship for the first 6 ServoSpeed numbers:

Code:

# To move 179 degrees
# -------------------
#Servo Speed =0 =550ms   1.00x (Base Speed)                  3.07 ms/degree  0.326 Degrees/ms
#Servo Speed =1 =1940ms  0.28x (550)    0.28x (Base Speed)  10.84 ms/degree  0.092 Degrees/ms 
#Servo Speed =2 =3880ms  0.50x (1940)   0.14x (Base Speed)  21.68 ms/degree  0.046 Degrees/ms 
#Servo Speed =3 =5600ms  0.70x (3880)   0.10X (Base Speed)  31.29 ms/degree  0.032 Degrees/ms 
#Servo Speed =4 =7400ms  0.76x (5600)   0.07x (Base Speed)  41.34 ms/degree  0.024 Degrees/ms 
#Servo Speed =5 =9200ms  0.80x (7400)   0.06x (Base Speed)  51.40 ms/degree  0.019 Degrees/ms 
#Servo Speed =6 =11100ms 0.83x (9200)   0.05x (Base Speed)  62.01 ms/degree  0.016 Degrees/ms 


As you can see it goes from full speed to 0.28% of full speed at a ServoSpeed of 1. That's a huge difference. The difference is not so much between the rest of the number settings.

All this leads to my question:
Would it be feasible to break up the allowed values between 0 and 1 (at least) into finer increments? For example allowing decimal fractional values such as ServoSpeed(D10,1.2). ServoSpeed(D10,1.6) ... etc. ? This, so as to achieve more possible speed values between 0 and 1.

Using decimal fractions would maintain compatibility between the new and the old so no old scripts would be broken by such a modification

Also, a more general question:
Is the servo movement operation independent of what is going on in ARC at any given moment. That is to say, is it running on a separate C# thread such that the servo will move at a constant rate regardless of the load on EZ-Builder? Within reason, of course.

Thank you.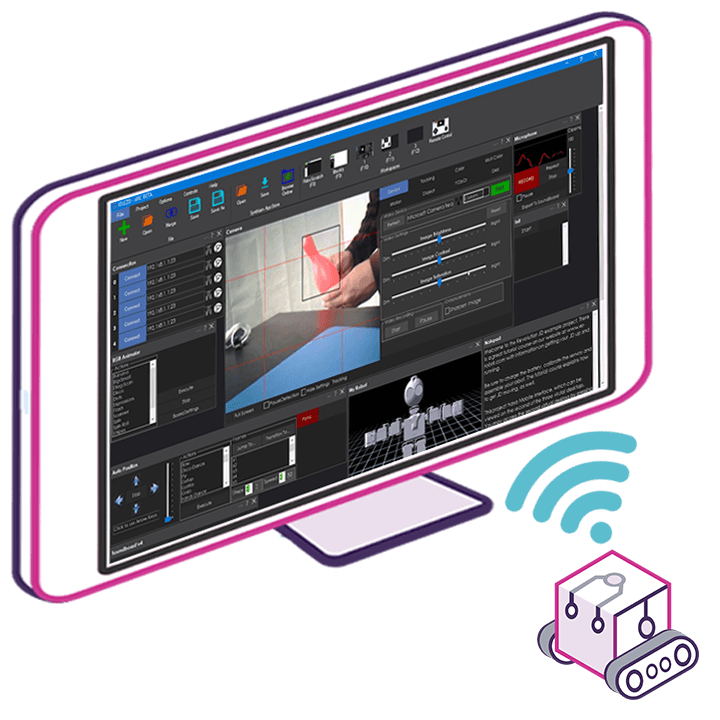 Upgrade to ARC Pro
Synthiam ARC Pro is a cool new tool that will help unleash your creativity with programming robots in just seconds!