Hi everyone.
A bit of background.
I am currently waiting for my EZ Robot order to arrive which should hopefully be here in a couple of weeks time, so in the mean time I have been browsing around ARC software and had a quick play around with the speech synthesis settings and having it speak via my Pandorabot which is currently being trained. Everything worked fine but had a slight issue with the actual voice, that being the fact I am using Windows 7 64 bit which means I only have "Microsoft Anna's" voice and nothing else. A slight issue as 1.) I really don't like that voice much, and 2.) my robot, K-9, is going to be male.
Long story short, after going to the end of the internet and back trying to find how I could add more voices that would work with Windows 7 narrator, I came across a thread on, guess where, EZ Robots.com eyeroll (should have looked here first lol) talking about speech synthesis for Windows 7 narrator, and there, was a suggestion for some really good voices which was from Cepstral.com (see links below). I popped there and tried out some demo voices and found one I really liked which worked great with ARC. The full voice version (about $35 / 20) also comes with robotic voice effects which apparently work with ARC and the EZ-B aswell which is great, so problem solved. Well not quite and this is where I need the help. confused
My question.
Ultimately, K-9 will be controlled via my iPhone and maybe also a tablet PC, as it will be a lot more convenient than carrying my laptop around, and he will not have an onboard PC, only the EZ-B4, so no problems there, except for the voice which, if I do purchase the full Cepstral voice, it can only be stored and used on my laptop. So does anyone know, how will I be able to get K-9 to talk, hold conversations, run scripts ect using my Pandorabot via the EZ-B4 with a really good sounding male voice? I'm guessing Cepstral will be out of the question which will be a real shame as I don't think there is an iPhone version, unless there is a way to use it that I have not thought of.
Any thoughts, ideas or suggestions would really be appreciated guys.
Cheers,
Steve.
Skip to comments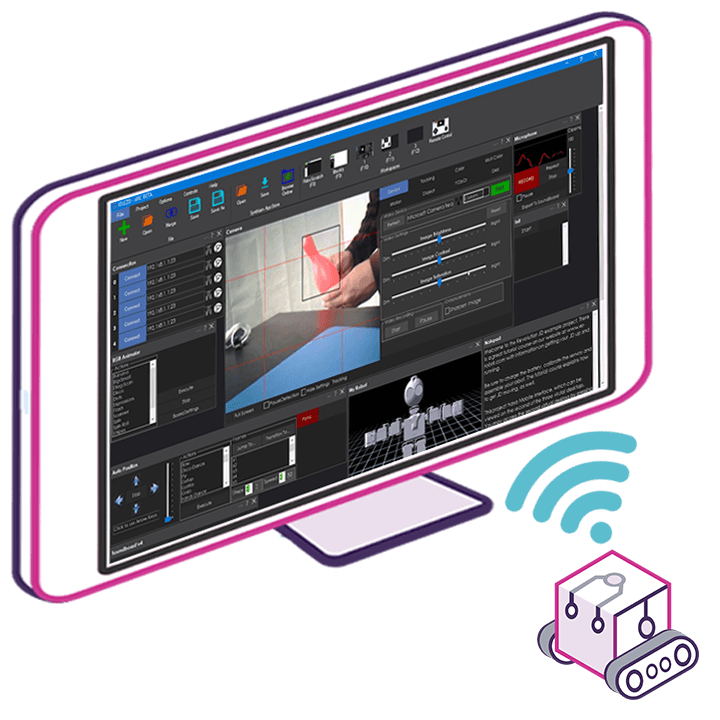 Upgrade to ARC Pro
ARC Pro is your gateway to a community of like-minded robot enthusiasts and professionals, all united by a passion for advanced robot programming.