Toymaker
United Kingdom




Asked — Edited
DJ I hope you can help? I am experiencing major problems with the reliability of the serial link that concerns me a lot, as it stands the problem is bad enough to undermine all my work (over the last year) on utilizing the v4 for the ALTAIR robots.

The new ALTAIR heads have multiple PICs that all report back to a Master PIC which itself communicates with the v4. On testing I keep noticing the v4 drops out randomly and also breaks all serial comms at random times. In an attempt to discover the problem, I shut down all the interrupts buzzing around the PIC network, so that the Master was just (simply) communicating with the v4 with no external interrupts. I then ran some simple code that just sends 3 bytes to the v4 (every 100mS) then increments the bytes and so on. At the v4 end it just looks for the 3 bytes in the buffer reads them and increment a $times counter. What happens is that the v4 just breaks serial comms or has byte read errors at random times.

When the fault occurs serial comms completely stop and it is necessary to stop the script and start it again. I have found this happens when I put a static "3" in the UartAvailable line (for example if UartAvailable(0,0) = 3), but this should not be a problem as the v4 is only ever going to get an isolated packet of 3 bytes? To get around this if I change the static "3" to ">= 2" (for example if UartAvailable(0,0) >= 2) then the comms does not stop or error (so much), but of course this means that a packet misread has occurred and the buffer has accepted a 2 byte packet which means we have lost a byte.

From my tests, in general it looks like the bytes available error occurs once in roughly 100 packet sends and a byte error (data byte read incorrectly) occurs around once every 250 packet sends. Below is a screen dump from one test which shows the errors from just over 1600 packet sends.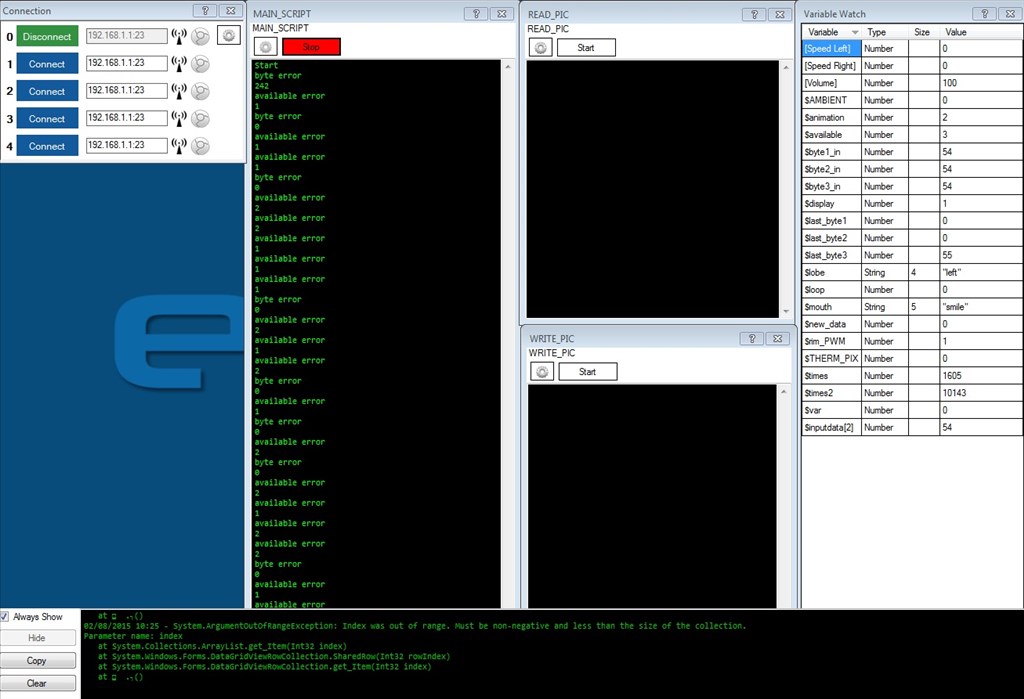 Unreliable serial is a major setback for me as all my robots use serial linked subsystem PIC modes so these dropouts where serial links can also just stop is a complete disaster for my robot designs!

Tony