Full Title: EZ-B Robot Controller Treats 7.4 Volt Supply As Too Low For Operation, Uncontrollably Restarts When Servos Under Strain

Hello! I am the other half of the duo working on the robot featured in this question. Our robot is basically a scaled-up JD with wheels rather than legs.

Our new question isn't very much specific to our robot, but it's one we've only been experiencing very recently -- our EZ Robot Controller restarts during times of great servo stress (like calibration & performing arm motions) and it relays the dreaded "my battery is low" message even when we are positive that it is receiving a constant supply of 7.4 volts, which should be exactly what the Controller requires. To our knowledge this message is only relayed when power supply drops below 6.6v, which subsequently causes the Controller to shut off.


Here is a layout of the power inputs we've tried and the components which cause strain on the power:

Attempted Supply Inputs
6 AA battery holder (came with the developer kit) - though this did do the trick last week, our Controller will no longer accept it. Regardless of whether we plug 6, 5, or 4 NEW batteries into the holder, the Controller always relays "my battery is low" after a few seconds of robot action before shutting itself down. Voltmeter measurements from the barrel head of the power connector which plugs into the Controller tell us that the AA batteries are supplying voltage ranging from 8.4 to 7.1 depending on their number and charge, which are much too high for the Controller to relay the low battery message. Also, it is preferable that our solution not include batteries which need to be swapped out every hour or so -- we prefer power plugs.

7.4v wall socket power plug (recommended by DJ Sures) - for a few sessions, the Controller would work with this indefinitely, never relaying the low battery message, though the Controller would uncontrollably restart quite often whenever we had all of the arm servos firing at once (during calibration & while performing most JD Auto Position actions). Now, this power plug acts just like the battery holder, relaying the message after mere seconds of use. Voltmeter measurements from the barrel connector here give us a constant 7.4v supplied, which also does not warrant said low battery message.

Power Straining Components
The only components connected to the Controller which may be straining its power supply are as follows:
7, eventually 9 Hi-Tec (HS-5685MH) servos which are rated to operate on a range of 4.8v-7.4v. Some of these rotate against a high force of torque whenever performing arm movements.
The developer kit camera which of course is built to function with the EZ Robot Controller.
JD's I2C components (JD's head is plugged in to our Controller because we couldn't seem to connect to EZ Builder without it).


So the crux of our problem is that somehow the Controller is interpreting a signal of 7.4v as below 6.6v and that our components have only recently started causing the Controller to force restart (assumed do to power issues) despite there being no recent changes in the power straining components and multiple attempts at varied supply inputs.

Any help would be greatly appreciated!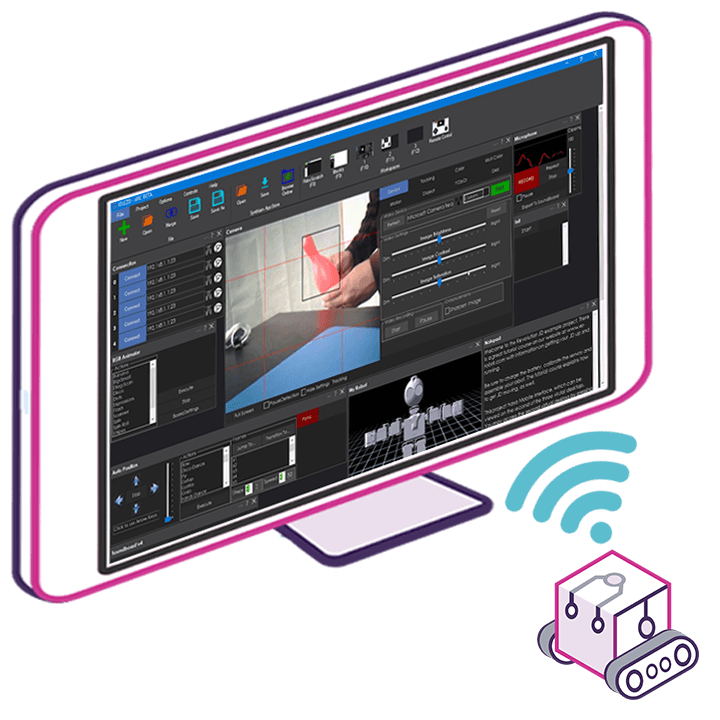 Upgrade to ARC Pro
Synthiam ARC Pro is a cool new tool that will help unleash your creativity with programming robots in just seconds!