Today is the first time I really had a chance to play with the EZB-4. I've connected a Dynamixel servos and had mixed results. The resolution is 0 to 170 but the servos are unresponsive from 81 to 89 for some reason.
I tried communicating with the servos with EZ script using UART 2 with no luck.
I'm using the communication protocol for the servos. This works with Python through a serial connection.
UARTInit(0,1,1000000)
$AX_Write_Data=3 #Dynamixel Instruction Code $AX_ID=14 #Servo ID $length=7
$table=30 #this is the entry code for setting the goal position of the servo
$position=100 #set goal position for servo
$speed=20 #set the speed of the servo
$MSB=Round($position/256,0) $LSB=$position%256 $MSB2=Round($Speed/256,0) $LSB2=$Speed%256
$checksum= 255-(($AX_ID+$length+$AX_Write_Data+$table+$MSB+$LSB+$MSB2+$LSB2)%256)
$handshake=GetAsByte(255) $AX_ID=GetAsByte(14) $length=GetAsByte(5) $AX_Write_Data=GetAsByte($AX_Write_Data) $table=GetAsByte($table) $LSB=GetAsByte($LSB) $MSB=GetAsByte($MSB) $LSB2=GetAsByte($LSB2) $MSB2=GetAsByte($MSB2) $checksum=GetAsByte($checksum)
UARTWrite(0,1,$handshake) UARTWrite(0,1,$handshake) UARTWrite(0,1,$AX_ID) UARTWrite(0,1,$AX_Write_Data) UARTWrite(0,1,$table) UARTWrite(0,1,$LSB) UARTWrite(0,1,$MSB) UARTWrite(0,1,$LSB2) UARTWrite(0,1,$MSB2) UARTWrite(0,1,$checksum)
Thanks
Skip to comments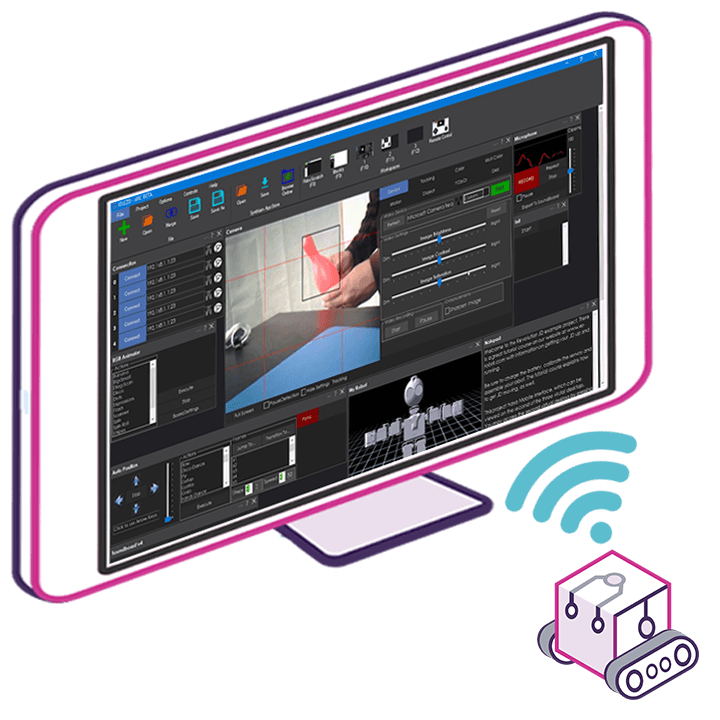 Upgrade to ARC Pro
With ARC Pro, your robot is not just a machine; it's your creative partner in the journey of technological exploration.