MRB1 (My Robot Buddy V1) Project
Welcome to my MRB1 (My Robot Buddy V1) project. I have just started my Inmoov robot build and wanted to share my experiences along the way. This past November 2021 my wonderful wife purchased me a Creality CR10 V2 Pro 3D printer so I started learning all about 3D printing and in the process found the Inmoov open source project and started reading about it and well what 63 year old man does not want his own robot buddy. So off I went and started printing parts...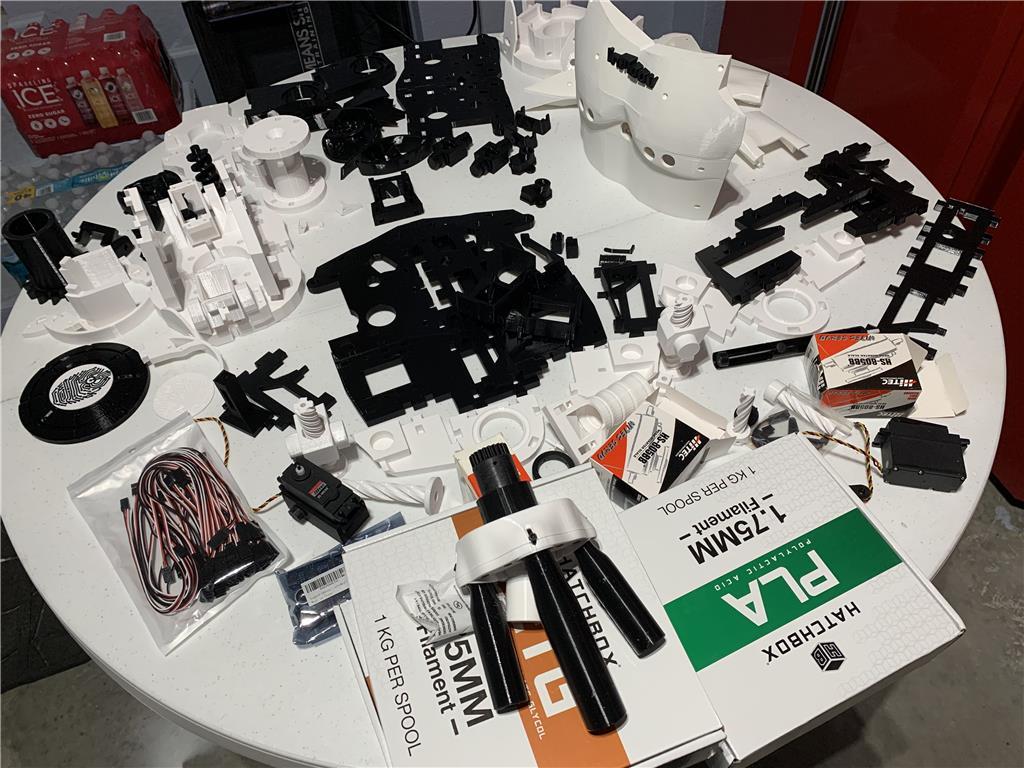 I am still printing parts 24x7 and soon I hope to be done with the HEAD, TORSO and LEGS. I am going to save the arms for last.  While doing my research I learned about EZ-Robot and the ARC software and said to myself this looks like the best way to go with my build.  So this is where I am at currently.

Project Items So Far:
================
Subscription to ARC PRO
Creality CR10 V2 Pro 3D printer with Octo Print
16 - Spool(s)HatchBox PETG
4 - Spool(s) HatchBox PLA
1 - Digital Caliper, DITRON 0-6" Calipers Measuring Tool
1 - 18Pcs Professional Files Tools Set
1 - 57 Pieces Hand Drill Bits Set, Pin Vise Hand Drill
1 - Package Sandpaper
1 - Qibaok Crimping Tool Kit Ratcheting Crimper with 1550PCS 2.54mm Dupont Connectors and 760pcs 2.54mm JST-XH Connectors for AWG 26-20(0.1-0.5mm)
1 - JST-PH JST Connector Kit, 1480Pcs JST PH 2/3/4/5/6/7 Pin Housing Connector Adapter Plug Terminal Kit with 2.0mm Female Pin Header Connector
1 - SCIGRIP 10319 16 Acrylic Plastic Cement, Low-VOC, Medium Bodied and Fast-Setting, Clear, 1.5 fl oz Tube
100 - M3 x 12mm Wood Screws Coarse Thread Flat Head Phillips Screws Self-Tapping Screws
130 - Black Self-Tapping Screws, M4 x 20mm Wood Screw Black Phillips Head Stainless Steel Screws
50 - Black M4 x 20mm Alloy Steel Hex Socket Flat Head Countersunk Screws Bolts
50 - Black M3 x 20mm Alloy Steel Hex Socket Flat Head Countersunk Screws Bolts
1 - iExcell 1500 Pcs Metric M2 x 4/5/6/8/10/12/14/16/18/20/25 Stainless Steel 304 Hex Socket Head Cap Screws Bolts Nuts Washers Assortment Kit
1 - 1080PCS M2 M3 M4 Socket Head Cap Screws Nuts Assortment Kit with Storage Box, Three Hex Wrenches Included, 12.9 Alloy Steel
1 - M2 M3 M4 Hex Socket Button Head Cap Screws Bolts Nuts Washers Assortment Kit with Allen Wrenches Black(1080 PCS)
1 - Super Lube 92003 Silicone Lubricating Grease with PTFE, 3 oz Tube, Translucent White
1 - DYWISHKEY 30 Pieces Male to Female 3-Pin servo Extension Cord Lead Wire Cable Connectors, servo Remote Control Cables (5 Sizes)
500 - 6mm Chrome Steel Ball Bearings
1 - uxcell M2x25mm Pushrod Connector Stainless Steel Rod Linkage
1 - 10pcs Ball Head Holder Tie Rod End M2 Ball Joint Linkage
1 - ELEGOO 120pcs Multicolored Dupont Wire 40pin Male to Female, 40pin Male to Male, 40pin Female to Female Breadboard Jumper Wires Ribbon Cables Kit Compatible with Arduino Projects
1 - BNTECHGO 16 Gauge Silicone Wire Spool red and Black Each 25ft Flexible 16 AWG Stranded Copper Wire
1 - BNTECHGO 18 Gauge Silicone Wire Spool red and Black Each 25ft Flexible 18 AWG Stranded Copper Wire
1 - BNTECHGO 20 Gauge Silicone Wire Spool red and Black Each 25ft Flexible 20 AWG Stranded Copper Wire
1 - TICONN Ferrule Crimping Tool Kit with 1200PCS Ferrules Insulated Wire Terminals, Self-adjustable Ratchet Wire Crimper for AWG 237 Electrical Wire Connectors
4 - 12V 24V 20A Waterproof Rocker Toggle Switch with LED Indicator, 4 Pin 2 Position DPST ON-Off Switch for Car Truck Motorcycle Boat Marine (Red Yellow Blue Green)
1 - Feelers PTFE Teflon Tubing, 1mm ID X 2mm OD Tube White Connector Teflon Tube Hose Line for Bowden 3D Printer, 3 Meters
1 - 3.5mm 90 Degree Right Angle Male Plug to Bare Wire Open End TRS 3 Pole Stereo 1/8" 3.5mm Plug Jack Connector Audio Cable for Headphone Headset

Electronics:
=========
1 - LattePanda V1
1 - 4K HDMI Dummy Plug - High Resolution Virtual Monitor Display Emulator
2 - EZ-Robot EZB V4
1 - Adafruit Trinket - Mini Microcontroller - 5V Logic [ADA1501] for Arduino
1 - Omron - B5T-007001-010 - Sensor, Image Recognition, Human Vision Components, 50 Degree, 1600 x 1200 Pixels, 10 Functions
1 - 6 Channel Digital servo Tester with Over-Current Protection
1 - LinaLife 2 Pack 1.5" 4 4Ohm 3W Full Range Audio Micro Speaker Driver Stereo Woofer Loudspeaker for Arduino Studio Diameter 40mm
2 - HiLetgo LM2596 Adjustable DC-DC Step Down Buck Power Convert Module 4.0-40V Input to 1.25-37V Output with LED Voltmeter Display
5 - HC-SR04 4 pin Ultrasonic Sensor Module Distance Measuring Sensor Module for Arduino
1 - HC-SR501 Pir Motion IR Sensor Body Module Infrared for Arduino
4 - Male 12v DC Power Jack Adapter Connector 5.5 x2.1
6 - Male 12v DC Power Jack Adapter Connector 5.5 x2.5
1 - Screw Mount 6 Channel Rocker Switch DC Power Distribution Strip Module
2 - DSD TECH USB to TTL Serial Adapter with CP2102 Chip Compatible with Windows 7,8,10,Linux,Mac OS X
1 - DC 6V 50A 60A Regulated Switching Power Supply 300W 360W AC/DC Voltage Transformer AC 110V 220V input to DC 6 volt
1 - Camera Module, HBV-1805 60 Wide Angle Lens USB Camera Module, 640480 30fps High Frame Webcam,USB Camera Linux Windows Android Mac Os
2 - DC 0-30V LED Display Digital Voltmeter Board Two-Wire Mini Digital Voltmeter Voltage Tester Meter Panel
1 - DCDC Buck Converter, DROK DC 5-40V to 1.2-36V Power Supply Step Down Voltage Regulator 36V 30V 24V 12V 5V 3.3V 8A 100W Adjustable Volt Reducer Module
1 - DIYmall 16 Bits 16 X WS2812 5050 RGB LED Ring Lamp Light with Integrated Drivers

1 - Screw Mount 6 Channel Rocker Switch DC Power Distribution Strip Module
1 - UMLIFE 10pcs TDA2030A Audio Amplifier Module TDA2030 Power Amplifier Board,Power Input Mode 6-12V Speakers Module Converter
6 - servo breakout boards for signals/power
1 - Microphone, for Laptop Computer Camera, Little Microphone Hands Free Omnidirectional Recording Mic,
1 - Short USB to Micro USB Cable, High-Speed A Male to Micro

Servo(s)
Head - 8 ( Eyes 6 MG90S Micro Servos, Mouth 1 MG996R, Head Turn 1 MG996R)
Neck - 3 (Front 1 HS-805BB Sides/Back 2 HobbyKing Coreless Digital HV/MG/BB servo 66g/20kg/0.16s)
Torso - Waist 2 HS-805BB, Hips 2 JX servo PDI-HV2060MG 62KG Metal Gear High Torque
Shoulders - 6 JX servo PDI-HV2060MG 62KG Metal Gear High Torque
Arms - 2 JX servo PDI-HV2060MG 62KG Metal Gear High Torque

I started on the head and wanted to find a way to put eye lids on the eyes so I started looking all over Thingiverse and the internet and could not find anything developed that was a clean solution so I used tinkercad to remix a lot of parts together and came up with this based on the below link to the eye mechanism I used as a baseline for my remix.

https://www.instructables.com/DIY-Compact-3D-Printed-Animatronic-Eye-Mechanism/ Will Cogley has done a great job outlining his project and I would recommend you check it out.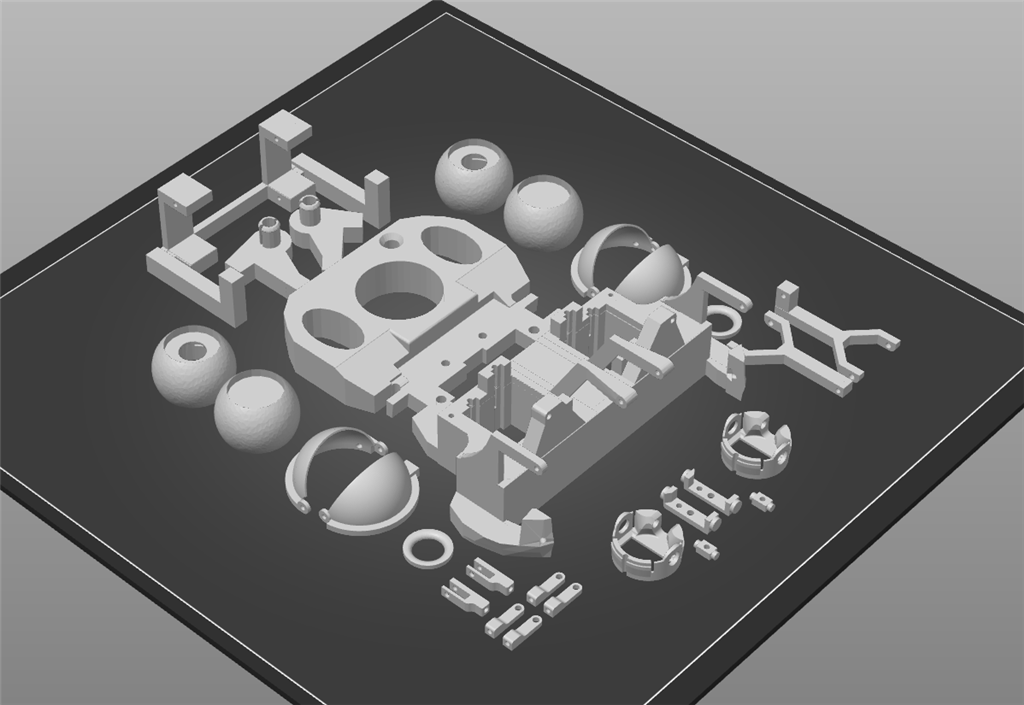 When put together it looks like this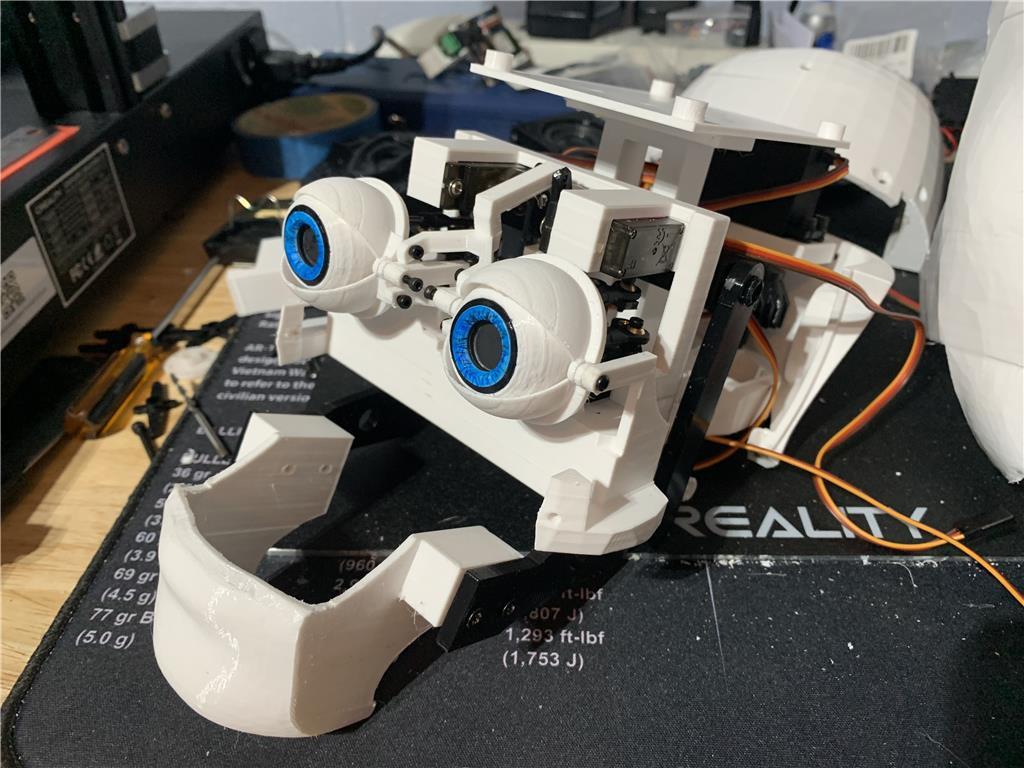 As you can see I have also change the mouth because I just think it looks better than the standard design. The new eye design was a remix of another design I found online that used six servos to control the eyes. I will be mounting the LattePanda computer in the head and using it to control everything in the head. Using USB/TTL's I will be connecting to two EZB V4's on the torso that will be controlling the rest of the robot. I plan on using a USB Camera, which I think I will be mounting on the chest plate.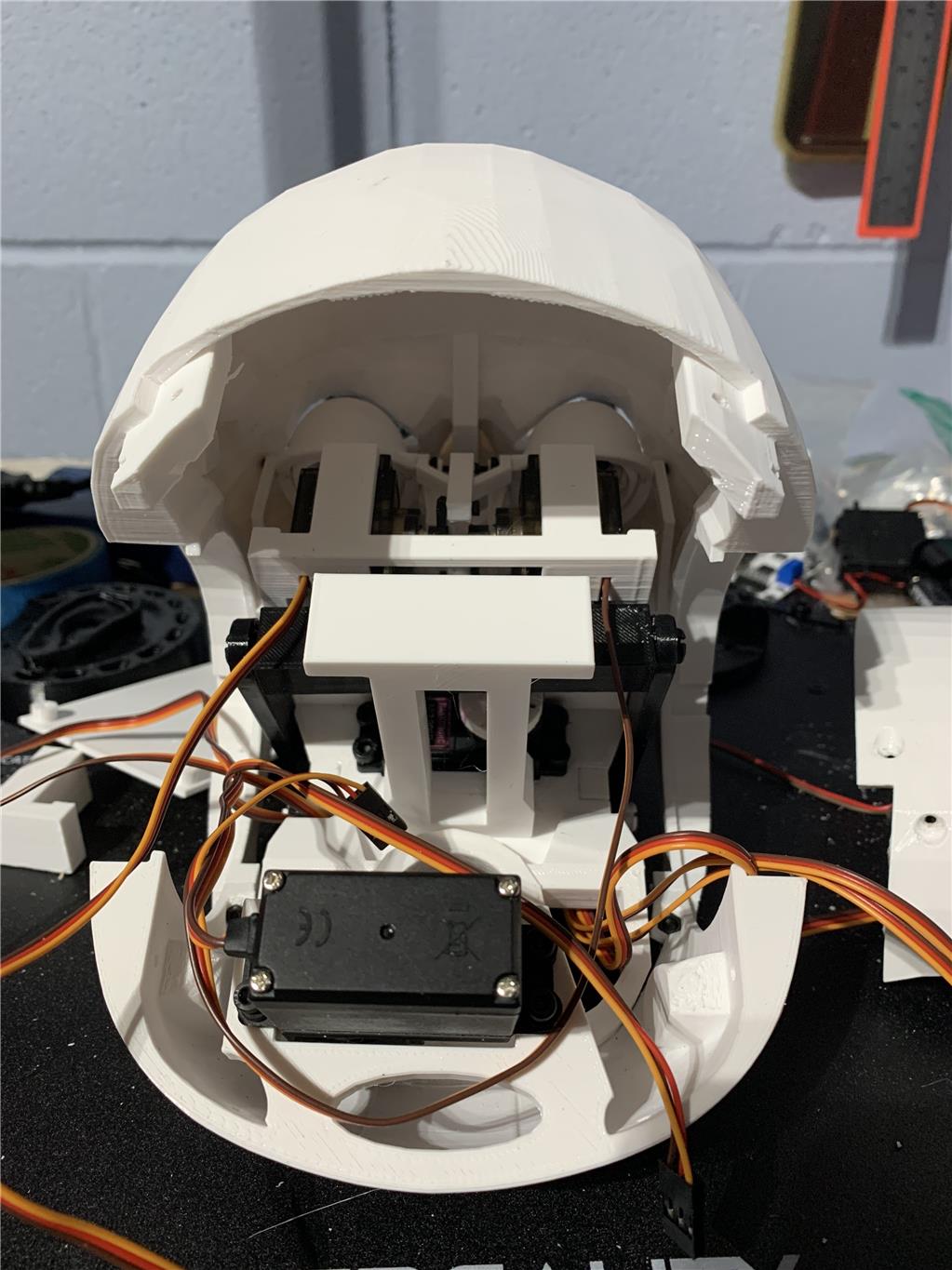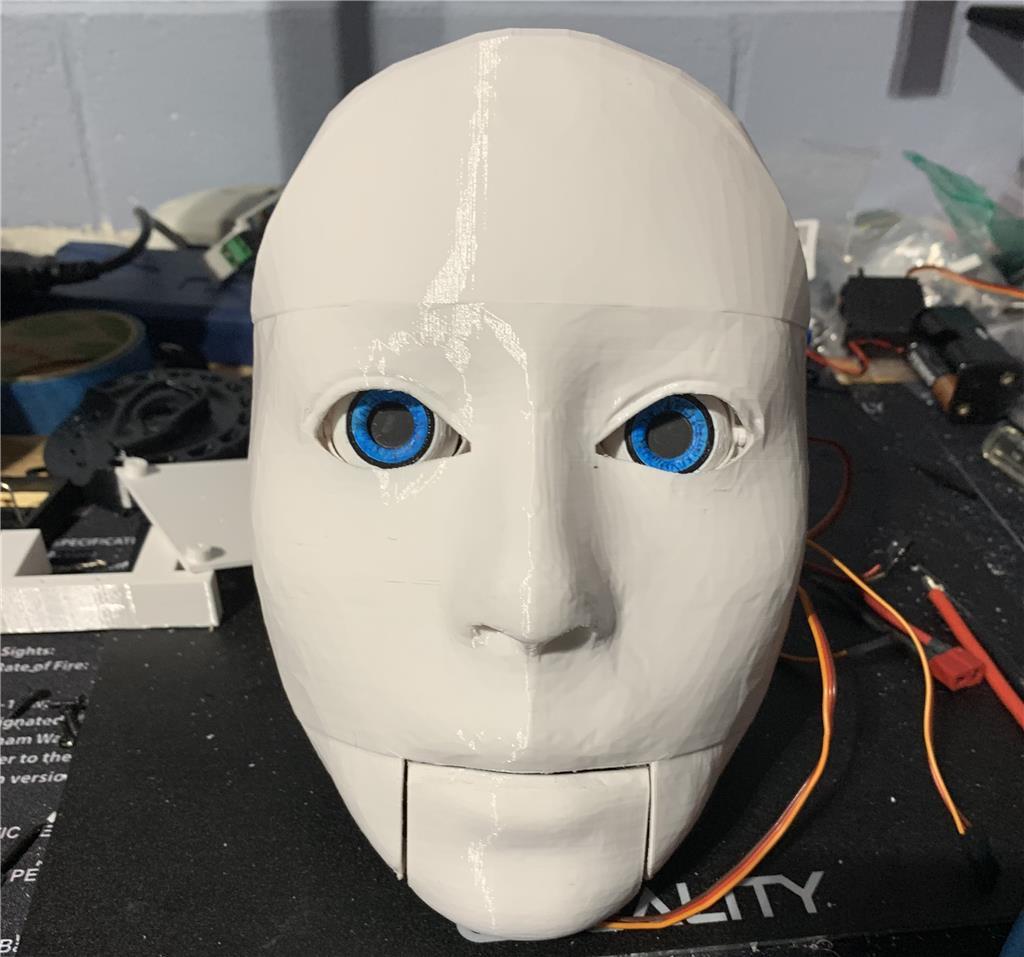 Well today 2/25/2022 I created another remix for mounting the Camera on the chest.  I still need to print it out but it should work perfect and provide a finished look.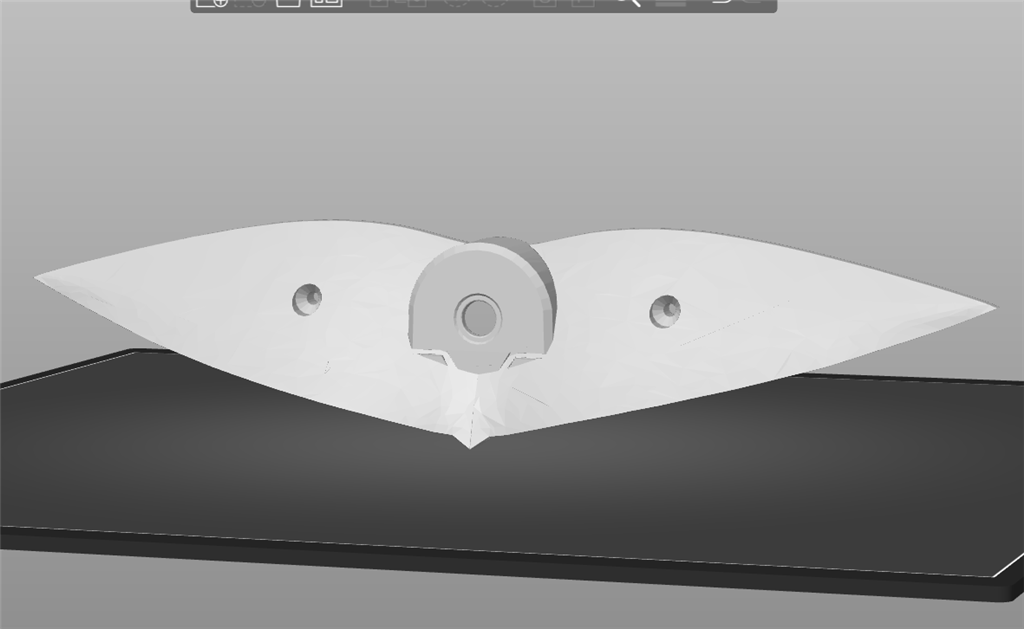 Update 3/6/2022: I printed and mounted the camera in the new part and I have to say it looks good.  I used the USB camera DJ told me about and with a little bit of adjusting I got it to work for my needs.   Thanks DJ!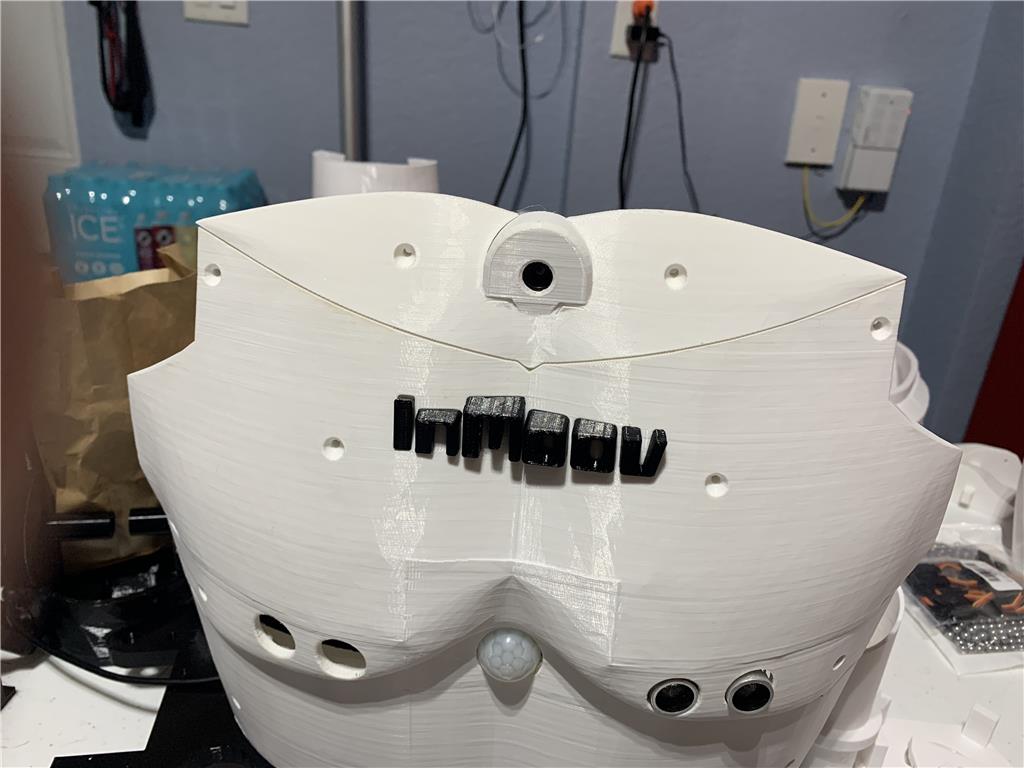 Update 3/20/2022
I have started to figure out how I want to mount the power distribution and other hardware and I am finding out that you quickly run out of space.  I still have items on order so I can't really move forward on that right now as much as I would like.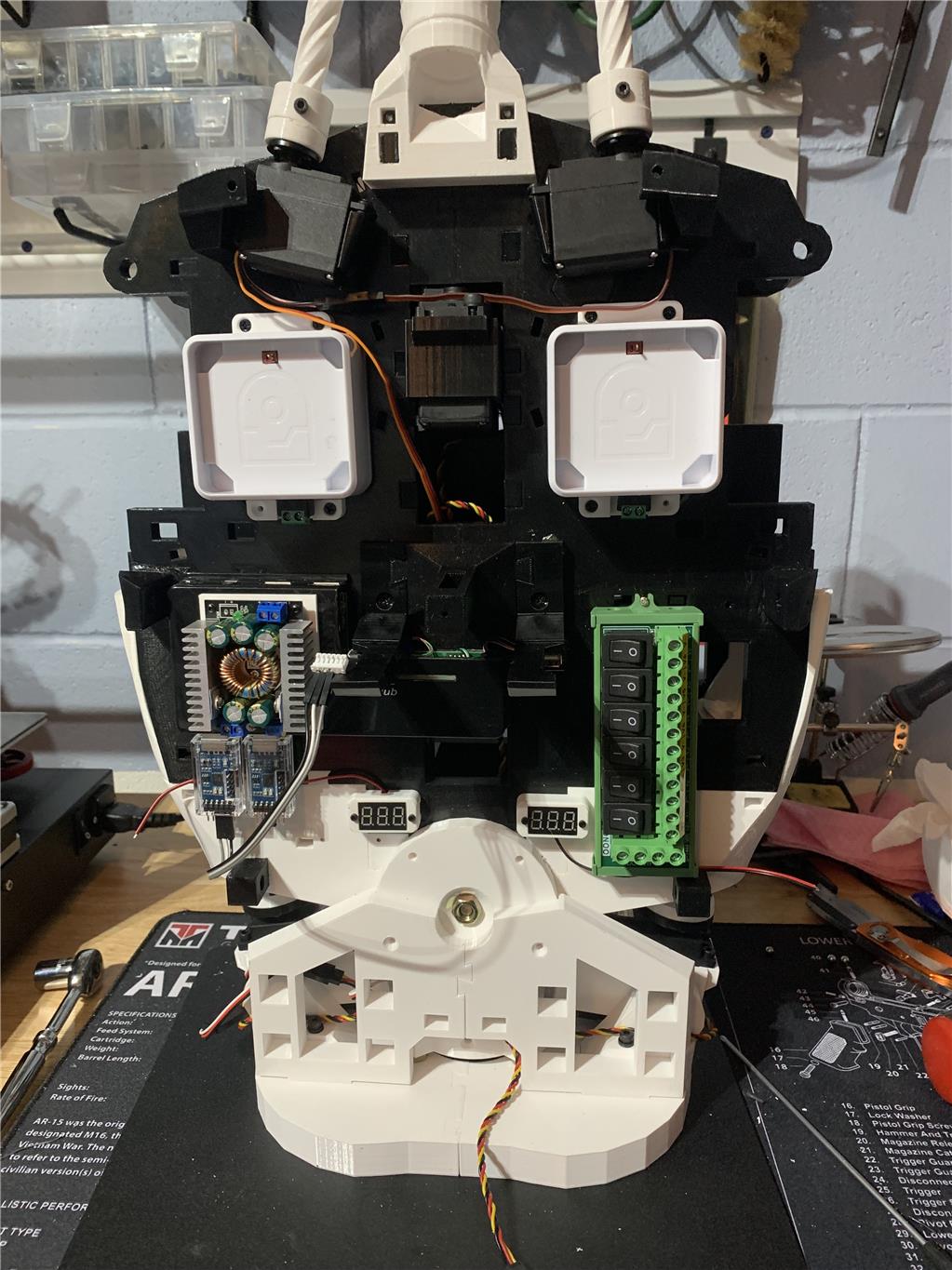 I decided today I add the neck to the torso and I have to say that was harder than I thought it would be to get all the servos centered and all three pistons adjusted.  I struggled with it for a long time but was able to get it mounted.  My next task will be to get the head mounted on the neck. My power supply should be here from China soon and I will start to work on the wiring.  I will have lots of cables to make to connect the EZB's and servo power boards and all the other sensors.  I hope at that point I will be able to start working with ARC and setting up my servo's that are installed at this point.

So in the mean time I am printing more parts to finish the legs.

Update: 4/2/2022
Well I ran out of white PETG filament so I still have the right foot left to print until I can get more white.  I decided to print the shoulders and biceps out of black PETG and was able to complete those, but now I have to order a new heater block and nozzle for the printer so printing has come to a standstill.

Update 4/17/2022
I have been working on adding the hardware to the torso and also been doing some wiring as you can see below.  I still have lots to do while I continue to wait for filament to come in.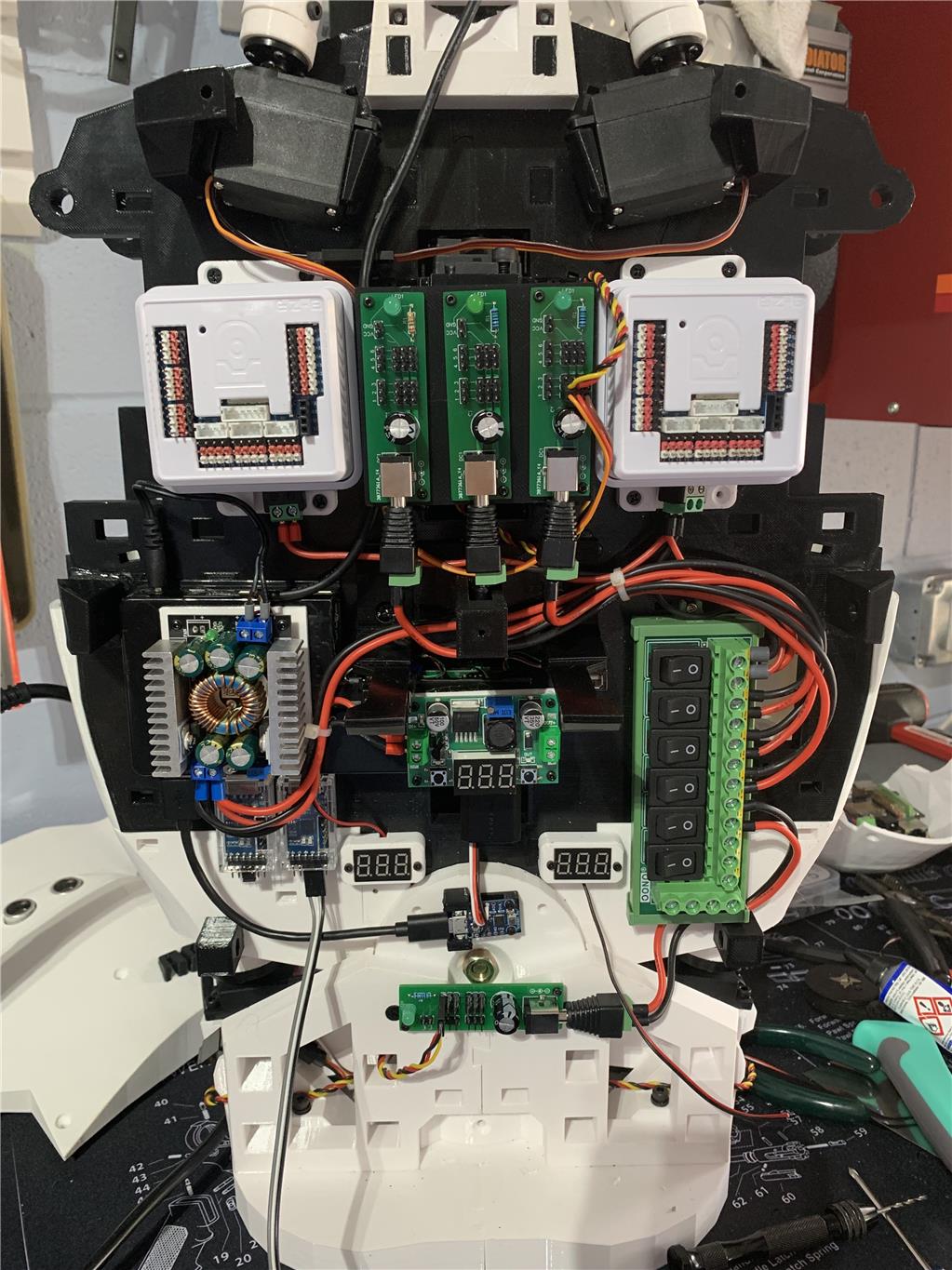 At this point the NeoPixel Ring has been programmed and installed using the Adafruit Trinket and DIYmall 16 Bits 16 X WS2812 5050 RGB LED it is connected to the powered USB hub.  So far I think things are going good with the build.   Currently I am working on getting the audio amp mounted in the head and connected to the Lattepanda for sound.  Once that is complete I will be mounting the head to the torso and start connecting up the EZB's to the servo boards.  

UPDATE: 5/13/2022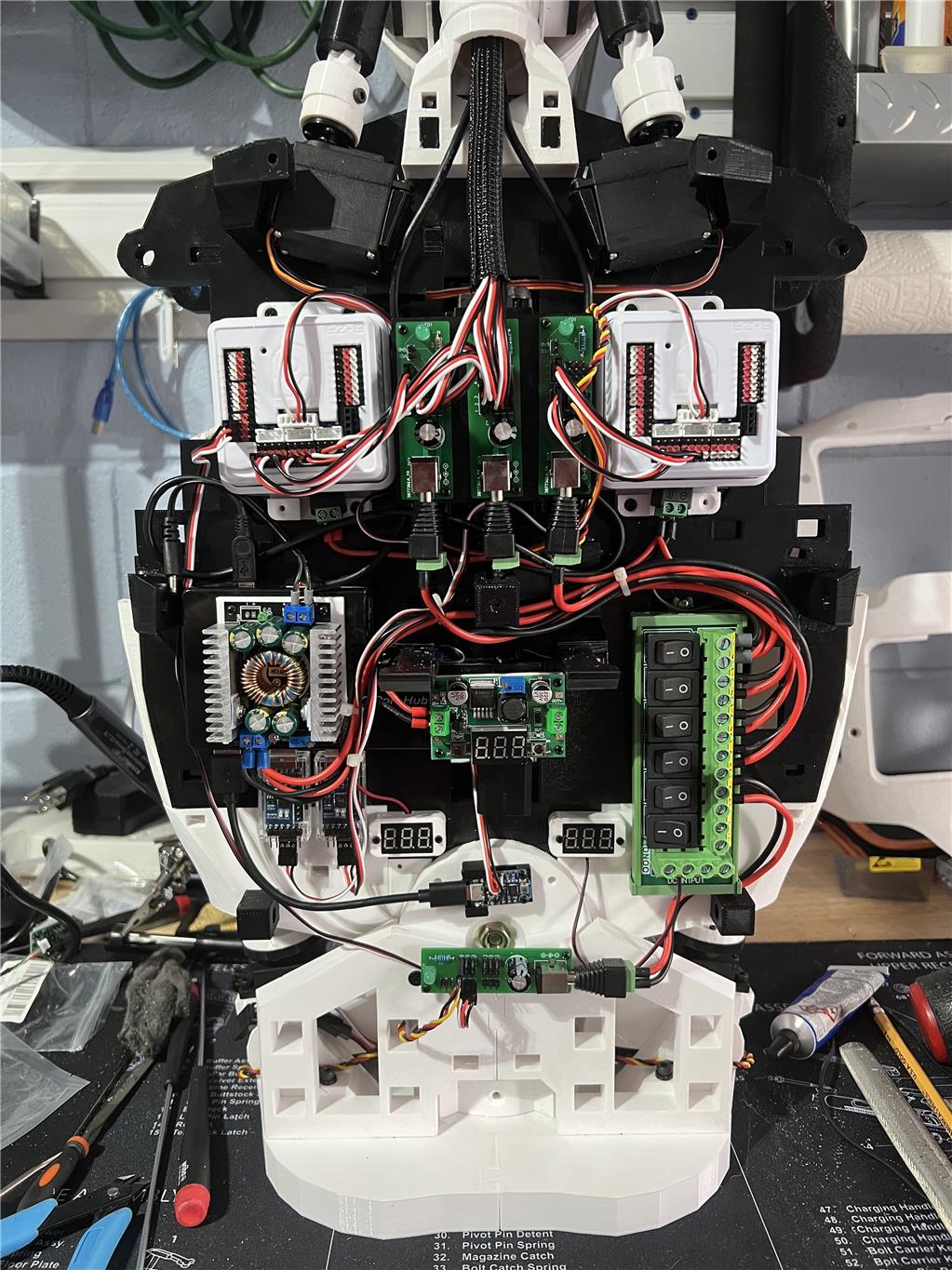 I have completed the work getting the Lattepanda installed in the head and the head mounted on the torso.  I have the EZB's connected to USB TTL's hooked to the Powered USB hub.  I have all the servos to date connected to the EZB's and things ready for the shoulder servos to be hooked up. I have also got the waste tilt servos connected.  The next effort is going to be hooking up the USB camera and sensors on the chest plate.  

So far I think the wiring looks good and it is functional at the same time.  I hope I can keep that going.  The servo power boards I got from Herr Ball have really worked out great.

UPDATE: 5/15/2022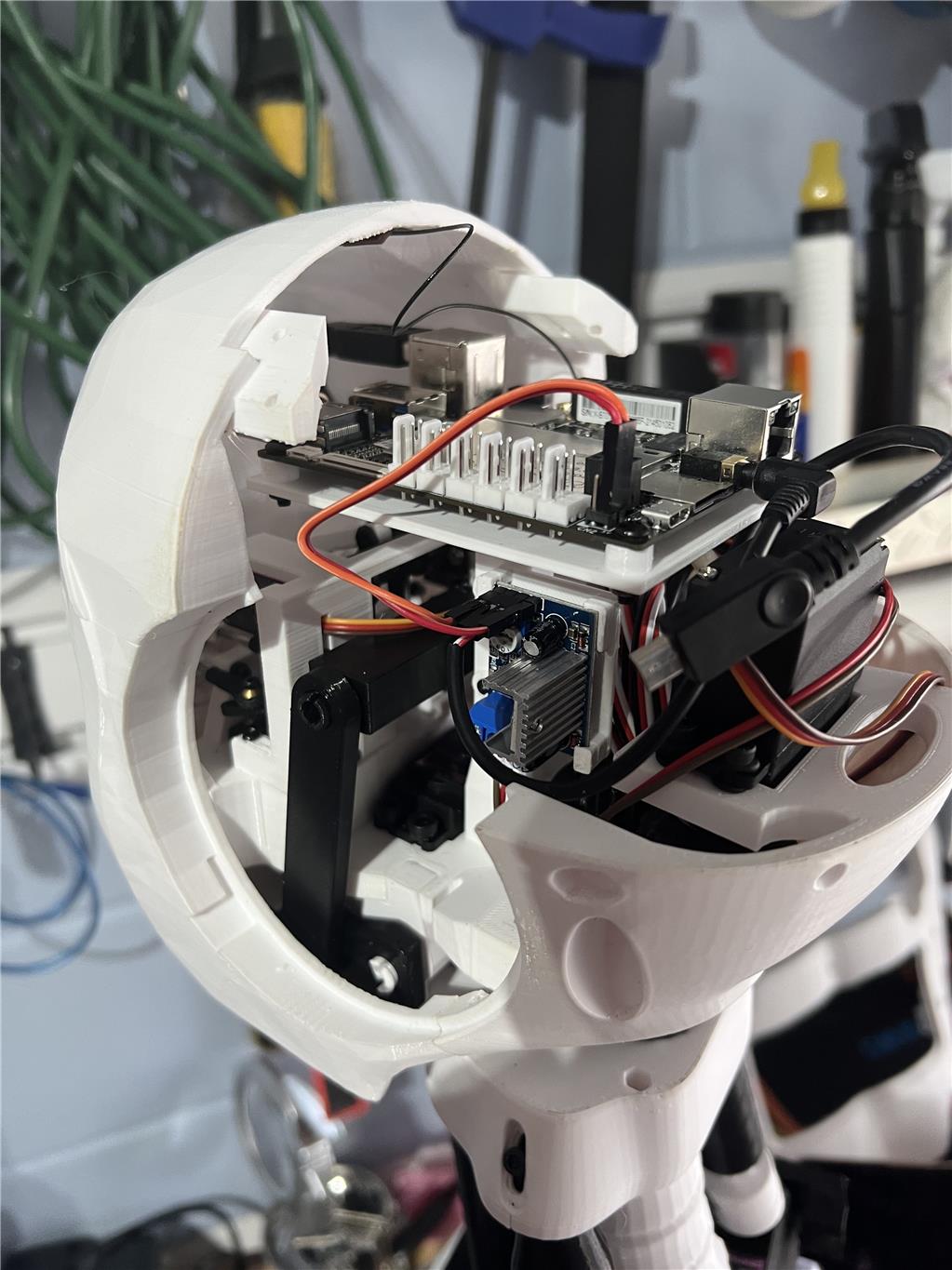 I wanted to show a picture of the LattePanda mounted in the head along with the audio amp for the speaker in the mouth.  This configuration so far is working well.  Soon I will be closing it head up by screwing everything together.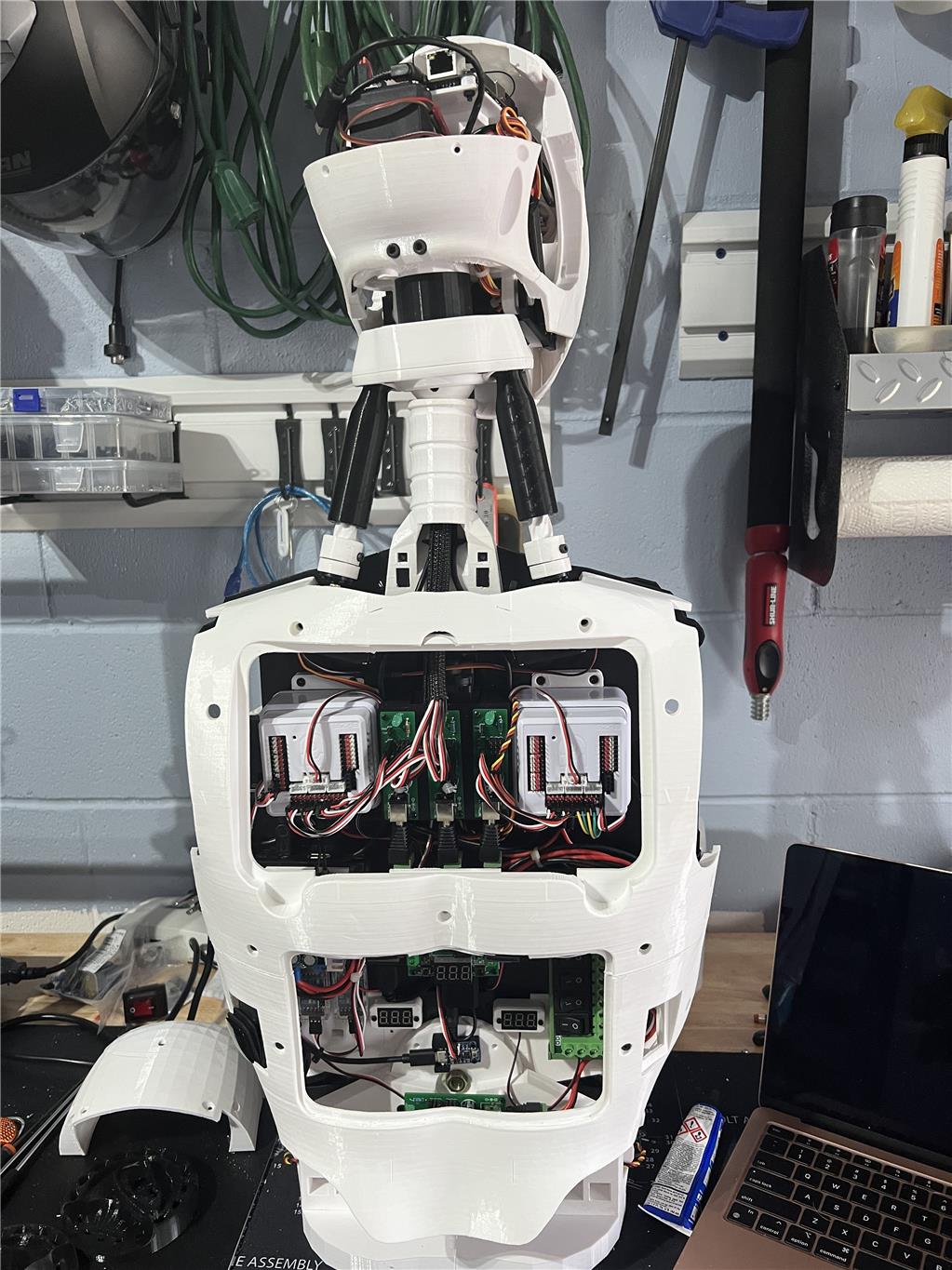 This a shot of the back cover temporarily fitted to check out my access to everything so far.  I also hooked up camera, Mic, PIR, sonic sensors that are mounted on the chest plate.

I also added some personal feature to him as you can see below.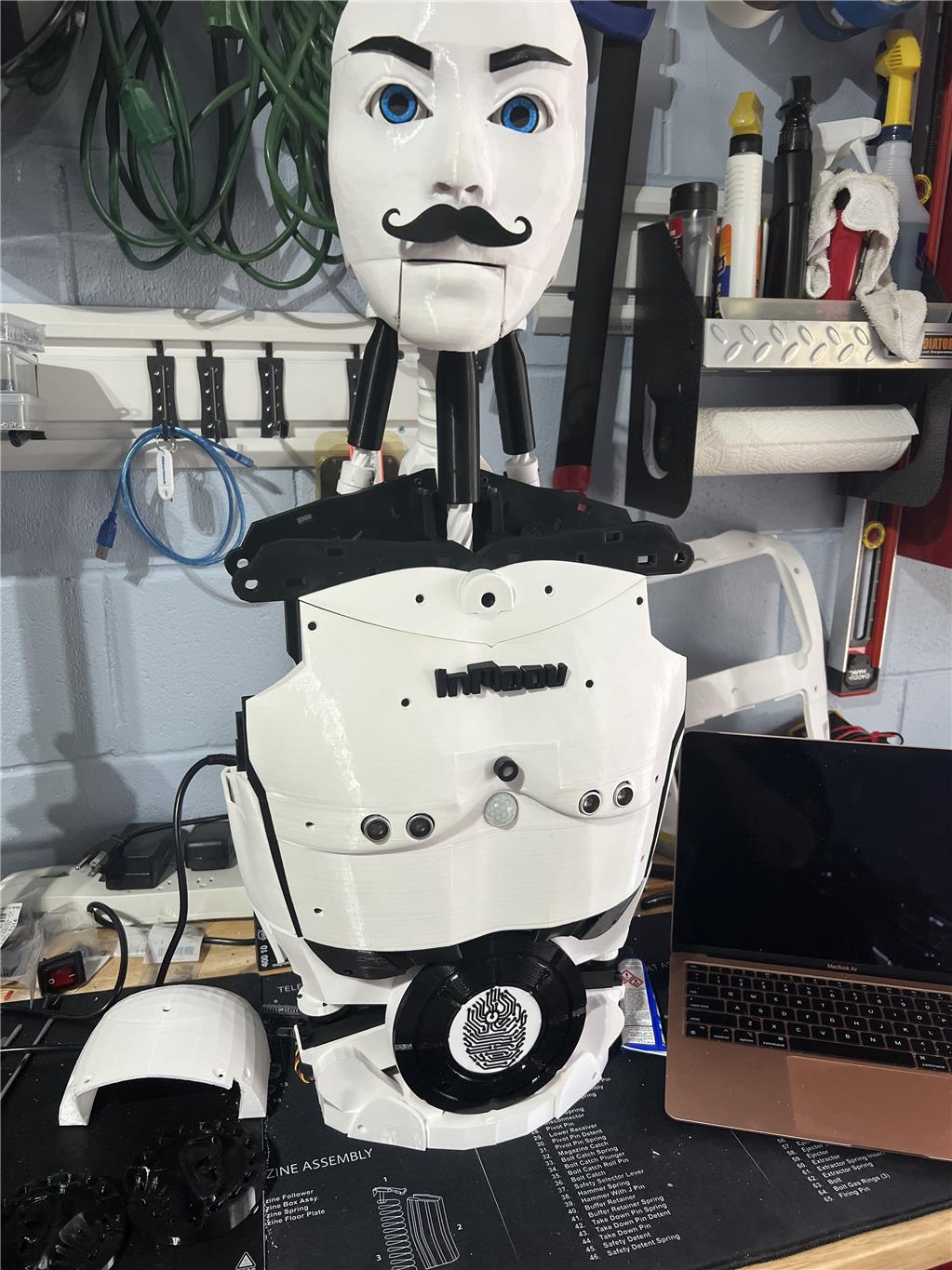 I need to get the legs done next and also the Mid Stomach together  so I can get him standing on the floor so I can clean off my work bench to start working on the arms and hands.  But first I need to get my 6v power supply built and hooked up so I can power him up and start programming while I am still building other parts of him.

I have not started my programming yet but hope to use these and many more skills Camera, Auto Position, Bing Speech Recognition, etc.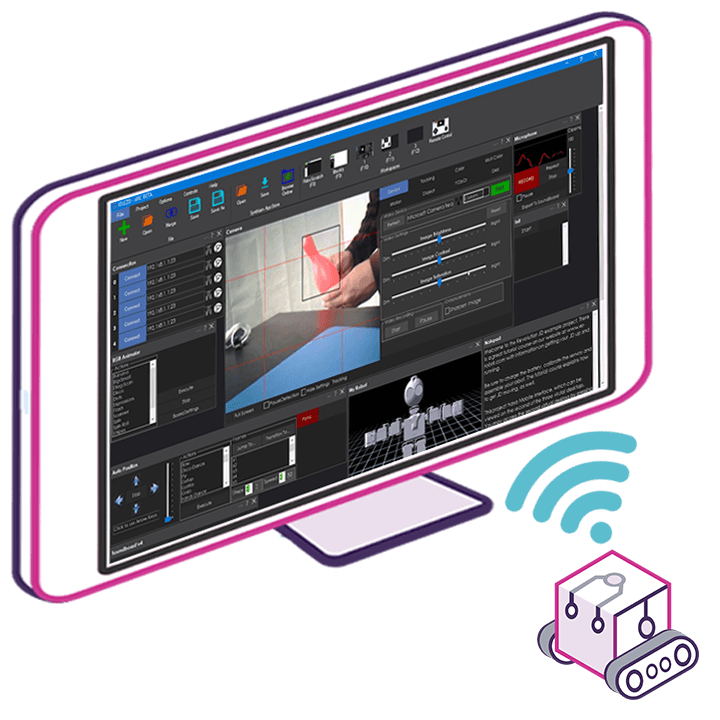 Upgrade to ARC Pro
Experience early access to the latest features and updates. You'll have everything that is needed to unleash your robot's potential.