(Autonomous Robot Control Software)
Make robots with the easiest robot programming software. Experience user-friendly features that make any robot easy to program.
Change Release Notes
Spooky Friday the 13th software release... And it's the greatest!
- Fixed sharpen image option for camera
- internal camera frame memory copy routines handle negative stride bitmaps even though I'm not sure why they're a thing
- Scripting variable manager has an event for when variable values have changed for plugins
- removed a timer on displaying connection status on mobile app that should have been an event. saved resources
- Re-using as many objects as possible between video frames (less creating and disposing of objects that get reused)
- Using direct memory copy of output video frame so the same memory gets re-used for every frame
- Drawing video feed on canvases using direct memory copies (i.e. blockly,
RoboScratch
& mobile interface)
- New Invokers uses Actions() rather than delegates, so it's much faster when getting and setting ui control values/parameters
- don't log errors while the application is closing
- New camera capture library that is 2-3% less cpu
- Sound
servo
is in stereo. Populates left and right channel variables of highest sound per poll
- Camera device displays skipped frames due to image processing being busy with tracking types
- resized some controls for better real estate
- invert full range of servos
-
servo
control uses events rather than timer
- added new events for controls adding/removing and projects load completed for plugins
- changed GetServoPosition to return the invert value if specified for
servo
(Vertical/horizontal) controls for plugins
ARC Downloads
Teams FREE
Free
Includes a free 3rd party plugin robot skill per project
Community support
Free with trial limitations
For schools, personal use & organizations. This edition is updated every 6-12 months.
Early Access
Only $8.99/mo
2 or more PCs simultaneously
Includes unlimited skills
Premium support
And much more
Experience the latest features and bug fixes weekly. A Pro subscription is required to use this edition.
Runtime FREE
Free
Load and run any ARC project
Operates in read-only mode
Unlimited robot skills
Early access fixes & features
Have you finished programming your robot? Use this to run existing ARC projects for free*.
Minimum requirements are Windows 10 or higher with 2+gb ram and 500+MB free space.
Teams known-issues can be viewed by clicking here.
Get more information about each ARC edition by clicking here.
See what's new in the latest versions with Release notes.
Compare Editions
Feature
ARC Teams

FREE

ARC

PRO

Get ARC for Free
View Plans
Usage
Personal
DIY
Education
Personal
DIY
Education
Business
Premium support
$14.99/ticket


(optional)

✓

1 request/month


($9.99 for additional requests)

Feature requests

✓

Yes
Early access to new features & fixes

✓

Yes
Simultaneous microcontroller connections*
1

✓

255
Robot skills*
20

✓

Unlimited
Skill Store plugins*
1

✓

Unlimited
Cognitive services usage**
10/day

✓

6,000/day
Auto-positions gait actions*
40

✓

Unlimited
Speech recongition phrases*
10

✓

Unlimited
Camera devices*
1

✓

Unlimited
Vision resolution
max 320x240

✓

Unlimited
Interface builder*
2

✓

Unlimited
Cloud project size

✓

128 MB
Cloud project revision history

✓

Yes
Create Exosphere requests

✓

50/month
Exosphere API access
Contact Us
Volume license discounts
Contact Us
Get ARC for Free
View Plans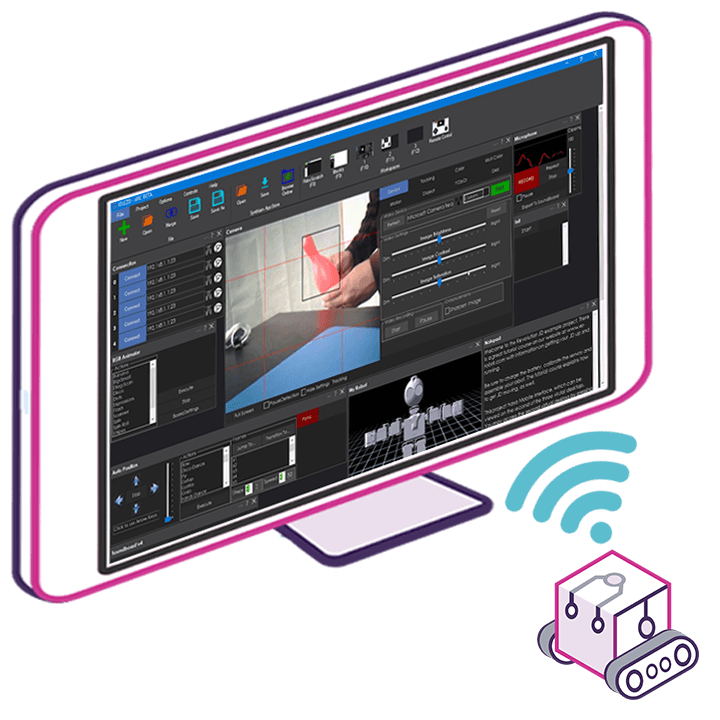 Upgrade to ARC Pro
Harnessing the power of ARC Pro, your robot can be more than just a simple automated machine.