(Autonomous Robot Control Software)
Make robots with the easiest robot programming software. Experience user-friendly features that make any robot easy to program.
Change Release Notes
Some new features and fixes in this release - still concentrating on the video processor. I know there have been fantastic results from the last update, and this update increases performance also.
The new video processor uses dynamic frame rate. The frame rate is adjusted based on the speed of your computer. The funny thing is, people may ask why the max is 10 fps? Well the answer is simple: Your robot will act like it's having a siezure if the frame rate is any higher. Because the video is analyzed in real-time by the processor, the hardware also reacts to real-time results... And if the object is being tracked with a high fps, the robot goes a little insane. So, the only real reason for having a high FPS is human esthetics. The work-around to make humans happy is to use the Real-time Video View mode when viewing your robot via remote presence, etc.
I've also found a work-around for the Shortcut Creator issue on some computers. It seems ones of the libraries I was calling for creating the LNK file was not default installed on all computers. That was a surprise to me and many others who tried to use the library. So, I found a work-around by using an operating system call, and now the Shortcut Creator works.
The biggest change in this release is how the video data is passed between tracking modules. It now uses a newer and faster method in shared memory - so it's much happier. This leaves more processor speed available for other controls.
- Video Processing Enhancements
- Dynamic Video Frame Rate
- Shortcut Creator Fixed (File->Shortcut Creator)
ARC Downloads
Teams FREE
Free
Includes 1 free plugin robot skill per project
Community support
Free with trial limitations
For schools, personal use & organizations. This edition is updated every 6-9 months.
Early Access
As Low as $8.99/mo
2 or more PCs simultaneously
Includes unlimited skills
Premium support
And much more
Experience the latest features and bug fixes weekly. A Pro subscription is required to use this edition.
Runtime FREE
Free
Load and run any ARC project
Operates in read-only mode
Unlimited robot skills
Early access fixes & features
Have you finished programming your robot? Use this to run existing ARC projects for free.
Minimum requirements are Windows 10 or higher with 2+gb ram and 500+MB free space.
Get more information about each ARC edition by clicking here.
See what's new in the latest versions with Release notes.
Compare Editions
Feature
ARC Teams

FREE

ARC

PRO

Get ARC for Free
View Plans
Usage
Personal
DIY
Education
Personal
DIY
Education
Business
Premium support
$14.99/ticket


(optional)

✓

1 request/month


($9.99 for additional requests)

Feature requests

✓

Yes
Early access to new features & fixes

✓

Yes
Simultaneous microcontroller connections*
1

✓

255
Robot skills*
20

✓

Unlimited
Skill Store plugins*
1

✓

Unlimited
Cognitive services usage**
10/day

✓

6,000/day
Auto-positions gait actions*
40

✓

Unlimited
Speech recongition phrases*
10

✓

Unlimited
Camera devices*
1

✓

Unlimited
Vision resolution
max 320x240

✓

Unlimited
Interface builder*
2

✓

Unlimited
Cloud project size

✓

128 MB
Cloud project revision history

✓

Yes
Create Exosphere requests

✓

50/month
Exosphere API access
Contact Us
Volume license discounts
Contact Us
Get ARC for Free
View Plans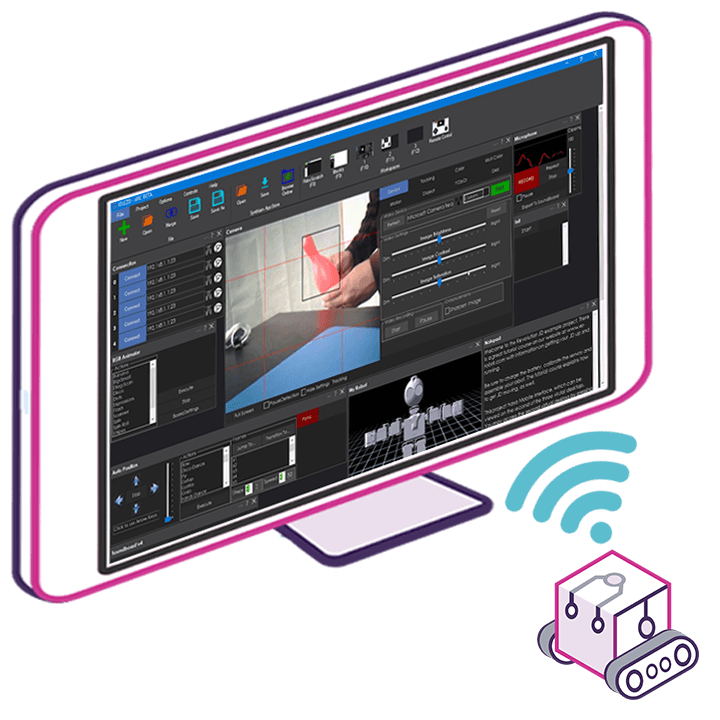 Upgrade to ARC Pro
ARC Early Access will give you immediate updates and new features needed to unleash your robot's potential!