Skip to comments
Robot's needed be mobile, walking, talking beings... so I plan to do something I doubt has been thought of before... I'm turning my staircase in to a robot
Well, JARVIS is controlling it to be more specific. (Note: The title may say Add-On #1 but it's actually idea #127 - yes there really have been 126 other ideas before this one, and more since too... needless to say my ideas don't always come to light)






The History:
When walking up or down the staircase I want something that looks insanely awesome...
So, I had the idea of fitting LED strip to the underside of the stair rail, routered in to the rail so it is not visible at all until turned on and then just a wash of light coming from the rail.
Easy to do, it doesn't even need an EZ-B or EZ-Builder... You know what, that's not insanely awesome, it's just pretty awesome... Not good enough for me so back to the drawing board.

What if it looked kinda like runway lights when they turn on, you know one pair either side of the runway come on, then the next, then the next and so on. That would be pretty damn awesome right? But still not quite insanely awesome...

What if they were automatic? Pretty cool right? So we have cool and awesome but not insanely awesome...

What if they were totally automatic, direction dependent? You know, get to the bottom of the stairs and the trail lights from bottom to top. Get to the top and it lights top to bottom. Yeah that's pretty insane, we're on the right tracks now.

But what about turning off? What about changing your mind about going up?.. Sorted... ARC can do that...

So something insanely awesome? You tell me. I think so


The Plan:
Take sections of LED strip, fix to the underside of the stair rail, sensors top and bottom to detect movements, LED strips switched by the Digital ports of the EZ-B, Sharp IR sensors for the proximity detection, EZ-Script to set the dance in motion...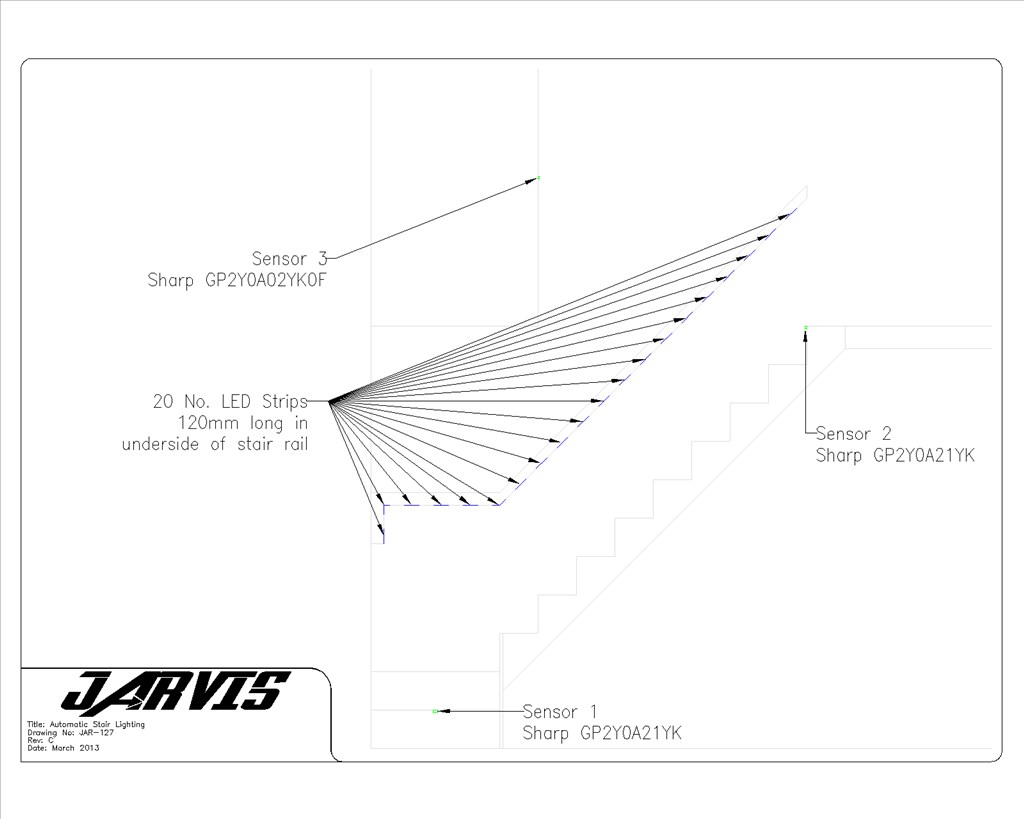 However since drawing it up I have found (thanks to Tony) some better IR sensors which would work much better and be less demand on EZ-Builder. So, as always, this is a work in progress, it will be adjusted throughout but it's a start.

What will happen is Sensors 1, 2 & 3 (3 is needed for coming down from up) will be triggered, EZ-Script will detect this, turn each section one one at a time with slight delay between. When the other sensor the other end (i.e. Sensor 2 if coming from downstairs or Sensor 1 from up) is triggered it knows you're done and will turn off the lights after a small delay (3 or 4 minutes).

If you trigger Sensor 1 then Sensor 1 again it will cancel the action.

If Sensor 1 is triggered and neither Sensor 1 or Sensor 2 within a minute or two then it alerts of a problem.

Photos, schematics, scripts etc. all will follow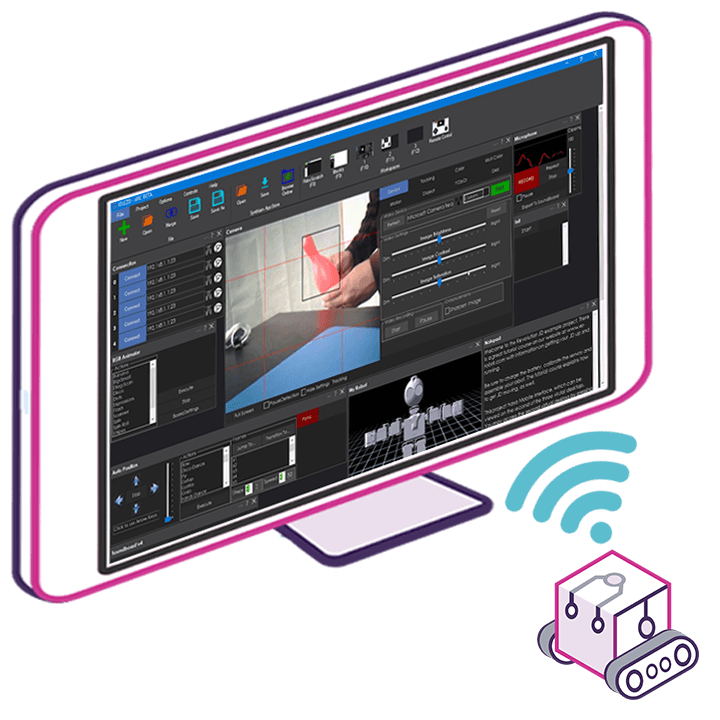 Upgrade to ARC Pro
Harnessing the power of ARC Pro, your robot can be more than just a simple automated machine.