CochranRobotics
USA




Asked — Edited
I have never blown a board due to being careless, until yesterday...

I am was using an Arduino Mega for gathering information from a Neato XV-11 LIDAR sensor. I had disconnected the power cables and unplugged serial port wiring to mount the board on my control box. After getting the Arduino mounted and plugging in the cables again, I attached the 12v battery. Things went down hill from there.

Sensor readings were not coming back from the LIDAR and I messed around for about 10 minutes trying to figure out why. When I inspected the wiring, I realized that I had plugged the ground wire one spot too far to the right (VIN). The board was already grounded through the 12V plug. The ground wire that was plugged into VIN on accident was plugged into a Beaglebone Black into a ground pin. The BBB wouldn't boot up. The LIDAR was plugged into power on the Arduino along with the serial connections and the other serial connections were going to the BBB.

The BBB looks to have survived the mistake. The Arduino definitely didn't. I don't know about the LIDAR. The EZ-B for this project is still in the box, so it is okay
Thanks to RobotDoc I have a logic analyzer so I will be able to check the LIDAR to see if it is sending back packets or not shortly.

Long story short... Always double check your wiring, especially on a board that you are not familiar with. It gets easy to get in a hurry and make a stupid mistake costing you money for replacement parts, but more importantly time waiting for the parts to arrive.

On another note, I have a Flashforge Pro 3D printer that I am using for this project. It is a Makerbot 2X knock off. There is one issue that had me stumped for a couple of days. The printer would just start jerking for no reason. I could jog the controls in either X OR Y without any of this jerking happening. Finally, I brought the extruders to the front left corner of the printer and told it to home (which moves the extruders to the back right side of the printer). The jerky activity started about 2/3 of the way back from the front left. This told me that it was nothing with my slicing settings. I then did some looking online and discovered that the X axis stepper motor cable on these printers can develop micro fractures due to repeated bending. These cables are not designed to be bent over and over again. I manufactured a cable and tested this out. It worked without any issues for a while, and then the problem came back. I am sure that the wire I used could have the same issues and probably more so due to me doing this quickly to identify the problem. I pieced some jumper wires together to make this cable. Now I wait for the 4 replacement cables that I ordered.

So, I am waiting until I can continue printing, and I am waiting to be able to continue working on the SLAM parts of Rafiki. Good time for me to check in and make sure that the other development is progressing.

We have decided that the parts of IBM's Watson solution that we were looking at using are not quite up to par with some things we can do ourselves. We have backed off on using Watson for now and are working with Wolfram for the knowledge and information pieces of this project. Unfortunately with a project like Rafiki, you try some things for a while and at some point you have to decide that its not worth it going down the path you have been going down. Time spent but knowledge gained. Knowledge doesn't have a price tag so no problem in my book. We are falling a bit behind but the robot will have more capabilities than I first imagined in the long run.

Have a great day everyone.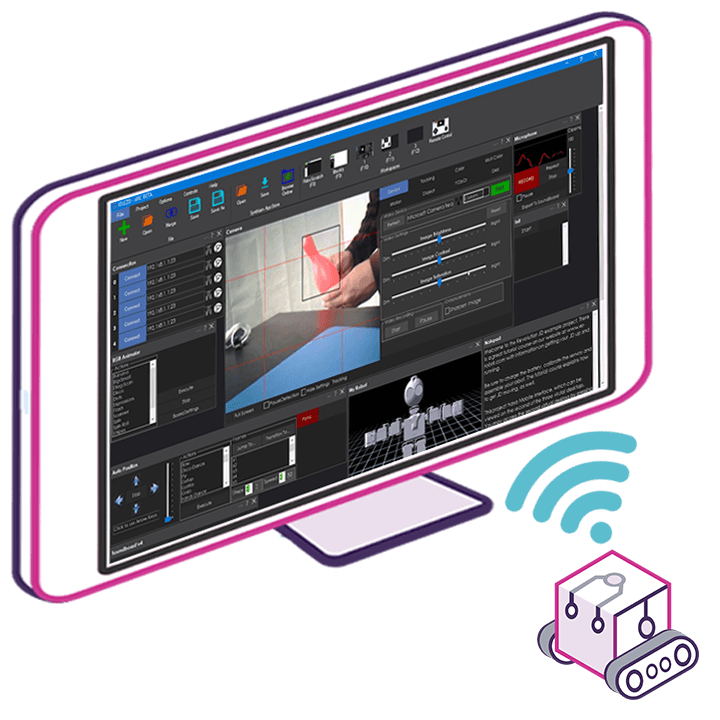 Upgrade to ARC Pro
Harnessing the power of ARC Pro, your robot can be more than just a simple automated machine.
Based on your post activity, we found some content that may be interesting to you. Explore these other tutorials and community conversations.