Rich
United Kingdom




Asked — Edited
It's been requested so here it is... a quick (and brief) look at TELNET.

First off, you can view DJ's video on TELNET for some info on how it works, here it is...




Which is great and covers the TELNET application but if you want to use something else, say EventGhost you'll need to know how.

The first steps are the same, enable the server for the board(s) you want to control, DJ covered this in the video so I wont repeat it.

Now, in EventGhost you will need to add a Python Script. This is a very basic Python script I have knocked up to show it working. You may need to change IP addresses and ports to suit your ARC but that should be easy enough to see how.

In EventGhost I have a Python Script written;

Code:
from socket import *
import time
HOST = '192.168.0.100'
PORT = 6666
ADDR = (HOST,PORT)
BUFSIZE = 4096
cli = socket( AF_INET,SOCK_STREAM)
cli.connect ((ADDR))
data = cli.recv(BUFSIZE)
cli.send('$incoming = "Hello, I am Event Ghost"')
cli.send('\n')
cli.close


HOST and PORT may need changing for you. This script simply sets a variable $incoming to be "Hello, I am Event Ghost". Run it and the command is sent to EZ-Builder, the variable is set.

I have added a simple EZ-Script to EZ-Builder, something that will use the variable that was set.

Code:
# Set up the variable so that it exists
$incoming = 0

# Set up a loop
:loop

# Wait until data received from EventGhost
WaitForChange($incoming)

# Speak the incoming text
SayWait($incoming)

# Loop back to the start
Goto(loop)


Now, the Python script will set the variable $incoming to the specified phrase, the script will see the change and will speak the phrase.

Also added is the Variable Watcher, which should show a change in the variable.

Also the debug window is added so you can see the connection happen.

Hopefully (it's currently uploading) here is a video of the example code above working and ARC being controlled by EventGhost... NOTE: TURN DOWN YOUR VOLUME! The sound went a bit wrong, I guess I forgot to set the audio device and it used the mic not the speakers so sound is messed up and very loud.



I also showed some other script commands, however the servo one didn't work but that was due to not being connected to an EZ-B at the time of testing. I'm too lazy to cut it out of the video.

Hopefully that should give an indication in to how to get EventGhost (or anything that uses Python) to talk to EZ-Builder. Writing the Python scripts is a more in depth process and there is a multitude of resources on the internet which should be able to help you work out how to write the code which sends other variables in to ARC (I am unable to show my code which creates the cli.send at this time due to a whole bunch of things that are going on with Jarvis right now - sorry it's vague, I wish I could say more).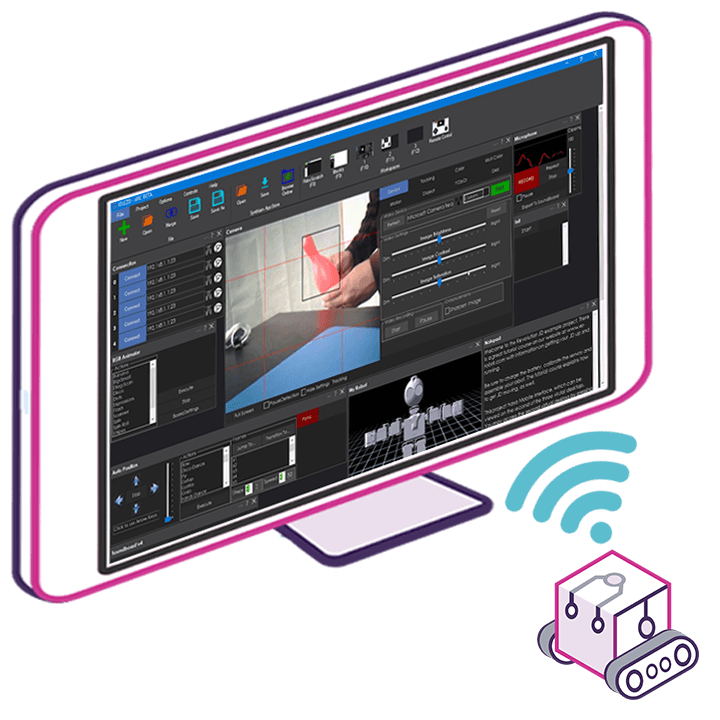 Upgrade to ARC Pro
ARC Pro will give you immediate updates and new features needed to unleash your robot's potential!