I am trying to get the PWM going to fade an LED on my IOTiny, but it doesnt seem to be working.
I have an IOTiny with 2 servos and camera. I am trying to get an LED to fade on and then off (repeatedly). I will expand to a couple more LED's once I can get this sorted.
I have tried the example set forward in tutorial:
https://www.ez-robot.com/Tutorials/UserTutorials/179/1
I also watched the video on the youtube channel:
https://www.youtube.com/watch?v=kY8iJ84J4GE

I believe the code is setting a threshold to achieve (either 0 or 100) and using the servo Speed to determine how quickly it achieves this value. When I watch the applets running the code from a script applet, the PWM just jumps between 0 and 100 (with the 3000ms delay in between). It doesnt graduate.

I set up a script to run the PWMRandom on the port, and while I can see the value changing on the PWM applet, there is no difference at the LED.
I measured the output with my analog voltmeter, and my digital meter and it seems to just output ~3v as soon as any positive change to the PWM setting occurs regardless of the value. I was expecting to see my analog meter gradually go up and down. The DMM is autoranging, and probably wouldnt pick up the change and report it effectively. I would anticipate if the value of the PWM applet is low, say 10% the LED would be dim. While 100 would be bright.

I also believe that the PWM applet would be quickly switching the voltage creating a duty cycle that would effectively lower/raise the voltage of the port.

I am powering the IOTiny with a 5v MeanWell power supply rated at 3AMPS. While the documentation states a preference for battery, and a 5Amp requirement, my meter indicates the system only draws 0.18A at idle and even with the camera it never went over 0.4A, so I believe I am within the functionality requirements of the device.
To support that position the camera is setup to perform face tracking with servo control and it works fine.

Am I wrong in my understanding?
Am i trying to implement PWM incorrectly?

The PWMRandom script is simply:


Code:

:Loop
PWMRandom( D4, 0, 60 ) 
goto(Loop)



where as the other script is simply the reference one:


Code:

# set the servo speed to 2
ServoSpeed(d4, 5)

:loop

# Set LED On
pwm(d4, 100)

# wait some time for the pwm to do its ramping thing
sleep(3000)

#set LED Off
pwm(d4, 0)

# wait some time for the pwm to do its ramping thing
sleep(3000)

goto(loop)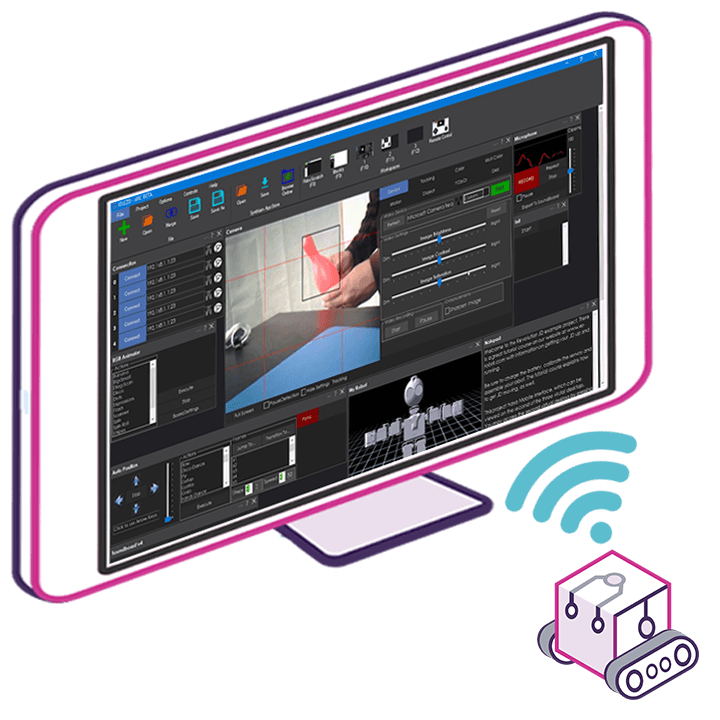 Upgrade to ARC Pro
Experience the latest features and updates. You'll have everything that is needed to unleash your robot's potential.