RogerR
United Kingdom
Asked — Edited
Having received a JD Humanoid Robot (in U.K, via RobotShop, Paris, France) in August 2017 I have had two complete servo failures and I am suspicious of the design of other servos in this JD.

Both the Left Ankle and the Left Knee servo failed, by "jittering" backwards & forward uncontrollably. Obviously JD could not stand up with this problem.

While driven by a steady mid-range servo pulse (approximating to 90 degrees, or straight leg) The servos jittered, with occasional excursions to fully forward (which would have been commanded with the minimum pulse width of approx 0.55mS, except the pulse was stable and not calling for an extreme position).

The servo drive pulse was stable and constant at about 1.3 mS, and it was a very clean signal with no "noise".

I have examined a couple of other servos from JD which do not have this problem, but they both show features which I have never seen on other servo makes.

When being driven, by a slowly varying pulse train, from limit to limit, both Servos performed ok, moving smoothly, but I noticed two "odd" things. When being driven both Servos took about 0.25 ~ 0.45 Amps (at 5V) while moving, which dropped to Zero Amps when the commanded position was reached - as normal & expected.

However, when either servo was driven to the Maximum Pulse width Extreme limit, i.e. nominally 180 degrees (approx 2.4 mS pulse width) the current suddenly rose to 1.2 Amps (overloading my PSU) and stayed there as long as this extreme position was held. Needless to say I did not hold this "very unhealthy" position for long !

Also, quite often, as the servo reached this (max-pulse-width) extreme position it started to "jitter" back to the other extreme position (min pulse width) even though this was un-commanded. The servo control pulse width stayed constant and "clean" so the servo should just have stayed at the max-pulse-width extreme position as was commanded.

I have never had any of this behaviour from any other servos and, in fact, over several years, I have never had a servo fail me.

I have now arranged with RobotShop to return this JD Robot and they will send a completely new model - I hope this works O.K.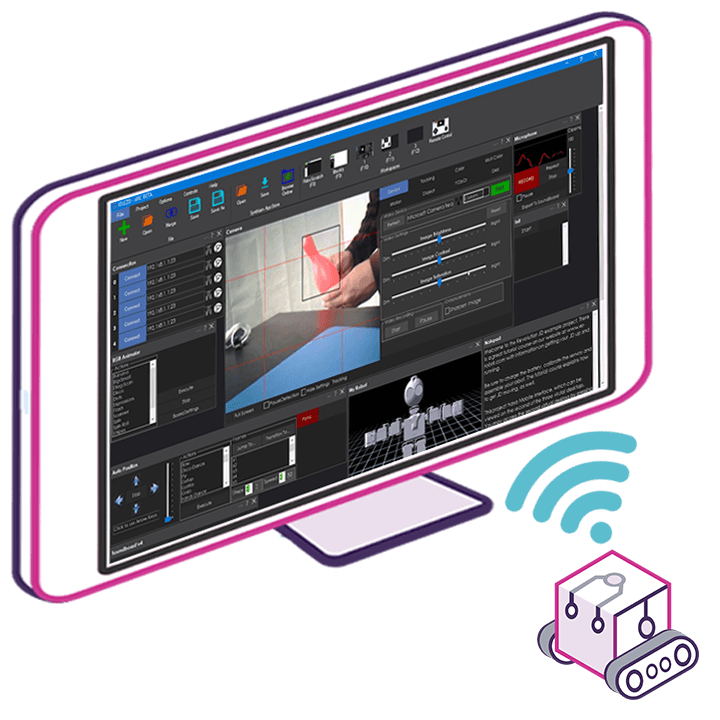 Upgrade to ARC Pro
Your robot can be more than a simple automated machine with the power of ARC Pro!