All you professional programmers. This is a Chalenge to you.

The algorythm below is what I am trying to accomplish on my robot.
It is NOT a program, but just an idea. If this works, we will have not only an autonymous robot, but one that will be able to LEARN and Improve over time.

Anyone is welcome to tackle it. If you succeed, please POST the code.

This should be changed into code and Placed inside your Navigation script.


Initialize
Set ConfidenceLevel to 3
#a group of any actions could be more or less than 16 but I have actions (0-15)
Actions:
0=sleep
1=Forward
2=Backward
3=TurnLeft
4=TurnRight
5=Spin Around
6=playExplore
7=LookCenter
8=LookLeft
9=LookRight
10=LookUp
11=LookDown
12=GiveTimeDateDay
13=checkSonars
14=Check4Lifeforms (ScanPIR)
15=Laugh

While navigating:

Generate Unique Random Number (RN) (0-15)
choose action (that random number)
Read LastMove
if last move=bad then (confidence level=confidenceLevel -1)
if last move=good then (confidence level equal ConfidenceLevel +1)
if ConfidenceLevel more than 3 then confidenceLevel=3
if ConfidenceLevel less than 0 then confidenceLevel=zero
if confidenceLevel greater than Zero then confidenceLevel=good
if confidenceLevel =zero then goback and generate New RN
and start over at the top
read status of sonars
if status= good then confidenceLevel =(confidenceLevel+1)
if status=good then preform Action
if status=bad then confidencelevel=(confidenceLevel-1)
if status=bad then goback and generate new RN
let lastmove=newmove
save status
save lastmove

We would also listen for the word "No!"
if we heard that, Confidencelevel would shrink to Zero
also we listen for the word "GOOD!"
if we heard that, confidencelevel would be equal to 3

This is a very CRUDE representation of this Algorythm, but,
By doing this, the robot could be trained and have More accuracy and Learning. he would be smarter.
He will know Good from Bad. Bad would be like running into something. Good would be clear path, etc.

Hope you understand what I am trying to accomplish. If I were a good programmer, it would have already been done.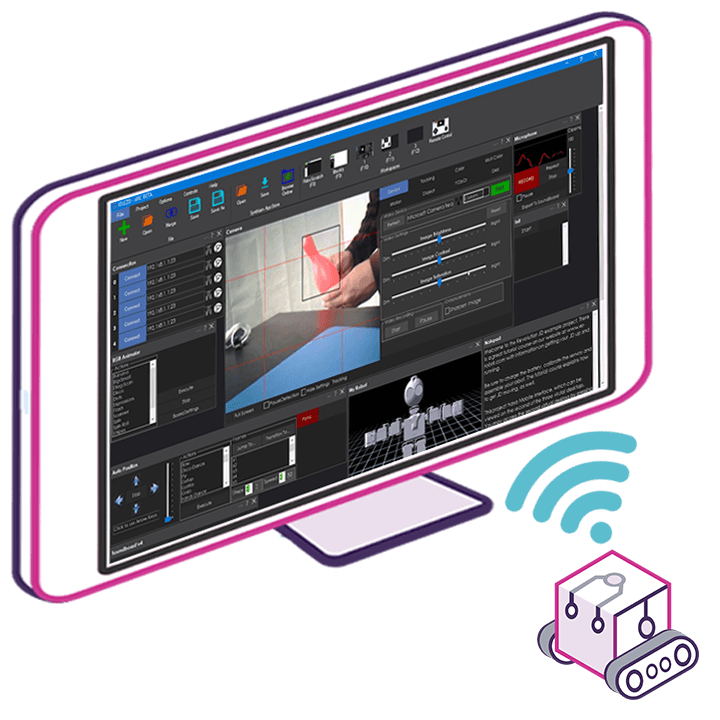 Upgrade to ARC Pro
Your robot can be more than a simple automated machine with the power of ARC Pro!