I'm going to check for a software update and explore the site some.
So exited!

No software yet. Its only 10:30 Mountain Time so I guess it's a little early for the 5pm on the 2nd. Still, I'm very excited.

The office cams show them hard at work


It's been a busy day. Still settling into the new house, the step-son graduated today
My new work space is coming along nicely. Found another Zune box today, looking at improving on the engineering/structural flaws of my current bot. (The move didn't treat it too well. Poor servo positioning on my part.) It's called "1ScriptPonyBoyCurtis" and it's in the incomplete robots section. It's had a lot of controls added and removed. I've messed with most of them but they are not all in my current project anymore.

I still haven't connected my US sensor that came with my ez-bC. Baby steps
I haven't posted it in a thread because I really don't feel it's worth the space. It's nothing that hasn't been done and in this case literally can't be done right out of a/the box. And to be honest it's days are numbered. (Hopefully to less than 30). I'll be need those parts. I've a few recopies, it's just a matter of stumbling across those special ingredients.

I just got a laptop 2 days ago for EZ, all of my media is on my office pc (which is basically a file server anymore) except for a couple wallpapers and some sound bytes for the soundboard. Basically anything I decide to use for my projects I'll copy over to the laptop.

I've been trying to use the voice commands a lot with this laptop also. I scored an ear saddle microphone for 50 cents at a rummage sale. One man's junk blah yada blada
It's been a vast improvement. I'm fairly impressed with how well voice recognition has become right out of the box. I'm still talking at it instead of to it but it's not too bad.

I still haven't found a way to get a voice other than MS Anna. Any one crack this case yet? (ooh DJ just yawned, maybe he is human. 12am at the office)

Maybe I managed to miss it but, I don't recall hearing anything about a firmware update for current ez owners. I've heard about a new smaller board but will the mini just have the current ez firmware or will there now be 2 versions? I'm assuming the former or an update.

I'd appreciate any input anyone may have on any of these subjects

Thanks.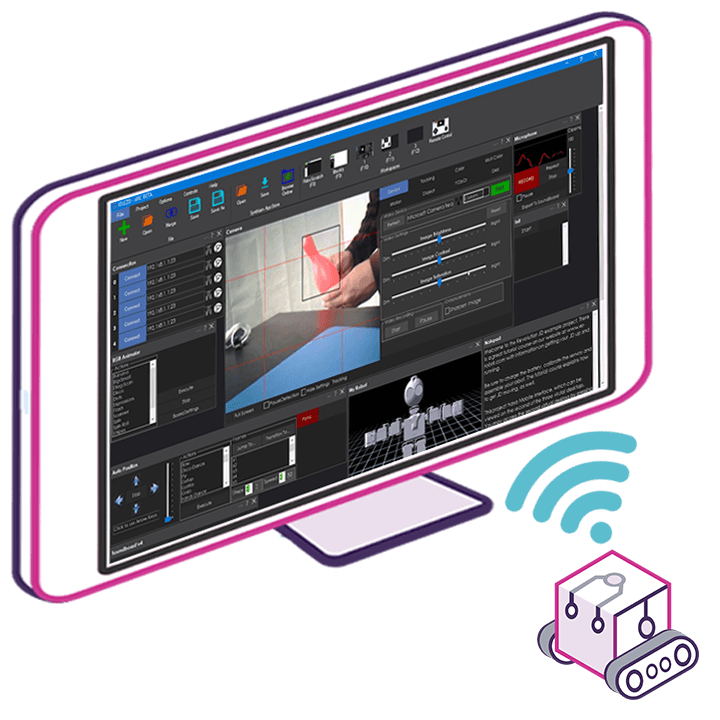 Upgrade to ARC Pro
Harnessing the power of ARC Pro, your robot can be more than just a simple automated machine.