Good Morning,

I am working on a project and I need help with some code.
The code I wrote monitors all 24 Digital Inputs, takes that data and places into a string value which is used to display. I then have if then statements to check for a one. I then have that output trigger the string value $FAA. If the condition is met then an email is sent out.

I guess what I am asking is if the condition is met for an email to be sent, I only need an email sent once. The code I have wrote, it will email a lot.

If any more coder with a lot more knowledge than me could take a look for me it would be appreciated.

Code posted below.


Code:


:START
#init all values

$B1T1= ""
$B1T2= ""
$B1T3= ""
$B1T4= ""
$B1T5= ""
$B1T6= ""
$B2T1= ""
$B2T2= ""
$B2T3= ""
$B2T4= ""
$B2T5= ""
$B2T6= ""
$B2T7= ""
$B3T1= ""
$B3T2= ""
$B3T3= ""
$B3T4= ""
$B3T5= ""
$B3T6= ""
#####################
$daymode = ""
$twimode = ""
$nitemode = ""
#####################
$mode = ""
$flsh = ""


:READ
#Read Inputs to get status

$B1T1 = GetDigital(D0)
sleep(10)
$B1T2 = GetDigital(D1)
sleep(10)
$B1T3 = GetDigital(D2)
sleep(10)
$B1T4 = GetDigital(D3)
sleep(10)
$B1T5 = GetDigital(D4)
sleep(10)
$B1T6 = GetDigital(D5)
sleep(10)
$B2T1 = GetDigital(D6)
sleep(10)
$B2T2 = GetDigital(D7)
sleep(10)
$B2T3 = GetDigital(D8)
sleep(10)
$B2T4 = GetDigital(D9)
sleep(10)
$B2T5 = GetDigital(D10)
sleep(10)
$B2T6 = GetDigital(D11)
sleep(10)
$B2T7 = GetDigital(D12)
sleep(10)
$B3T1 = GetDigital(D13)
sleep(10)
$B3T2 = GetDigital(D14)
sleep(10)
$B3T3 = GetDigital(D15)
sleep(10)
$B3T4 = GetDigital(D16)
sleep(10)
$B3T5 = GetDigital(D17)
sleep(10)
$B3T6 = GetDigital(D18)
sleep(10)
$daymode = GetDigital(D19)
sleep(10)
$twimode = GetDigital(D20)
sleep(10)
$nitemode = GetDigital(D21)
sleep(10)
$mode= GetDigital(D22)
sleep(10)
$flsh = GetDigital(D23)

#CONVERT 0 or 1 to pass or fail

if ($B1T1 = 0)
$B1T1D = "PASS"
elseif ($B1T1 = 1)
$B1T1D = "FAIL"
endif

if ($B1T2 = 0)
$B1T2D = "PASS"
elseif ($B1T2 = 1)
$B1T2D = "FAIL"
endif

if ($B1T3 = 0)
$B1T3D = "PASS"
elseif ($B1T3 = 1)
$B1T3D = "FAIL"
endif

if ($B1T4 = 0)
$B1T4D = "PASS"
elseif ($B1T4 = 1)
$B1T4D = "FAIL"
endif

if ($B1T5 = 0)
$B1T5D = "PASS"
elseif ($B1T5 = 1)
$B1T5D = "FAIL"
endif

if ($B1T6 = 0)
$B1T6D = "PASS"
elseif ($B1T6 = 1)
$B1T6D = "FAIL"
endif


if ($B2T1 = 0)
$B2T1D = "PASS"
elseif ($B2T1 = 1)
$B2T1D = "FAIL"
endif

if ($B2T2 = 0)
$B2T2D = "PASS"
elseif ($B2T2 = 1)
$B2T2D = "FAIL"
endif

if ($B2T3 = 0)
$B2T3D = "PASS"
elseif ($B2T3 = 1)
$B2T3D = "FAIL"
endif

if ($B2T4 = 0)
$B2T4D = "PASS"
elseif ($B2T4 = 1)
$B2T4D = "FAIL"
endif

if ($B2T5 = 0)
$B2T5D = "PASS"
elseif ($B2T5 = 1)
$B2T5D = "FAIL"
endif

if ($B2T6 = 0)
$B2T6D = "PASS"
elseif ($B2T6 = 1)
$B2T6D = "FAIL"
endif

if ($B2T7 = 0)
$B2T7D = "PASS"
elseif ($B2T7 = 1)
$B2T7D = "FAIL"
endif

if ($B3T1 = 0)
$B3T1D = "PASS"
elseif ($B3T1 = 1)
$B3T1D = "FAIL"
endif

if ($B3T2 = 0)
$B3T2D = "PASS"
elseif ($B3T2 = 1)
$B3T2D = "FAIL"
endif

if ($B3T3 = 0)
$B3T3D = "PASS"
elseif ($B3T3 = 1)
$B3T3D = "FAIL"
endif

if ($B3T4 = 0)
$B3T4D = "PASS"
elseif ($B3T4 = 1)
$B3T4D = "FAIL"
endif

if ($B3T5 = 0)
$B3T5D = "PASS"
elseif ($B3T5 = 1)
$B3T5D = "FAIL"
endif

if ($B3T6 = 0)
$B3T6D = "PASS"
elseif ($B3T6 = 1)
$B3T6D = "FAIL"
endif

if ($daymode = 1)
$daymodeD = "YES"
else 
$daymodeD = ""
EndIf 

if ($twimode = 1)
$twimodeD = "YES"
else 
$twimodeD = ""
endif

if ($nitemode = 1)
$nitemodeD = "YES"
else 
$nitemodeD = ""
endif 


#WHAT TO DO IN CASE OF FAILURE


if ($B1T1 OR $B1T2 OR $B1T3 OR $B1T4 OR $B1T5 OR $B1T6= 1)
$FAA = "CALL FAA AT 1-877-487-6867"
ELSE 
$FAA = ""
endif

if ($B2T1 OR $B2T2 OR $B2T3 OR $B2T4 OR $B2T5 OR $B2T6 OR $B2T7= 1)
$FAA = "CALL FAA AT 1-877-487-6867"
ELSE 
$FAA = ""
endif

if ($B3T1 OR $B3T2 OR $B3T3 OR $B3T4 OR $B3T5 OR $B3T6= 1)
$FAA = "CALL FAA AT 1-877-487-6867"
ELSE 
$FAA = ""
endif

#RUN COMMAND TO SEND EMAIL
if ($FAA = "CALL FAA AT 1-877-487-6867")
EXEC("C:\towerlights\email.bat")
else
goto(READ)
endif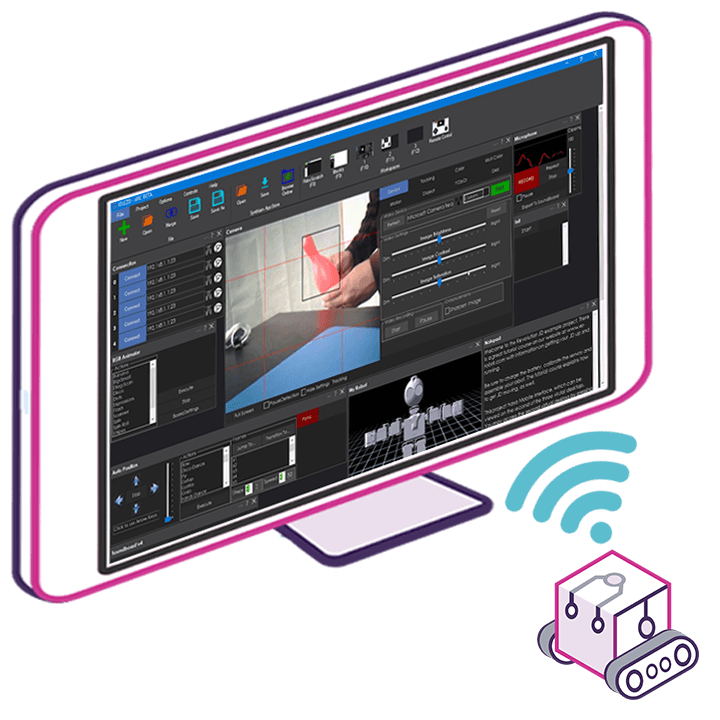 Upgrade to ARC Pro
Unleash your creativity with the power of easy robot programming using Synthiam ARC Pro