Hello,

I assembled the Adventure Robot and have it working with the RGB Animation Display and the Ultrasonic Sensor. All seems to be working for the most part but I have a few questions and concerns:

1. The camera has a green LED showing on the lower right inside case of the camera. Don't remember seeing this in any of the videos. Is this normal?

2. In the camera settings, the only resolution available was 320X240. Does this have to do with my laptop or am I missing something?

3. I tried going into the media settings for the camera to select different codecs and frame rates etc., and selected change and saved the settings but no changes were noticed with the video.

4. Sometimes the robot would make random movements with the servos without me actually controlling them. Sometimes the servos would make small step motions and sometimes longer duration motions and in random directions. I had speech recognition enabled so I put it on pause and things seemed to work o.k. Could the speech recognition being enabled all the time cause these random movements and if not what other issues could cause these random movements. Battery temp and voltage are o.k. as I charged the batteries before using. I have a strong good WIFI Connection.

5. In the mobile app for the Adventure bot all works o.k. but when I select stop the robot instead moves left continuously. Has anybody seen this before. Seems like maybe a good opportunity for me to learn from this and try and correct it by modifying the script?

6. I noticed when operating on the rug (not shag) that the tail behind the Adventure Robot would hang up on the rug and prevent proper movement. Was thinking that some kind of EZ-Bit that is in the form of a little caster wheel would solve this issue but I am not experienced with CAD Programs and don't have a 3D Printer. Maybe this is something that EZ-Robots can work on as a future EZ-Bit as it could be used in a lot of future creations that use a three wheel type of a platform and would work better on rugs. On wood floors and linoleum it isn't an issue. Another thing I thought of doing is putting wide rubber bands around the wheels for a bit better traction

7. I will be doing a STEM demonstration of my Heathkit Hero Robots and I will also be showing off the EZ-Robot Products that I have. The hardware and software is way awesome. I have been able to get speech recognition working pretty much flawlessly and all the other hardware is working good with just a few issues with the intermittent random servo movements and some camera setup issues that I am sure can be resolved.

8. Thanks for an awesome product at a great price. I now have the bug !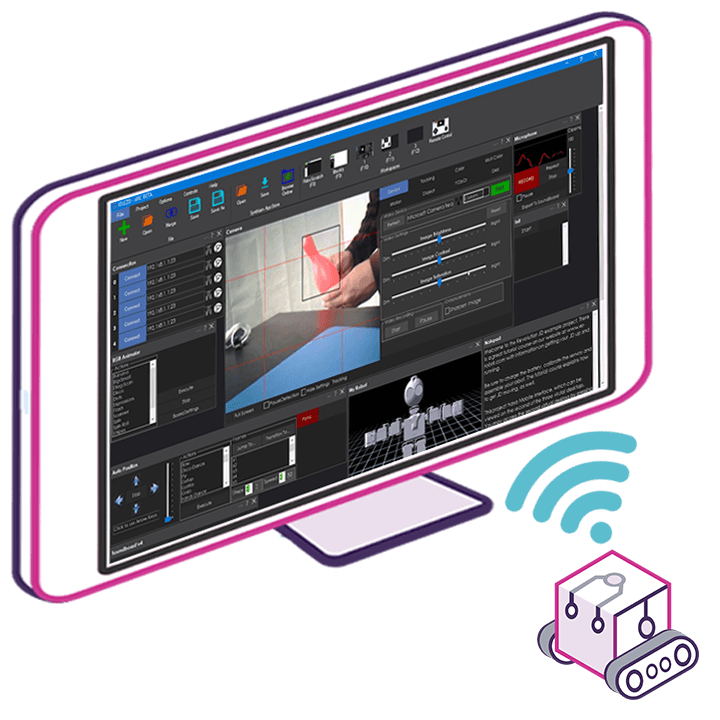 Upgrade to ARC Pro
Get access to the latest features and updates with ARC Early Access edition. You'll have everything that's needed to unleash your robot's potential!
Based on your post activity, we found some content that may be interesting to you. Explore these other tutorials and community conversations.