(Autonomous Robot Control Software)
Make robots with the easiest robot programming software. Experience user-friendly features that make any robot easy to program.
Change Release Notes
- New startup menu with all projects in a single place
- Performance improvement loading large ezb project folders
- provide an error if the
ARC
calling assembly isn't resolved
- removed ez-b type option when saving to the cloud
- getServoRealtime() updated to support multiple behavior controls each attached to the event
- project Options has a setting to auto focus mobile interface fullscreen when project is loaded
-
Auto Position
smoothing for variable speed modifiers
- diagnostic data is transmitted as a compressed stream to load
ARC
quicker
- ability to add custom movements to movement manager by a custom movement id
- fix for irobot roomba
Movement Panel
where baud and version were not being specified
- ui performance enhancements
- fix for 3d robot designer not displaying all bits from library
-
Auto Position
Movement Panel
allows variable speed modifier for all frames within an action. Double click on the frame in the action list to edit and enable the speed modifier values
-
Auto Position
Movement Panel
was not setting speed unless the robot was executing a movement
- movement speed was not launching movement speed event when speed was changed.
- imu gyro range displayed in degrees per second
- fix for GetBatteryVoltage() and GetCPUTemperature() requiring a parameter to specify board index. Now defaults to 0
ARC Downloads
ARC Free
Free
Includes a free 3rd party plugin robot skill per project
GPT-Powered AI support
Free with trial limitations
For schools, personal use & organizations. This edition is updated every 6-12 months.
ARC Pro
Only $8.99/mo
2 or more PCs simultaneously
Includes unlimited skills
Premium support discount
And much more
Experience the latest features and bug fixes weekly. A Pro subscription is required to use this edition.
Runtime
Free
Load and run any ARC project
Operates in read-only mode
Unlimited robot skills
Early access fixes & features
Have you finished programming your robot? Use this to run existing ARC projects for free*.
Minimum requirements are Windows 10 or higher with 2+gb ram and 500+MB free space.
Teams known-issues can be viewed by clicking here.
Get more information about each ARC edition by clicking here.
See what's new in the latest versions with Release notes.
Compare Editions
Feature
ARC

FREE

ARC

PRO

Get ARC for Free
View Plans
Usage
Personal
DIY
Education
Personal
DIY
Education
Business
Premium support
$14.99/ticket
$9.99/ticket
Feature requests
Yes
Early access to new features & fixes
Yes
Simultaneous microcontroller connections*
1
255
Robot skills*
20
Unlimited
Skill Store plugins*
1
Unlimited
Cognitive services usage**
10/day
6,000/day
Auto-positions gait actions*
40
Unlimited
Speech recongition phrases*
10
Unlimited
Camera devices*
1
Unlimited
Vision resolution
max 320x240
Unlimited
Interface builder*
2
Unlimited
Cloud project size
128 MB
Cloud project revision history
Yes
Create Exosphere requests
50/month
Exosphere API access
Contact Us
Volume license discounts
Contact Us
Get ARC for Free
View Plans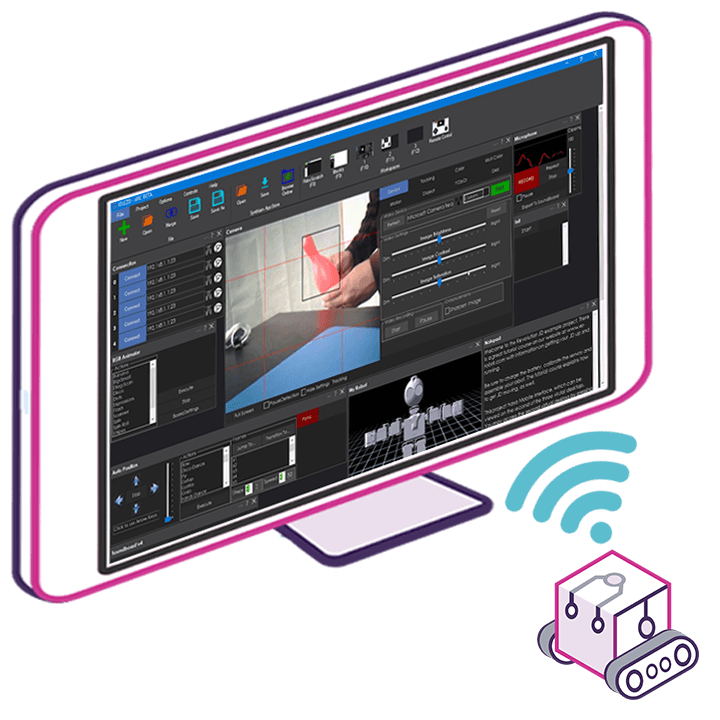 Upgrade to ARC Pro
ARC Pro will give you immediate updates and new features needed to unleash your robot's potential!