(Autonomous Robot Control Software)
Make robots with the easiest robot programming software. Experience user-friendly features that make any robot easy to program.
Change Release Notes
These changes and fixes are from reviewing diagnostic logs over the last month. All unhandled exceptions have been bug fixed and had changes/fixes for them.
- Added keyboard ESC and ENTER shortcut to port/servo selection popup
- removed ezbuilder project migrator because it's been far too long and everyone should be up to speed
- ucgraph controls added reference to use the base isclosing rather than handling itself
- when getting
plugin
list, report error of saving each thumbnail individually
- do not attempt to update
plugin
list or anything if there is already a copy of
ARC
running
- process uart and ezb video faster and prevent an unescapable loop
- fix camera motion detection when changing resolutions
- Fix for error learning object and closing the form during process
- Fix for trying to preview 3d build instructions when there aren't any
- Fix error for creating
plugin
with bad filename/path characters
- Log error in microphone skill if there is no input device
- Default camera title for legacy mobile apps
- Interface builder will grab the first camera for legacy projects and assign it to the config
- Fix ht16k animator error
- Fix to load only .servo profile files
- Fix for mic errors with bing and microphone skills
- added PC volume javascript/python commands
ARC Downloads
Teams FREE
Free
Includes a free 3rd party plugin robot skill per project
Community support
Free with trial limitations
For schools, personal use & organizations. This edition is updated every 6-12 months.
Early Access
Only $8.99/mo
2 or more PCs simultaneously
Includes unlimited skills
Premium support
And much more
Experience the latest features and bug fixes weekly. A Pro subscription is required to use this edition.
Runtime FREE
Free
Load and run any ARC project
Operates in read-only mode
Unlimited robot skills
Early access fixes & features
Have you finished programming your robot? Use this to run existing ARC projects for free*.
Minimum requirements are Windows 10 or higher with 2+gb ram and 500+MB free space.
Teams known-issues can be viewed by clicking here.
Get more information about each ARC edition by clicking here.
See what's new in the latest versions with Release notes.
Compare Editions
Feature
ARC Teams

FREE

ARC

PRO

Get ARC for Free
View Plans
Usage
Personal
DIY
Education
Personal
DIY
Education
Business
Premium support
$14.99/ticket


(optional)

✓

1 request/month


($9.99 for additional requests)

Feature requests

✓

Yes
Early access to new features & fixes

✓

Yes
Simultaneous microcontroller connections*
1

✓

255
Robot skills*
20

✓

Unlimited
Skill Store plugins*
1

✓

Unlimited
Cognitive services usage**
10/day

✓

6,000/day
Auto-positions gait actions*
40

✓

Unlimited
Speech recongition phrases*
10

✓

Unlimited
Camera devices*
1

✓

Unlimited
Vision resolution
max 320x240

✓

Unlimited
Interface builder*
2

✓

Unlimited
Cloud project size

✓

128 MB
Cloud project revision history

✓

Yes
Create Exosphere requests

✓

50/month
Exosphere API access
Contact Us
Volume license discounts
Contact Us
Get ARC for Free
View Plans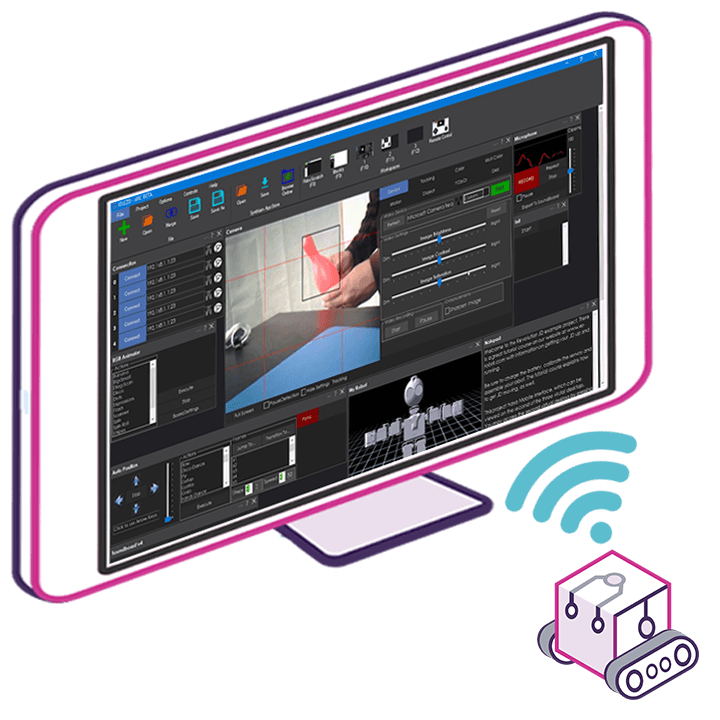 Upgrade to ARC Pro
Your robot can be more than a simple automated machine with the power of ARC Pro!