Skip to comments



Our Microsoft team recently picked up a few of the EZ Robot Developer kits as part of an innovation project exercise lead by one of our MACH Program new hires (Microsoft Academy College Hires), and has been moving in bringing ideas to life - innovating - and working with the local robotics community to strengthen ideas within our own products. Shortly after getting started, the team had an idea to see what may be possible by combining some of our recent AI services with the EZ-Builder. We had a chance to talk through some ideas with DJ and before we knew it EZ Robot had rolled out plug-ins integrating Microsoft Cognitive Services.

I first saw DJ's thread featuring some of the new Cognitive Services plug-ins Feb 24, and was extremely impressed. EZ Robot has taken some of Microsoft's most technologically sophisticated and powerful technology - and found a use that truly democratizes AI for everyone - making JD one of the world's most intelligent robots. After seeing the video, we had to have one for Main Campus.

I wanted to post a shout out to DJ and the team for some truly inspirational work - your product is amazing, extremely easy to use, and is helping us to really excite and energize new hires with the potential of what platforms such as EZ Builder can do with Microsoft AI technologies (Chatbot, Cognitive Services, Cortana Intelligence Suite). Awesome stuff.

At this point we've picked up a number of sets and have an internal project running with our new-hires to see just how creative folks can be in both physical form factor and the scenarios these technologies can make possible. Among our team is a 10year old 'junior' colleague, helping us to program some of the conversational aspects and to demonstrate just how truly powerful this combination is - accessible to young and old and requiring only imagination (and a battery
) to power it.

The JD bot himself has been busy in presentations, as one of the world's smartest and most capable robots, helping us to share the excitement internally around just how powerful the new services can be - in a mobile form factor that can do handstands - and possibly manage a call center.

We can't post any confidential material, but as an extremely satisfied and excited customer of EZ Robot - I'm looking forward to share what I can about JD's ongoing adventures on campus - and to highlight some of the exciting thing's he's up to. We'll share what we can as well on the ongoing project through a separate post, and certainly encourage ideas to the project's development.

DJ & team - truly awesome innovation. Great to see so much creativity from a Microsoft Partner leveraging our development stack!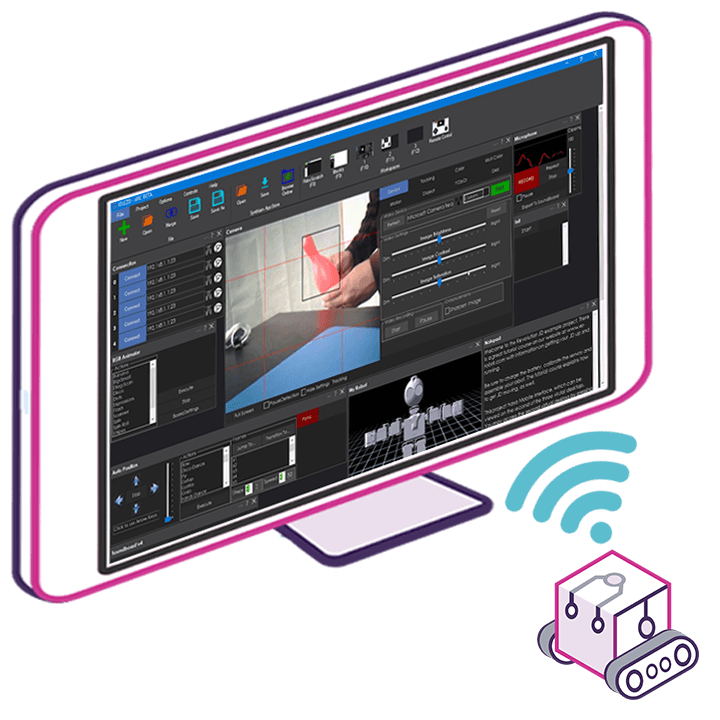 Upgrade to ARC Pro
Harnessing the power of ARC Pro, your robot can be more than just a simple automated machine.