Skip to comments
DJ saw the potential of the Brookstone Rover right away. Adding support into his ARC software greatly enhances this product - from a boring remote control toy, to a full-featured robot!

Description:
While the software no longer supports this discontinued product, it is a fun hack!

The discontinued Brookstone Rover was priced at $99 US and was meant to be controlled by your iPhone. The toy includes a camera and Wi-Fi connectivity, but seriously lacks features for the amount of hardware it possesses. That's when the little light bulb went on in DJ's head let's take control of this thing! So, he hacked the brookstone rover into an amazing little robot.

After a night of hacking to decipher the communication protocol, the Brookstone Rover took its first <strike>rolling</strike> steps under the control of DJ's Robot Control Software, EZ-Builder. The camera video stream was completed a few hours later, and now the possibilities are vast! Every feature of ARC is supported in the Brookstone Rover. This includes the Speech Recognition, EZ-Scripting, Joystick, Wiimote, Mobile HTTP Server, Touch Controls, and so many more! This is a fantastic platform for DJ's EZ-Robot Kit!

Videos:

Parts Used:
1 x EZ-Robot Complete Kit
1 x Brookstone Rover
Tools:
Masking Tape!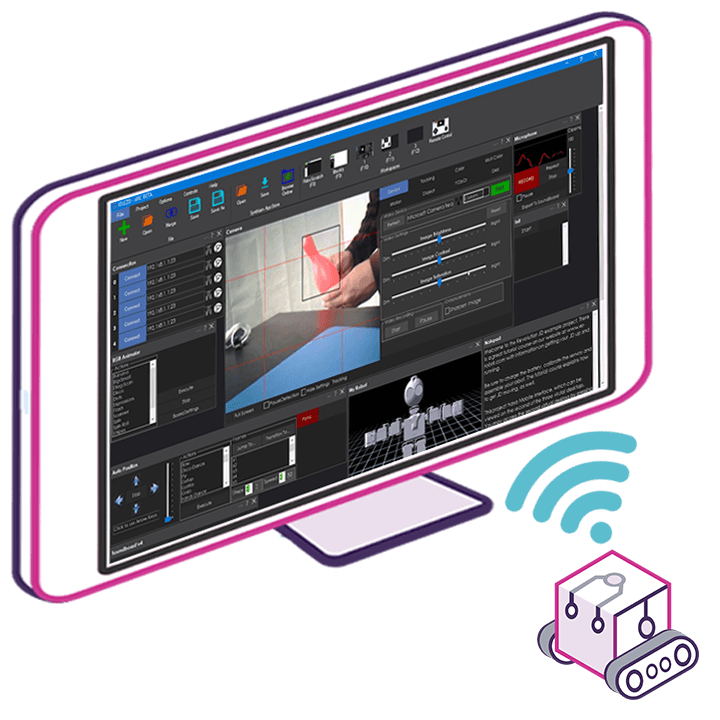 Upgrade to ARC Pro
Get access to the latest features and updates with ARC Early Access edition. You'll have everything that's needed to unleash your robot's potential!