Hey Lumpy (or anyone who can advise). I'm addressing this first to Lumpy because I know he is using and working with the Kangaroo X2 / Sabertooth setup. If anyone has some insight please chime in.

Anyway, as mentioned in other posts I'm working through issues with my Kangaroo X2 / Sabertooth setup where I'm using two DC motors that have pots for feedback and limit switches. I now have both motors responding through serial commands from EZ Builder. I had an issue where I was continually getting error codes at power up and would have to power cycle the unit to get it to respond to serial commands. However I found I had to make sure the Sabertooth/Kangaroo powered down completely when the robot and EZB was switched off and then powered up after the EZB was powered up.

My issue now is trying to get the speed ramping feature of the Kangaroo to work. There are different ways to set up the Kangaroo; Velocity or Position control. I cant get the speed ramping to work when serial commands are sent from EZB in either control setting. However, I can get ramping to work nicely in Velocity but not Position tests when using the "Live Test" section of the Describe software used to set up the Kangaroo. When doing these test I'm attached directly to the Kangaroo with a Serial Adapter from a USB port of my laptop and EZB is not connected.

Without any ramping my motor will jerk to full speed and stop suddenly. I've e been working with Dimension Engineering on this for weeks but it's been painfully slow. The only way I can get help from them is through e-mail and it sometimes takes days for them to respond. Then I'll get a one sentence question or answer like "sounds like you need to make sure to upload your settings and reboot" or please send us a copy of your settings. This must be a newer product with limited users. I've found no community forums and few people posting info on this board.

One other thing. What is the best way to set servo control to work independently on the Sabertooth/Kangaroo's second motor channel? So far the only way I've been able to get it to work is if I start the first motor Chanel with a servo command and don't release it. I am using a second cable attached to a second digital port on EZB and attached to S2 of the kangaroo. I'll call that port when I want motor 2 to respond to a servo command.

I must say it is a great little board and from what I've been able to set up, it works great. I like the idea of being able to send servo commands to control my DC motors. Very precise and quick. If I can get this speed ramping issue figured out it will be an excellent addition to my B9 robot motor control.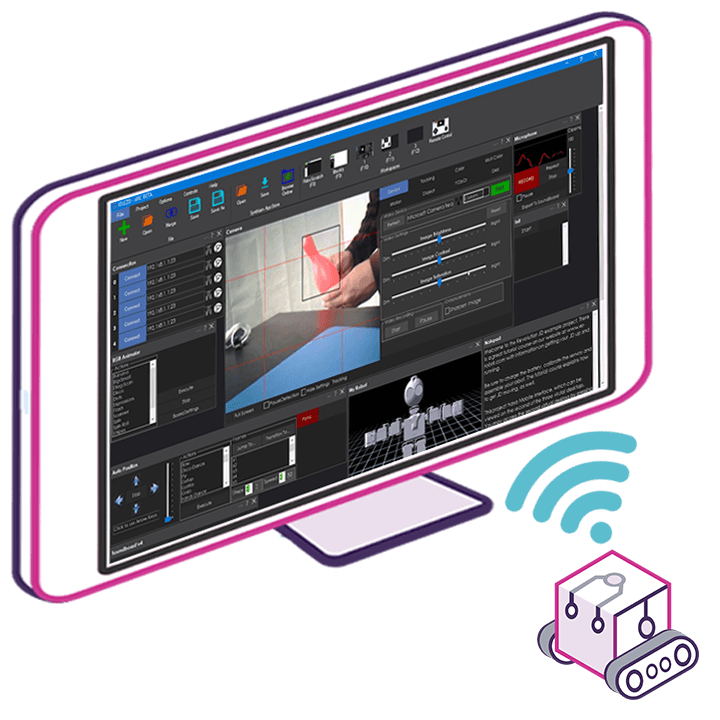 Upgrade to ARC Pro
Become a Synthiam ARC Pro subscriber to unleash the power of easy and powerful robot programming