Hello fellow forum readers, I have need for some (hopefully) simple assistance with some HTTP Server issues I have been experiencing. I have mentioned this issue to DJ, but as he has not been able to duplicate it and understandably has a huge list of to-do's to work on ahead of my little mystery
I am looking for fellow forum user assistance.
Despite scouring the forums I haven't, yet, found any one else's documented use of the HTTP Server in any projects.
Basically my issue is that while I can set up HTTP Server and successfully connect to EZ-Builder, I can only click on anything once then all input is "locked out"? until I refresh the controlling browser (IE, Firefox, Chrome). thus it becomes a process of click, refresh click, refresh... and so on. All visual feedback (Camera, ADC display, etc.) from the host continues unabated throughout this process.
I have three computers in my motorhome and one in another city, plus I have access to a few at work... I have tested every combination of PC-PC within four different local networks and across the internet. The exact same issue every single time! (about the only common factor is they are all running some version of Windows 7, except one which is Windows 8). I have even tried controlling via an Android phone; it has a similar issue except it says "network error" with an OK button, that when clicked releases control for one more "click". I do NOT have access to any tablets or touch capable screens
There are also a few other HTTP Server related issues that I think may prevent me from using it anyhow but I can't test them or find workarounds until I can at least functionally use it tired
FYI, I am not just nit-picking at something (I hope :P)... I have a longish term project that has been banging around in my head for years... I want to make a functional telepresence type robot with usable remote manipulator capability and hope that HTTP Server might be one way of controlling it because the video stream is so smooth compared to other remote control programs I have tried. (hard to DO what you can't clearly SEE :))
Now to wrap up before Josh falls asleep reading this
here is the clincher for me... I found an older copy of EZ-Builder, ver. 2012-08-21, and HTTP Server WORKS GREAT on it. So something changed somewhere (I have only started using HTTP Server on the last 3-4 versions) but I need to know if it is an issue others can duplicate or have I got something else common in the mix (besides me :))
If there is someone else out there that can set up HTTP Server between a couple of their PCs (with latest ARC and NO touch screens) and let me know the results... and/or perhaps someone willing to work with me on cross controlling mine and theirs, then perhaps I can determine if I am doing something wrong or not. If it is an actual confirmed issue, then I can patiently wait for a fix and/or move on fully to the other alternatives that I am also testing. If it turns out to be me, then I may have to stick with simple line following robots
Thanks,
Gunner
Skip to comments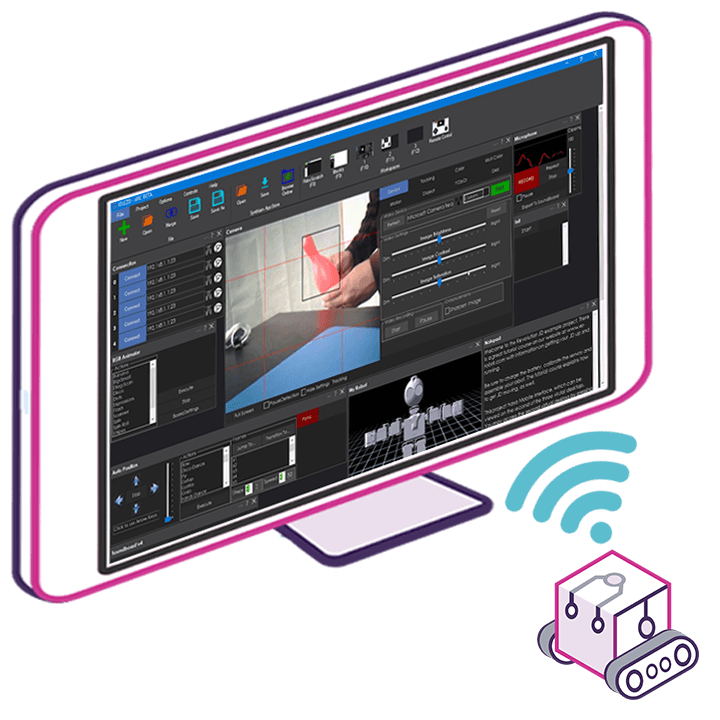 Upgrade to ARC Pro
Don't limit your robot's potential – subscribe to ARC Pro and transform it into a dynamic, intelligent machine.