Greetings!

I picked up a BUSTER bot which I hope to turn into a real robot.

Since this is my first build, and I have no background in robotics, just a desire to create - I have a ton of questions.

1. Buster operates on 6 "c" cells located in a compartment between his treads underneath. I would like to replace this and seal up the hole, creating, I hope, more usable interior space. Part of this is due to the fact the door is gone, so I'd have to fabricate one in order to keep using "c" cells, part of this is hoping that there is a more efficient method of battery power (hopefully rechargeable!) So the question is: what would be an equal or better replacement?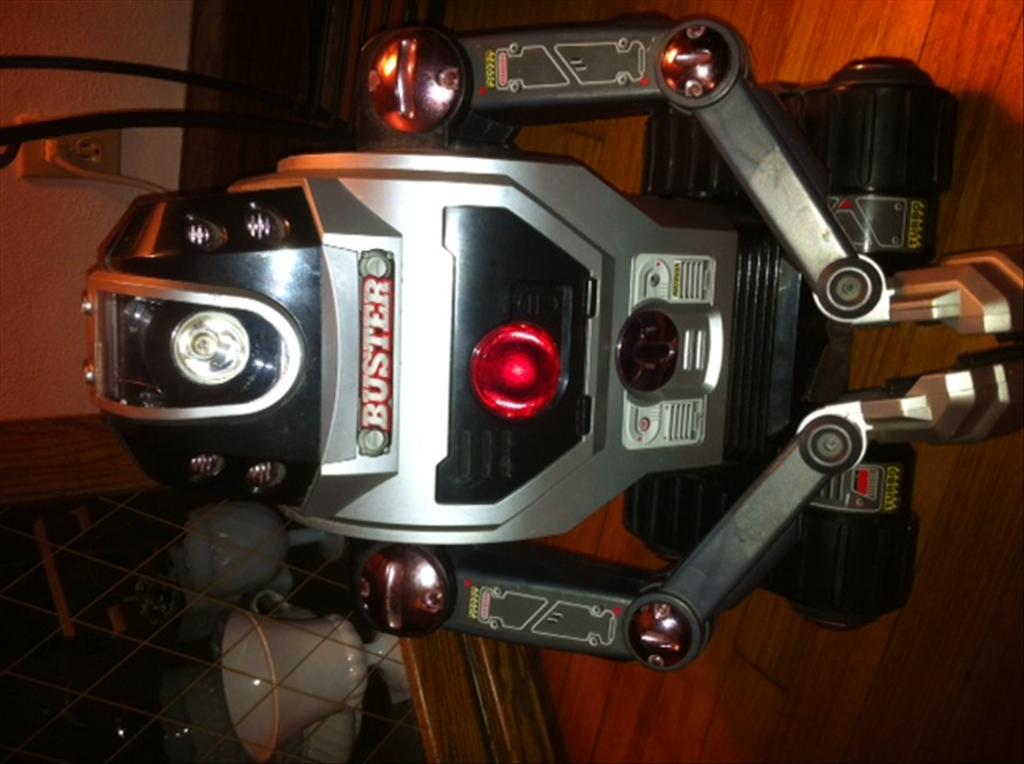 2. I haven't cracked him open yet, to see how he works, but he runs commands through a wired controller, which is quite thick. I have not been able to get him to power on, but I did read online that he likes high quality batteries, and he was shipped to me with Family Dollar batteries! So I don't know what works in terms of motors and what doesn't.

3. With this in mind, here are the mods I'd like to make:

Camera to replace "spotlight" in head
Separate head from body (it is now stationary) and add geared assembly and motor to enable head to turn.
Add sensors front and back - I want to let Buster "feel" his surroundings, not sure if I need active or passive sensors or both
EZB Board - so my scarecrow can have a brain!
Possible replacement of servos to update those in arms
Possible replacement of motors for treads
Remote control with voice command capability (Buster has a speaker to allow speech through the remote now).

So, I am so new, I don't even know how to start. The EZB kit I think would provide me with a lot of the parts I would need. I know the motion sensors are available at Radio Shack (passive $9.99, active $29.99).

Can you all recommend parts dealers and ideas on how to proceed (if there are any Milwaukee, WI builders - let me know!). I'm especially eager to solve this "c" battery bank, hoping a pair of RC Nicad battery would be better? Possibly using a solar panel to charge?

If anyone has a manual, I'd love to see it, I'd like to know just what he did. He was sold in 2000, so he's a tween, and you know how they can be!

I use a Gen 1 MacBook Pro, so I'll need some ideas for programming the board with a Mac.

Thanks in advance for your help!
Kent