All the upgrades and changes this past year or so to EZ Robot and Synthiam's ARC software (Used to be EZ Builder) has left me behind a lot. Other life demands has kept me from experimenting with my robot and learning all the new ways to use ARC. Granted the EZB hasn't changed but ARC is a whole new animal. 

Anyway, from the start of my adventures with this robot platform back in the EZB V3 days I've always wanted to mount an onboard computer on my robot. A few things has kept me from doing this:

*Along with the above mentioned events the mini computers didn't seem quite mature enough to jump into it. 
*I really wanted voice recognition. With the computer being on the robot, the noises the robot make really mess up the VR. (I'm using a Bluetooth headset now so that shouldn't be an issue anymore).
*I really haven't been able to wrap my head around the best way to hook up all 4 EZB's I have in my robot to one onboard PC if mounted inside my robot. Sections of my robot twist, bob and bend and I want to keep the cables going through these joints to a minimum. As much as I would like a direct connection between the EZB and the onboard PC I think I'd have to have both options, Wifi connected and direct connection. 
*I really can't find information on this forum on how to attach a EZB V4 directly to a PC. Maybe I totally missed it. I do see discussions on connecting through USB but where to attach to the EZB? How to configure the PC and ARC? 

To this point I've been discussing my personal full sized B9 Robot from the TV show Lost In Space. I still want to mount a PC onboard it but I'm currently building another one for a fan up in NH, USA. I'm at the point of deciding if I want to have the PC mounted in the robot with direct connection or outside and connect with Wifi. This Robot will only have two EZB's. These EZB's are already here for me to use and I'd like to use them instead of converting an Arduino. I guess I could do that but I'll be needing ADC ports and Digital ports. I have zero experience with Arduino or this conversion process. 

I'm really leaning towards using an Up Board as the onboard PC but would maybe need Wifi connectivity to reach remote EZB's mounted in hard to reach areas of the robot. 

I guess I'm asking for suggestions on:
*Links on this forum where I can find attaching a PC directly to the EZB or other boards so I don't have to ask too many questions. 
*If I should sideline these EZB's and use something else I can flash and convert that would work better for my application?
*How easy and clear it it to use a remote client to log into the onboard computer to manage it from outside the robot? What is the best software to use now-a-days for this? I guess this means I'd need two PC's? the Up Board mounted on the robot and the one I'm using to log into it to work with ARC and maintain. 
*How the heck do I connect a PC directly to an EZB or another board if I decide to use something else?
*Can I have one EZB attached directly to the PC and one EZB connected to it through Wifi at the same time and controlled by the same ARC project?

Thanks for reading this long request and thanks for the help in advance. Any suggestions are welcomed.
---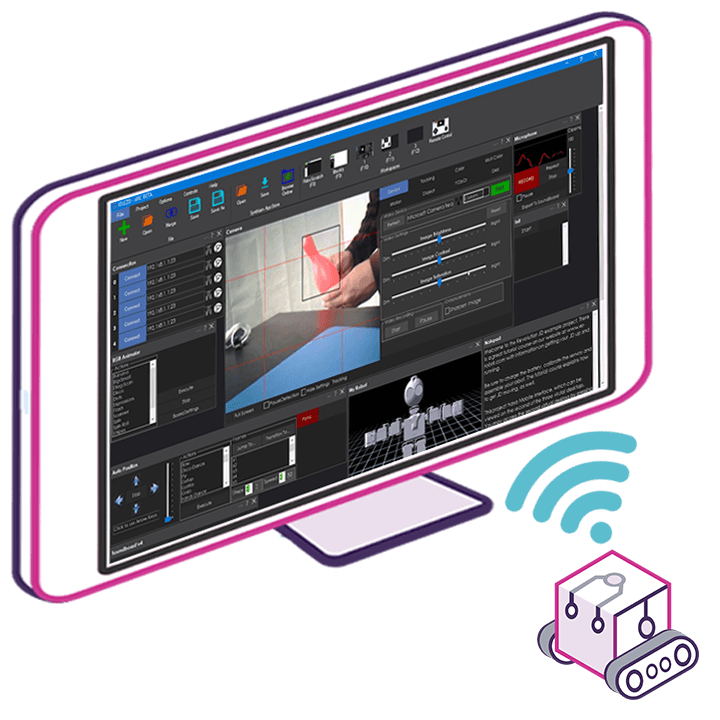 Upgrade to ARC Pro
ARC Pro will give you immediate updates and new features needed to unleash your robot's potential!