First off , I want to say that you will NOT find a Better system ANYWHERE that is close to the Quality, support, and Performance that the EZ-Robot System Provides. Or, better people to do business with. D.J. and his staff are Fast and Accurate, and GOOD People to do business with.
Having said that, I want to mention a few other things. I have been into building robots for the last 41 years. In all that time, I have NEVER really been satisfied with the robots built. It seems they where always too slow. Now with the new technologies, you have a chance to improve the speed and reliance.
When , I got the EZB, I decided to put together a robot that would have many features and I started with the neck. I copied the design from this site, a site which always has so many resources. Next, I wanted to use the Roomba platform. I was in luck because support for it was already installed.
I wanted it to be cheap and simple. So, I used PVC pipe. I built a robot called Marty. I found that if I could not figure out how to do some thing, all I had to do was wait. Many new updates were happening continuously and much to my amazement most were for the things on my personal want list.
Now, I was all set! I made TWO BIG mistakes, and i KNEW better. But, I did it anyway. I ordered four PING units from china. They appeared to be ok at first. Next, I also ordered a HUNDRED servo cables for about Ten Bucks. When they came in, I say to myself "Good Grief!" they were so small and lightweight. But, I decided to use them anyway because my wife was gonna kill me if I spent one more red cent.
From the beginning, I had problems with the Sharp IR units and the Ping unit. This robot did EVERYTHING I wanted it to do but Navigate. I could give it verbal commands and it would do JUST fine. But, let it roam on its on and it ran into me, the closet, the wall, the chairs, the tables, and Everything. It would also backup into furniture.
I changed out the Ping units, I changed out the IR units, I changed out the wiring with more crappy wiring. My Ping would give me 255 if nothing was there and would register about 12-15 units up close upto 255 far away.
One day, I just set it there with the PING showing what it registered. I noticed that I had three types of problems. One was the PING was 255 all of the time. Or the PING was Zero all of the time. Finally, I got it where it was measuring. I had at first swapped the white wires for the trigger and echo. Anyway, I wound up with four very BAD PING units and ONE Ping that registered very very flaky. I changed out the wiring again and ran it straight to the EZB from the PING. Once it was working sort of properly I put everything back where it went. But, it still gives me a flaky output. So, it does EVERYTHING but Navigate properly. If I would've bought heavy duty servo cables, I would have saved myself a lot of headaches. It may be a year or more until I can save up to get more Pings and cables.
Also, I learned from Hazbot not to put the servo directly onto the end of the arm. He lets the arm balance on the servo so it is easier to move. i have to do that when i rebuild Marty.
Also, there are some servo savers out there to prevent the servo from burning up on you like three of them did on me.
I hope this advice helps someone.
Good Luck with your projects!
Skip to comments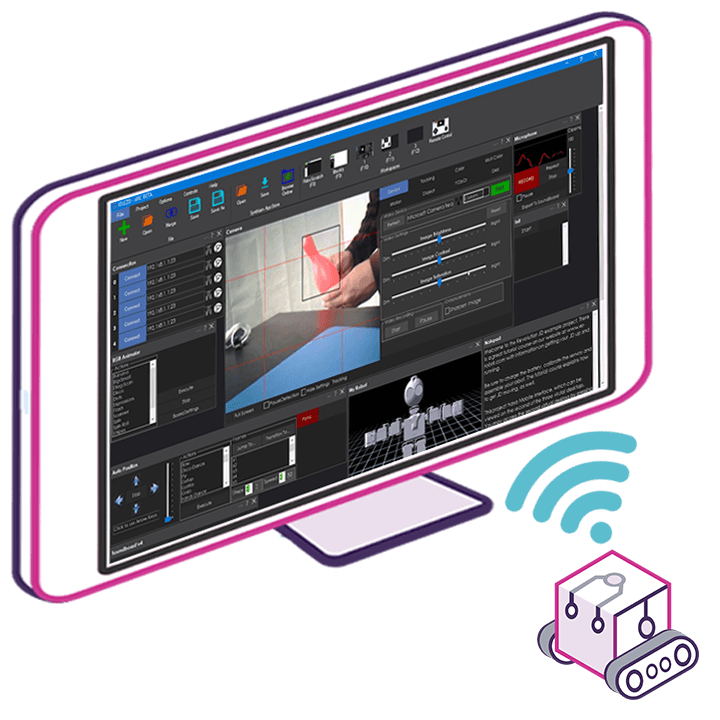 Upgrade to ARC Pro
Get access to the latest features and updates before they're released. You'll have everything that's needed to unleash your robot's potential!