(Autonomous Robot Control Software)
Make robots with the easiest robot programming software. Experience user-friendly features that make any robot easy to program.
Change Release Notes


- Changed the JD project for easier assembly (Requires a sync of EZ-Bit Library for updated body part)

- Mobile App has fix for slider

- ultrasonic distance ping sensor has default ports changed to not interfere with lower ports that may already be used (d0, d1) by default when adding the control

- all ultrasonic distance ports start as PAUSED so the user can select the values before it starts working and interferes with stuff already connected to the ports

- added text for pin outs on ez-b during build process

- made port view image larger

- save to ezcloud does not crash ezbuilder when no conenction to internet

- added buttons to editing mobile controls (button, image button, trackbar) instead of multiline editor because it was causing problems checking syntax with every keystroke

- when editing multiline script editor in a grid, the first time you entered it would not save the text when ENTER was pressed. fixed

- new rendering scene features for 3d viewer for better lighting in all 3D views. Uses a 30% ambient light with 80% directional light over your viewing left upper shoulder.
ARC Downloads
Teams FREE
Free
Includes a free 3rd party plugin robot skill per project
GPT-Powered support
Free with trial limitations
For schools, personal use & organizations. This edition is updated every 6-12 months.
Early Access
Only $8.99/mo
2 or more PCs simultaneously
Includes unlimited skills
Premium support discount
And much more
Experience the latest features and bug fixes weekly. A Pro subscription is required to use this edition.
Runtime FREE
Free
Load and run any ARC project
Operates in read-only mode
Unlimited robot skills
Early access fixes & features
Have you finished programming your robot? Use this to run existing ARC projects for free*.
Minimum requirements are Windows 10 or higher with 2+gb ram and 500+MB free space.
Teams known-issues can be viewed by clicking here.
Get more information about each ARC edition by clicking here.
See what's new in the latest versions with Release notes.
Compare Editions
Feature
ARC Teams

FREE

ARC

PRO

Get ARC for Free
View Plans
Usage
Personal
DIY
Education
Personal
DIY
Education
Business
Premium support
$14.99/ticket
$9.99/ticket
Feature requests
Yes
Early access to new features & fixes
Yes
Simultaneous microcontroller connections*
1
255
Robot skills*
20
Unlimited
Skill Store plugins*
1
Unlimited
Cognitive services usage**
10/day
6,000/day
Auto-positions gait actions*
40
Unlimited
Speech recongition phrases*
10
Unlimited
Camera devices*
1
Unlimited
Vision resolution
max 320x240
Unlimited
Interface builder*
2
Unlimited
Cloud project size
128 MB
Cloud project revision history
Yes
Create Exosphere requests
50/month
Exosphere API access
Contact Us
Volume license discounts
Contact Us
Get ARC for Free
View Plans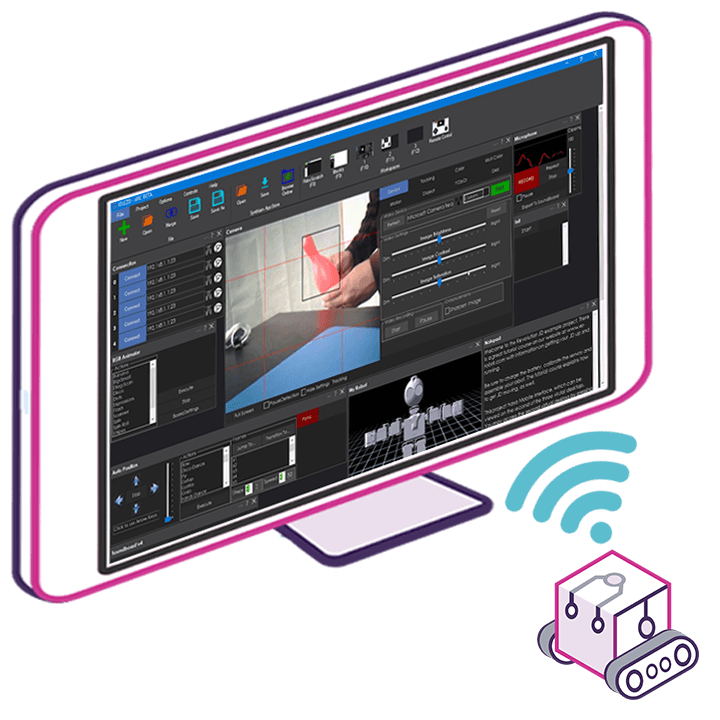 Upgrade to ARC Pro
Synthiam ARC Pro is a cool new tool that will help unleash your creativity with programming robots in just seconds!