I got an elechouse TLG10UA03 kit which I have up and working now, but can't get ARC to connect to my EZ-B board yet.

I have verified that I can send and recieve characters thru the wifi TLG10UA03 link using the kits USB to Serial TTL converter with realterm on one computer and telnet to it over wifi on a second computer. Ascii text goes back and forth just fine. So my serial link is up.
I connected it to my robot with a 3.3V regulator as the power source (the ez-b 3.3V supply didn't seem to have enough current to make it work correctly) and I can see the wifi modules web page and get a connect with telnet to it. On telnet I never see anything come from the ez-b board and when I put in the ip address and port in the ARC connect box, ARC seems to indicate that it is connected but my robot does not appear to be recieving any commands. It does take a long time for ARC to come back with the connect which makes me think I am just getting a timeout. Not sure what piece of the puzzle I am missing. I have tried swapping the TX and RX pins between the EZ-B and the wifi TLG10UA03 link but the results are the same both ways. No feedback in a telnet session and ARC just says connected but no real connection is made.

So I am kind of stuck at the moment with that part of my project.

Also I have been looking for a wifi camera that can replace the current wireless one that is part of the ez-b kit.

I was wondering if something link the AI Ball Mini Wifi Spy Camera IP Wireless Camera would work with the ARC software to provide a true wifi robot. ( http://www.thumbdrive.com/aiball/ )

Any suggestion for the camera would be appreciated. I noticed someone had a camera working with X-Bee. Could that approach work with a wifi module? Not sure about interference with two wifi sources on the same frequencies on the robot.


I am trying to get a robot that can roam throughout my whole house and yard.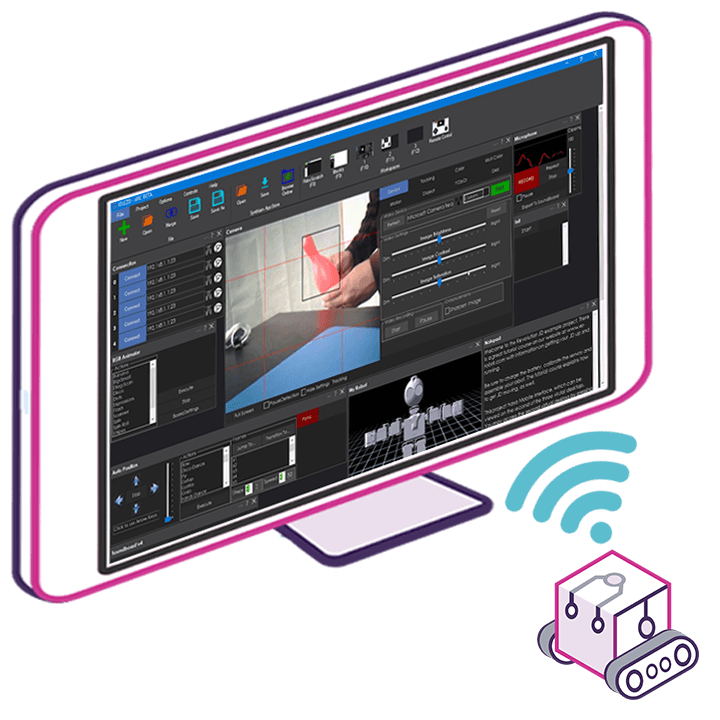 Upgrade to ARC Pro
Unleash your creativity with the power of easy robot programming using Synthiam ARC Pro