OK,
Getting Alan the Android head together for the KS video. I'm asking here hoping that the few people who are working with EZ, RR and EZ-AI, can help me work thru the highlights for the video.

In the video I'd like to highlight some of the obvious EZ Builder items, like color detection, face tracking etc. I have these set up just fine. As I get into EZ-AI I want to set up the Chatbot, which I am having trouble with the script that D.Cochran had on his video (prolly my fault). I get an error on line 5, here is the code I'm using from the video and the error:


Code:
$QueryParams = "/C"
EXEC("C:\EZ-AI\EZ-AI.exe"), $QueryParams
Sleep(3000)
:SayRobotAnswer
  waitforchange($robotanswer)
  say($robotanswer)
goto(SayRobotAnswer)


(In the above code there is a space before line 5 and 6, which i think dave said needed to be there but doesnt show here?)

> Error on line 5: Variable not defined: $robotanswer

Next up I want to set up roborealm to do object and facial recognition. I need to set up so that the object name is sent back to EZ builder. I got most of dave video set up but not sure the code for variable watch for incoming and how to use the data. I want the robot to be able to use the name sent back for the robot to say "hello _____" when recognized. But only once or to maybe store in database to then address the person in chatbot etc.

Then the same similar set up for object recognition, with the robot saying what an object is, if queried.

Anyone who can help with these scripts I would be grateful. We have an extremely tight deadline for KS and a calendar of things to do.

Also any ideas of what you think would be great for ALAN to highlight in the video, suggestions are open!

I probably have a million other things but this is a good start.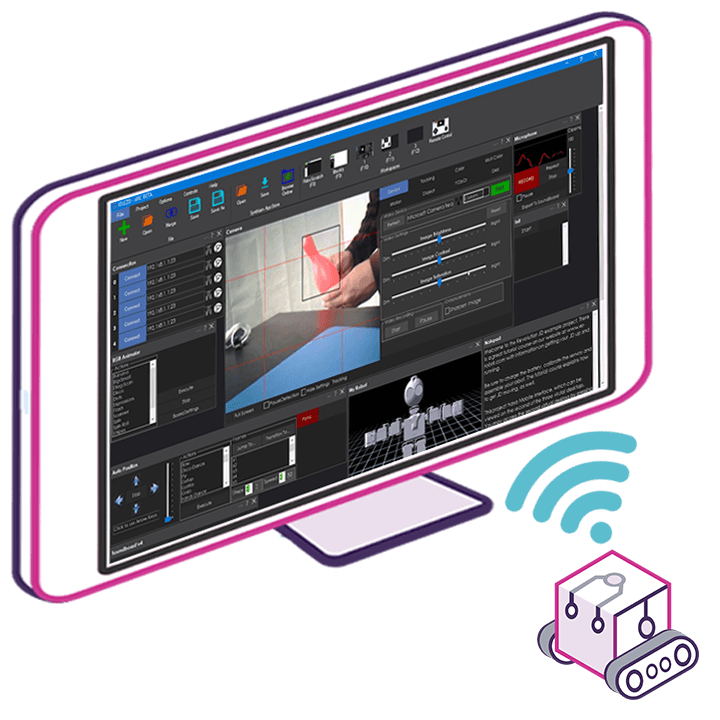 Upgrade to ARC Pro
Synthiam ARC Pro is a cool new tool that will help unleash your creativity with programming robots in just seconds!