Marv
USA
Asked — Edited
Ok, after 2 days of netting the same results, I'm ready to ask for help. I had been planning on replacing my Bluetooth with Synapse RF Modules and decided to tackle it first thing yesterday.

I have been using both Xbee's and Synapse modules successfully for a couple years with other microcontrollers. I also know how to connect and use USB FTDI adapters directly with serial ports on microcontrollers.

Unfortunately, none of that has helped me get my EZ-B to communicate any way other than Bluetooth. Whether I try Xbee, Synapse or a direct FTDI connection, ARC comes back with a msg that I have v8.5 firmware and then a 2nd msg that it could not connect. I assume this is because the serial data is being corrupted somehow. I am using v16 firmware on a 3A EZ-B board. My ARC is current at 2012.08.27. I always make sure the virtual serial port is config'd for 9600 baud. I'm using the EZ-B's +5, +3.3 and Gnd for the onboard RF module adapter.

Just to verify I understood what pins were In & Out on the EZ-B connector where the Bluetooth goes, I got out my trusty old Tektronix scope and made sure. I am using a Level Converter to match the EZ-B's 5V serial signals with my Xbee and Synapse's 3.3V levels. It should be ok. I've used it for other things. Besides I can see a short serial burst come out of the EZ-B and go into my RF module when I power the EZ-B on.

Not sure how that power up serial string is used, but here it is in case anyone is interested: P..*5..i.Robot
or in Hex: 50 D5 C9 2A 35 15 15 69 B5 52 6F B5 52 6F 62 6F 74

I also verified each of the 3 ways I tried could send & recieve data on a loop back connector with a terminal program.

I know it is possible to use either an Xbee or Synapse in place of the Bluetooth. I carefully studied several projects doing it. So, I must be missing something! Should I have to do anything in ARC other than connect to the vitual com port like I do with Bluetooth?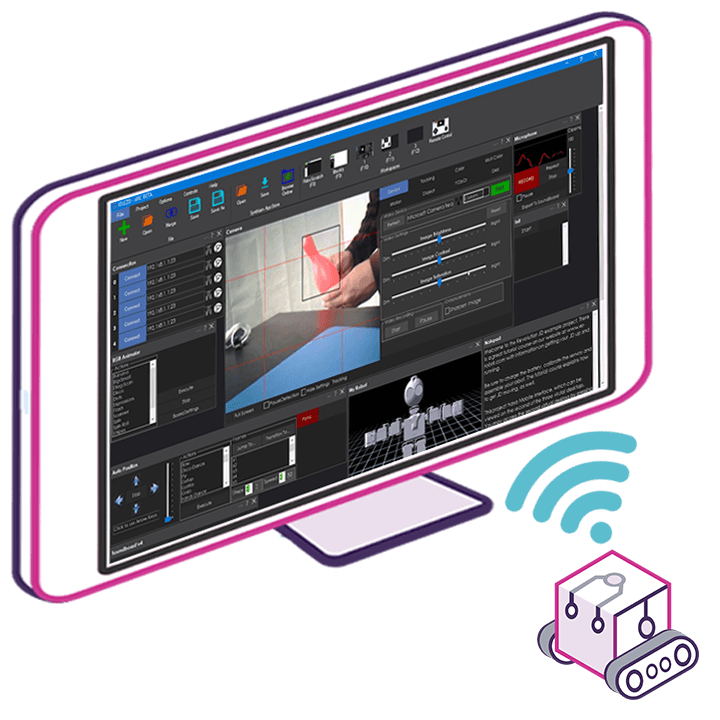 Upgrade to ARC Pro
Harnessing the power of ARC Pro, your robot can be more than just a simple automated machine.