Skip to comments
I am in the process of developing a robot called Nina, which will act as a affordable and adaptable form of assistive technology for people with social, perception, or cognitive developmental disabilities such as Autism and similar disorders.
I had come up with this idea over a decade ago when I was in high school, as I am an individual who has grown up with autism (Asperger Syndrome specifically), but have since learned that this robotic therapy has been in development for much longer, especially in Europe. So far, the robots used can been expensive (over 10,000) and they are not easily repaired or maintainable. I want to develop a robot that can act as more accessible and adaptable competitor, (Under 1,000).
Nina would work with therapy teams who would be able to reprogram said robot using EZ-Robot's user-friendly software tools such as ARC to adapt for a wide range of cases on the broad Autism Spectrum. The robot's design is intended to be simple, but engaging, and the robot will simulate a friendly and non-judgmental personality, augmented to multiple client cases by certified operators and psychological therapists.
Certain interchangeable components could be used to modulate the robot so it does not appear too intimidating, nor too boring depending on the client's case. Components would be created via 3D Printing. For instance, if the client is intimated by the robot's arms (used for body language or expression) they can be easily removed. Or if a client is ready for a more expressive face with different articulated facial expressions, a simpler head had be interchanged with a more expressive on.
The idea behind Nina is to use robots to encourage people with developmental disabilities such as autism, who might otherwise become intimidated by those imposed by their fellow human beings. Nina would be a tool to help people with autism and similar disorders understand and relate to their fellow humans, and also understand more about who they are. Using the Nina Robot, it is my hope to help people with autism understand they are important, they are real, they are there, they are acknowledged, and they can survive, and learn to cope, to grow, and develop more of the social, cognitive, and expressive, and perception skills, as well as the self-confidence and esteem they need to communicate not only with robots, but to transition to their fellow human beings.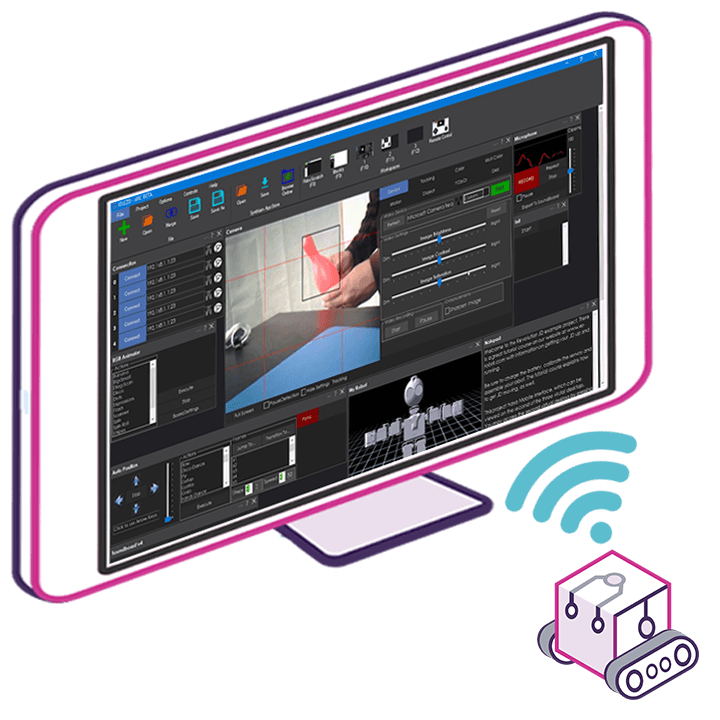 Upgrade to ARC Pro
Discover the limitless potential of robot programming with Synthiam ARC Pro – where innovation and creativity meet seamlessly.