Hi all,

I have a hobby project in which I implement a platform that enables the development of autonomous and emotional agents. These agents can reflect on their experiences, which affects their emotional state and consequently their behaviour.

My background is in the logics, computational linguistics and mathematics of A.I., but I've almost zero experience with hardware/robotics. So EZ-Robot is a great enabling technology for me to try out and demonstrate my project for robots.

My robot is a Roli, but the software does not depend on this. Though it will still take weeks before it arrives I already have a few questions:

1) I'm Dutch. For a JD head, ultrasonic sensor and 4-1 orientation sensor I have to pay 18$ delivery plus an additional 45$ worth of import taxes etc if I order from EZ-Robot. Is there a cheaper route?

2) I have connected ARC with my agent platform (which runs on Java) by having a script run on ARC that through HTTPGet commands can send percepts and request commands, and run a HTTP server on the Java side. I.e. for commands in ARC something like this happens;


Code:

$cs_command = "idle"
repeatwhile($_HALTCOMMANDSCRAPER == 0)
  $cs_command = HTTPGet("http://localhost:8000/command/")
  $_LASTCMD = $cs_command
  ControlCommand("HighLevelActionLibrary", ScriptStart, Split($cs_command,";",0) )
  sleep($_COMMANDSCRAPERDELAY)
endrepeatwhile



Where capital variables are global throughout scripts and "cs_" are local variables of the command scraper. $_LASTCMD is used by action scripts to read the arguments of the action (separated by semi-colons).

On the Java side my agent software queues up high level actions that have to be called. But I'd rather push these to the robot. Is there a way to push scripts calls? I.e. from Java send a script name + arguments to run in EZ-Builder?

Cheers,


Bas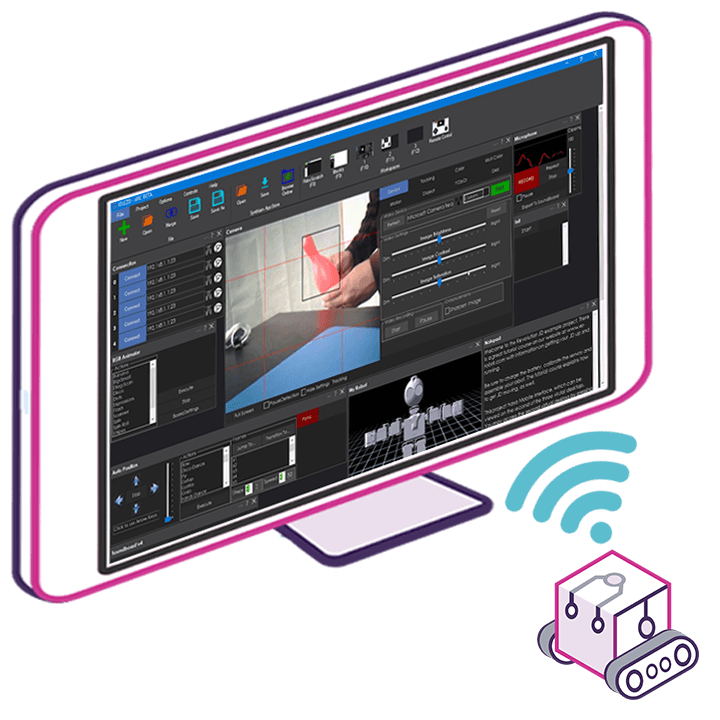 Upgrade to ARC Pro
Your robot can be more than a simple automated machine with the power of ARC Pro!