Hey everybody:) I'm seeing alot of new projects out there, glad to see that Ez-Robot is getting so popular:) I've been busy on something new as well, I was really going for something unique.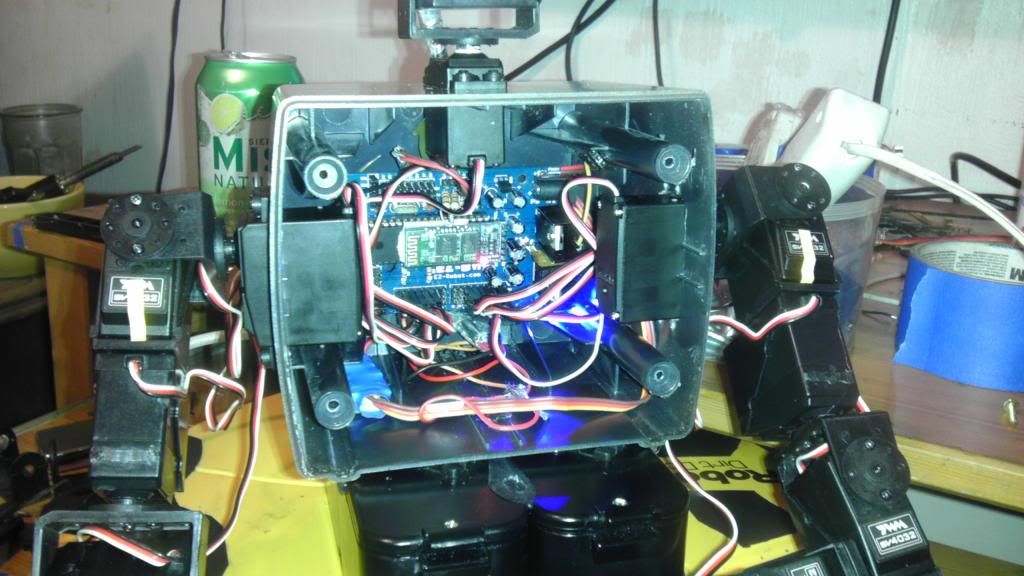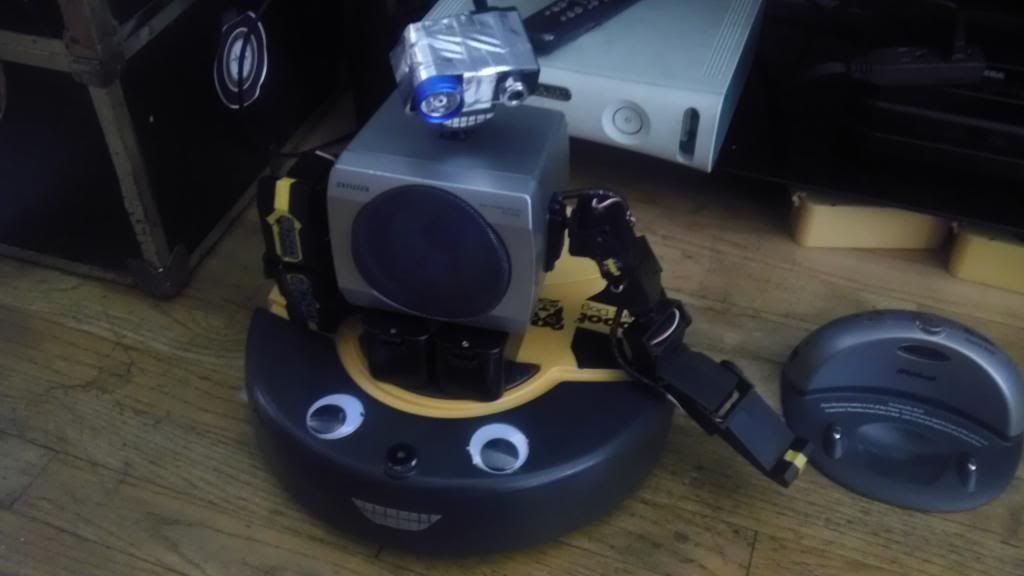 So here's the parts list:
Roomba Dirt Dog from goodwill: $6.50 lol
New battery for said Dirt Dog: $33.50
12 standard s3003 servos: $120
Ez-B: $69
Castle Creations 6s 10amp regulator: $22.50
Ez-Camera $50
LED Flashlight: $4.99
Aiwa rear surround speaker: Freebie
I started by opening up the roomba and getting power right off the battery plug. This is like 16v, so from there the power goes straight to the regulator. If you use this approach, the ez-b is powered all the time. I recommend removing the battery when not in use, and don't use this roomba to charge your battery. The extra draw could affect the charging system. I have a few roombas, I just use one of those for charging. After that, I removed the cells from two first-gen roomba batteries and glued them to the top of the dirt dog. Yup, blocked the power button. That's okay, I have a scheduler remote to power the roomba on. Then I used a dremel to cut all the servo holes in the speaker housing. Aiwa uses some thick plastic to make their speakers lol. I added the EZ-B, the camera and the arms, lets not forget the wire from D0 to the roombas sci port...anybody wanna guess which robot got decimated for the greater good? Anyway, there are five servos per arm, all are powered by the Castle Creations regulator, which can be adjusted from 5.1 to 9v. The EZ-B is only carrying power for the camera and the neck servos, so I don't have to worry about the EZ-B's regulators heating up.
In the mail:
4x mg995 servos for the shoulders
2x lynxmotion grippers
2x 0.96" 96x96 pixel serial oled displays For the EYES lol
and two more regulators, one for each arm. Things are about to get pretty interesting :D